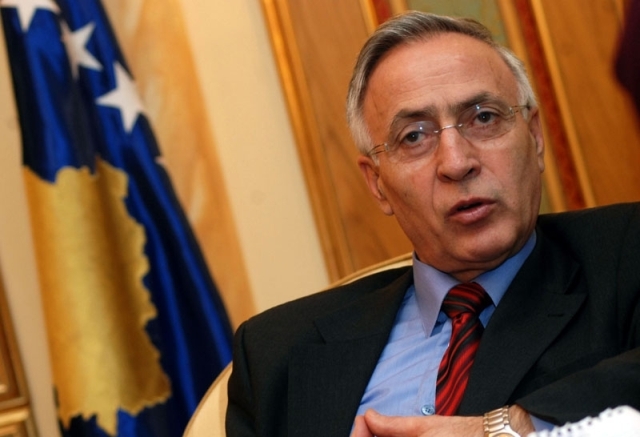 Former speaker of the Parliament of Kosovo and current chairman of the National Council of the Incentive for Kosovo Party, Jakup Krasniqi, says in an interview for IBNA news agency that the wrong policies followed by the current government are risking the sovereignty and integrity of Kosovo. Mr. Krasniqi says that the Special Court based in Hague has taken the sovereignty of the judicial system in Kosovo. He says that the agreements reached between Kosovo and Serbia have weakened the country's independence. Krasniqi also talks about European integration processes and the border demarcation with Montenegro
Interviewed by Muamer Mellova
IBNA: The local government elections will be held next year, but parliamentary ones too. What do your opinion polls and those carried out by civil society say about the Incentive?
Krasniqi: All opinion polls, especially the recent ones, indicate that Incentive is a growing party. It has stability in both the organizational plan and the political one.
IBNA: While we still haven't entered an electoral process, Kosovo will soon face with the Special Court. The north may also risk separation. Other problems are economic and social ones. What are the plans and the program of the Incentive for Kosovo for the solution of external and internal problems of the country?
Krasniqi: Yes, all the problems that you mentioned are present in Kosovo. There's a danger for the separation of Kosovo and on the other hand, we have a high trade deficit, isolation due to the lack of the liberalization of visas, but also other problems in education and healthcare. All of this has come as a result of the bad governance existing since 2011. This bad governance continues. The government has no clear objectives, both in the domestic aspect and foreign one. It is jeopardizing the sovereignty of the country and the territorial integrity. On the other hand, the Special Court has taken Kosovo's judicial system sovereignty. Meanwhile, the agreements reached in Brussels between Kosovo and Serbia not only have they not strengthened Kosovo's independence, but they have made Serbia part of many domains in Kosovo. Serbia has never been so present in Kosovo since 1999. Meanwhile, with the demarcation agreement, Kosovo is risking to lose territories.
In the domestic aspect, Kosovo has not achieved any major successes which need to be identified. There is no economic development, no development, employment is dropping in spite of the big promises of the election campaign. Education is in a difficult situation too, while healthcare is in a miserable state. This has taken governance ratings to their lowest levels since the end of the war.
In our social democratic program, we have underlined that freedom, justice, equality and solidarity are the values that the citizens need. Besides them, the rule of law, development, knowledge and social justice are our political objectives. We know and we will take important decisions for the country, but we need the trust of the people. In democratic societies, the trust of the people is a necessity.
IBNA: What is the Incentive's solution for the border demarcation with Montenegro, a process which is preventing the liberalization of visas?
Krasniqi: Parliament must say "no" to the bill for the border demarcation with Montenegro, in order to open up new opportunities. Thus, the bill must undergo voting in the parliament of Kosovo. This is what should happen. Any other form is not a solution of the problem.
IBNA: When do you think Kosovo will be an economically developed country and part of NATO and EU?
Krasniqi: When Kosovo becomes a state where there's rule of law, when there are knowledgeable people, development and social justice. This governing coalition cannot and does not want to offer Kosovo and its citizens more than it has given so far./balkaneu.com/