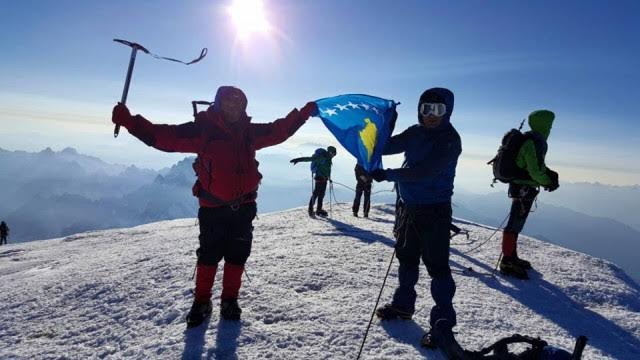 For three years, they have been training for the most important mission of their lives. They are four mountaineers from Kosovo who have only one desire for 2017, to conquer Everest, the highest peak in the world. The expedition is expected to lead to Nepal at the end of March, while return to Kosovo is expected to happen in June. They will remain there for more than two months or 67 days.
In order to have a proper training, "Alpin Prishtina" club has conquered in the past three years other known peaks in Kosovo, region, Europe and Africa.
Kosovo mountaineers have conquered the highest peak in Africa, Kilimanjaro, 5895 meters high. Then, the team has conquered the two highest peaks in Europe, Mont Blanc 4808 meters and Matterhorn peak in the Alps, 4478 meters above sea level.
In an interview for IBNA news agency, the head of "Alpin Prishtina" club, Nazmi Hasanramaj talks about the challenges and the dangers in the next expedition in Mount Everest.
Interviewed by Muamer Mellova
IBNA: Are you ready to climb the highest peak of the planet, Mount Everest? Who organizes the expedition?
The expedition has been organized by mountaineers of "Alpin Prishtina" club and it represents the state of Kosovo. This is an official expedition of the state of Kosovo in Everest. Preparations have started three years ago. They include the long experience of the members of "Alpin Prishtina" club in the region, Europe and African continent. Preparations have been long and gradual; many tests have taken place in difficult conditions and based on our analysis, Alpin Prishtina has exceeded all the necessary requirements needed to start the expedition.
IBNA: What are the challenges and the risks that you can face in this mission?
The challenges and the risks are many and every component requires a different handling. The entire expedition will last two months and during this time, we're under the pressure of the lack of oxygen, low temperatures, avalanches, high UV radiation, falls, alpine illnesses, depression, ice, etc.
But what's important is the fact that we're ready morally, physically, psychologically  and whatever other challenges that Everest imposes on us.
IBNA: How expensive is this expedition and have you found support by institutions of Kosovo?
The exhibition is very expensive, around 50 thousand euros per person, therefore the financing part is a difficult part of the expedition. The support of the institutions is not lacking, because we're representing our country, but given the limited state budget, we also need support by businesses and individuals, foundations and civil society in Kosovo and abroad.
IBNA: Who is this expedition dedicated to and what is the message that it aims to give?
The message has to do with the state of Kosovo, to rank the country among those countries that have conquered Everest, convey messages of peace for all of those who live in Kosovo (all ethnic groups) through the figure of Mother Teresa, to increase the level of mountaineering and the opening of new opportunities for the continuation of the program of "Alpin Prishtina" club and for the continuation of high altitude expeditions around the world. /balkaneu.com/