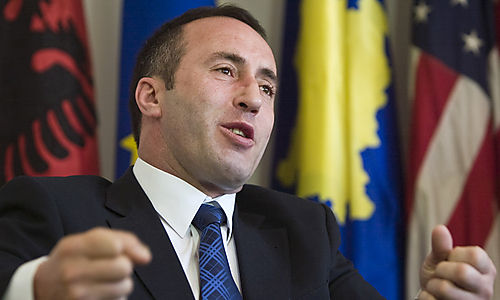 In an exclusive interview for IBNA, chairman of the Alliance for the Future of Kosovo and former prime minister Ramush Haradinaj talks about the political, economic and social situation in Kosovo. Mr. Haradinaj also talks about an economic boom that according to him, Kosovo is expecting to have after these elections.
IBNA: Mr. Haradinaj, what's your plan for the economic development of Kosovo?
Haradinaj: Our plan and program is very dynamic and we're trying to offer as much details as possible about it for the citizens during this campaign. For example: We receive money from coal, metals and we give it to agriculture. This way we form a circuit. We give the incomes that we generate from this industry to the food industry. With this, we produce, increase GDP, the money remains in the country and investment capacity is increased. We must also offer details about the economic development through the fight against informality and tax evasion, but also through the fight against corruption. We must explain to the people that we must live in a country where there's a law, because this way, we're all winners. The law is equal for everyone, it guarantees equal rights for everyone and nobody is above the law. We must also focus on other key elements of the "New Direction" in order to make comparisons with the programs of other parties. I don't see them having any programs. They merely have particular stances in order to explain what the "New Direction" is and what is the essence of economic development. We guarantee a double figure growth of GDP.
IBNA: How feasible is the program for the energy development of Kosovo?
Haradinaj: The immediate launch of investments has direct implications in the development of the economy of the country. In case we build in Kosovo a thermal power station with a capacity of 2100 megawatt hours, this would help national economy. In order to achieve this, mines and other capacities should be prepared. This would automatically increase GDP and have an impact in other domains of the economy.
IBNA: If you make a comeback in the post of prime minister of Kosovo, what means do you have to fight corruption?
Haradinaj: I think that it's impossible to fight corruption if the main political decision makers create corruptive practices and then mechanisms to fight those corruptive practices. It's impossible for corrupt people to fight corruption. It's impossible to fight corruption by sacrificing several people for which the government doesn't "care". We've had doctors arrested for accepting 50 Euros as a bribe. But we also have people who have stolen millions of Euros and they're untouchable. The only way to create a logic of anti-corruption is non involvement, starting from the head of the government and following with the entire state hierarchy and the creation of a new governing and policy making ethic. I believe that every citizen of Kosovo can obtain his rights without corruptive practices. The result of governance free of corruption is immediate. Governance without corruption immediately boosts investments in the country. All of that loss caused to the country by corruption will turn into a benefit for the citizen, in case an non corrupted government is formed.
IBNA: There are only a few days remaining from the holding of early parliamentary elections. Has AAK started to think about the issue of coalitions?
Haradinaj: The elections have not been held yet. June 9 hasn't arrived yet. Thaci has served two terms as head of the government. His party is the political force to be blamed for the damages caused to the country. It's unacceptable for citizens to vote him for another term. It would be fatal for Kosovo if Hashim Thaci wins a third term in office. We will not form a coalition with governing parties. Our coalition will be formed with opposition parties. /ibna/