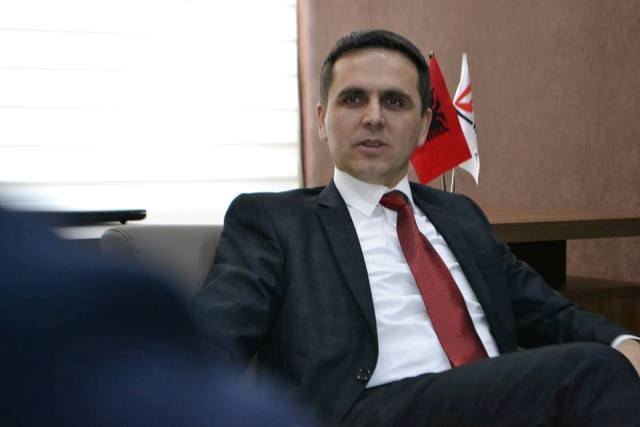 Besa Movement is the second biggest Albanian party in FYROM, which in the last elections won 5 MPs. In an interview for Balkaneu, its chairman, Bilall Kasami explains the stances of this party, saying that it will never be part of a government with PM Nikola Gruevski in it, he explains the Albanian platform which is a condition to negotiate the formation of the government and the reforms that must happen in the country, especially in the domain of the judicial system and the functioning of the Special Prosecution
Interviewed by Naser Pajaziti
Nikola Gruevski doesn't have a lot of time remaining now to form the government. How do you see these developments and do you expect there to be a government with Gruevski?
Kasami: I don't want to speculate if he will form a government or not. As a party we will stick to our decisions that those who have been accused by the Special Prosecution, must not be part of the next government. This applies to Nikola Gruevski too. As far as the possible agreement between VMRO-DPMNE and BDI for the formation of the government is concerned, they may well form a government again, because they have the necessary numbers in parliament and they have governed together for 10 years.
Will you be part of the talks for the creation of the government now that Gruevski is in charge of forming the government?
Kasami: We have discussed this and we have a unified stance, not only for Gruevski, but for all of those who are incriminated. We can never be on a table with them. In Macedonia there's a need for decriminalization and this process must include all politicians who have abused with their public offices in the past. In the current circumstances, when Macedonia is in a deep institutional crisis, I think that all incriminated people must withdraw and there should be no influence on the cases handled by the Special prosecution.
Will you be part of the government if SDSM led by Mr. Zaev is in office?
Kasami If he is mandated and if there is a concrete offer, we will sit down and talk. Let us wait. I don't want to make any comments as to why this party is not commenting the platform signed by Albanian parties.
Your party is part of the platform signed by BDI and other parliamentary parties. Is this platform a condition for your party to be part of the future government?
Kasami: Besa Movement has approved this declaration signed by Albanian parties in Macedonia. That declaration expresses the joint will that any party that now or in the future will be part of the government, must pledge that it will make the platform part of the governing program.
What is the stance of your party about the Special Prosecution? Should its mandate be extended, although VMRO-DPMNE doesn't agree with this?
Kasami: Our stance is clear in regards to the Special Prosecution. We want investigations to continue and for a Special Tribunal to be formed in order to handle the cases opened by the Special Prosecution. We demand for the work of this prosecution not to be hindered, as it was founded to decriminalize Macedonian society. We don't support any government which doesn't have a clear stance on the process of decriminalization.
In your platform you also mention cases which you consider as set up and where innocent Albanians have been sentenced.
Kasami: The platform mentions cases like Sopoti, Monster, Kumanova, Brodec, which must be solved. We are engaged for such cases not to exist and for the state to make sure that it gets rid of them. State institutions must protect the citizens regardless of their belief or ethnicity and not set up trials against them. I think that it's very important for the next government to have a clear stance toward these cases in order for them not to be produced again.  /balkaneu.com/