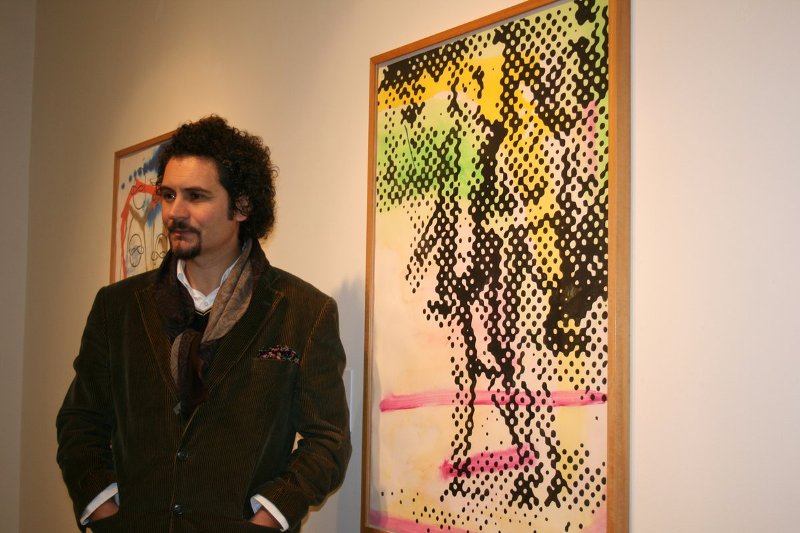 With an excellent international experience, especially in Italy, Artan Shabani decided to leave his artistic agenda aside for a while, to focus on the National Art Gallery in Tirana with the hope of injecting a new spirit.
As always, innovative changes are not that pleasant: he's bringing a new musem line, prominent artists through retrospective, but also a different point of view on Onufri, the international competition. A contest which was recently subject to debates because the Albanian Ministry of Culture removed it from the cultural agenda. In this interview for IBNA, Artan Shabani says that Onufri will make a comeback, but with another concept…
What's happening with the Onufri contest?
There will soon be a meeting at the Ministry of Culture, because Onufri is an incentive of this ministry, held at the National Art Gallery. I organized the 20th edition and it was a real pleasure. Within this month, there will be a declaration by the Ministry of Culture as to how Onufrr will continue.
Do you have an idea as to what will be the new Onufri concept?
My idea is for Onufri to be national, in order to promote Albanian artists and not be restricted to 10 artists. It must be an opportunity for everyone to express themselves.
Now that we have neither the Biennale, nor Onufri, do you think that Tirana will not be considered as an attractive place in the artistic aspect?
No, because Tirana is a capital that is known as an artistic stage. Tirana is known for Edi Rama, Anri Sala, Adrian Paci or Helidon Gjergji. Tirana is known for its exhibitions at NAG or those held in other cities. Let us not forget that here we've had artists such as Pipilotti Ris or Tomas Saraceno. Thus, Tirana is considered as an art destination, praised even by the prestigious Artforum magazine with an exhibition by Helidon Gjergji and this is something that makes Tirana known.
You have promised the return of the NAG fund. How is this process moving forward?
A significant number of works are still considered lost. 140 paintings came back and 100 others remain missing, or better say, stolen, because lost is an elegant term. Let us not become hypocritical, because these works have disappeared and it's the prosecution's task now to find them. These are part of the Albanian nation fund, but missing. When a work of art goes missing from an institution, someone must be held responsible.
Do you plan on exhibiting Albanian works abroad?
An exhibition will be hosted at the National Gallery of Pristina and this exhibition will come for the public in December.
What was the scope of your last visit to Kuwait? Will Albanian art works travel there?
I was invited there to present Albanian artists. The same will also be done in Istanbul and China, to make Albanian artists known outside of Albania. In Kuwait, we presented at the Modern Art Museum an exhibition with five Albanian artists. It was an experience which will become concrete in the future with other projects in the area of Abu Dhabi, Riyadh, Oman, Qatar and as far as Ningbo in Shanghai. These are some of the places which I'm looking into as a destination for the presentation of Albanian art, without forgetting other known places such as Budapest, Turin, Milan, Paris, London, Cologne and Dusseldorf.
The new artistic season at the National Art Gallery has just started. What are the criteria of the selection of artists during this season?
Every other museum, like ours or Kosovo's, has an artistic board, which receives requests that relate to artists, curators and collaborators, who whove museum centers, foundations or independent art stages. Everything is registered and the board deliberates them in a meeting which is held to select them, based on the policies of the National Art Gallery, which selects those that are considered the best ones for the year. We try to offer the best possible for the Albanian public, by manifesting the most important exhibitions, known and unknown artists, emerging and historical art, national and international artists. By having all of these, with a clear eye and open mind, we select the best.
Is there a name or exhibition that will stand out this year?
Truth be told, the National Gallery started this year with an important artist, a German artist called Sigmar Polke, founder of German Pop Art, who has played with his intellectual and artistic knowledge, with socialist realism, American pop art, the system itself, as he lived in the so called Economic Boom period. Then we continue with Sali Shijaku, Maks Velo, Lek Tasi, prominent photographers such as Niko Xhufka. The Albanian poster comes for the first time, because there has been not even a single full exhibition on this genre. In these 60 years, we've had film painters who have never come together. We also expect a retrospective of 30-40 Albanian sculptors. In December, along with Zana Varvarica, we were the curators of the Albanian drawing with 150 works of art and we expect to do the same thing in order to bring sculptors together.
You said that Sali Shijaku is part of the calendar and many people expect to seen works of the fund, which have gone missing. Have they come back?
Yes, the work of Sali Shijaku is at the National Art Gallery. His career counts over four thousand works of art, but we will bring through a retrospective, his best works. Sali Shijaku will come with different periods of his work, since the time that he was a student. Works of Sali Shijaki which have been in state institutions and which have now been collected.
The exhibition "100 years of drawing" was a promise held by you. What were your impressions and will there be a pavilion of its own for this genre?
The painting was unintentionally discriminated by Albanian artists, because it was deemed as something not very important. The drawing deserves to be exhibited with the same pride and dignity that an oil painting or a bronze sculpture deserves to be exhibited, because without the drawing, there are no painters of sculptors. This exhibition has even surprised artists themselves who had forgotten them for decades and were not aware that these works existed. Some artists such as Maks Velo, Adi Hila or Sali Shijaku were touched while they saw their own work. It was an exhibition which was praised by artists and their families, but also by collectors. I was really sad of not being able to keep at the NAG for a month. But this will be recovered in the new museum line, because this part which has been restored, will have a drawing as part of it with a pavilion.
After two years as head of NAG, how much has the post of director deprived you from your work as artist?
I feel 99% deprived, because I can no longer paint. I have no more time for painting. /ibna/