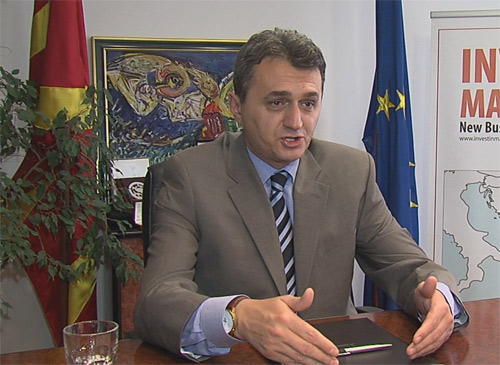 Interview with the director of the Agency for Foreign Investments Visar Fida given to IBNA news agency
In an interview for IBNA, the director of the Agency for Foreign Investments, Visar Fida says that in the recent years, there have been positive and concrete results in attracting foreign investments. According to him, last year foreign investments amounted to 209 million Euros, while this year, investments are projected to be over 300 million Euros. Fida says that 6 investors are planning to come in the country this year with concrete projects and capital investments.
Skopje, February 28, 2014/Independent Balkan News Agency
Interviewed by Naser Pajaziti
IBNA: How do you assess the current climate of investments in the country and what are the key factors to withdraw foreign investors?
Fida: Our country remains an attractive destination for business, offering attractive conditions for investors. These conditions consist on the free market access, low taxes, excellent geostrategic location for investments, excellent infrastructure and the presence of qualified labor force. We have reduced business costs and have created a more competitive environment. These measures have been taken in order for our country to be more attractive for foreign investors. We have undertaken legal reforms to facilitate the access of foreign investors. A foreign investor can register his company in our country in less than 4 hours. Other important aspects consist on the fact that we offer land leases and rentals for up to 99 years, all of this at a very low cost. Foreign companies are also assisted with a subsidy of 500 thousand Euros. I believe that our country has created the most attractive package for foreign investors in comparison to other countries of the region.
IBNA: What is the level of direct foreign investments and what was it before?
Fida: Since the independence of the country until now, there have been 4.4 billion USD worth of foreign investments and foreign capital. According to the data from the Central Bank and our data, foreign investments for 2013 have been over 209 million Euros. From 2005 until 2007 we've had a growth of foreign investments, in 2008 we had a drop and once again a growth from 2008 until 2011.
IBNA: What are the expectations for this year?
Fida: This year, we project to have 300 million Euros worth of investments. We're constantly working and we constantly hold visits, promotions and communicate with foreign companies interested to invest. My personal priority, but that of the government too is to bring more companies that will create more jobs.
IBNA: What are the biggest companies that you're negotiating with?
Fida: I wouldn't want to publish the names of the companies that we're talking to beforehand, given that these are confidential information until the final phase of negotiations when we can reveal concrete names. The only thing that I can say is that companies which are interested to invest come from the US, Great Britain, Turkey, Holland and other countries. Until the end of March, 6 foreign companies will be promoted. In the first half of this year, we expect these foreign companies to present their investment plans.
IBNA: For years, the government has launched "Investo" campaign which is dedicated to foreign investors. Is there an active campaign taking place?
Fida: We have launched this campaign years ago and it has marked positive results, because we have many investors who have arrived in the country in order to do business. In the framework of this campaign, we have also appointed "economic promoters" in world business centers and different world metropolis to attract foreign investors.
Economic promoters have engaged in diplomatic centers. They constantly promote and hold contacts with foreign companies to attract them to invest in our country. We have also held business forums in several continents, as part of the government activities to promote our country and the business climate of our country there. The results obtained by these business forums are significant. There was a great interest and participation in those European countries that we visited, but also in countries across the ocean, especially USA, China and India. Based on this campaign, we have managed to be successful in the business domain.
IBNA: You're saying that there's an inflow of foreign investments, what impact did this have in the growth of employment?
Fida: In the past 4-5 years, there have been more than 10 thousand new jobs opened and this number is expected to increase as a result of the nature of contracts with foreign investors who will offer constant employments in the years to come. We have also had new jobs opened by domestic companies in cooperation with foreign firms.
IBNA: What are the sectors that foreign investors are interested to invest in our country?
Fida: In Macedonia, foreign investors are interested to invest in the sector of automobiles, electronics and IT, but we also have other investments of smaller capacities. /ibna/