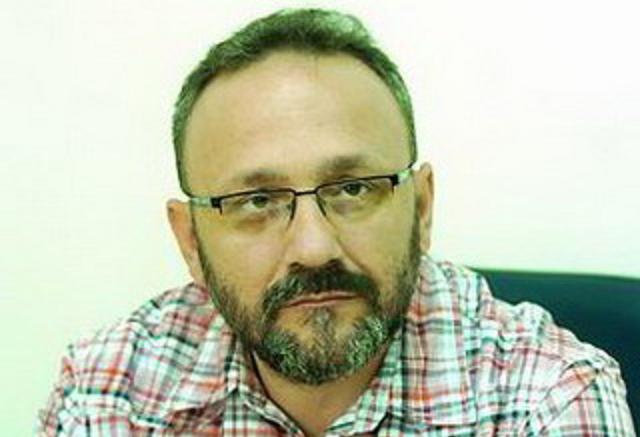 Interview with Branko Gerovski, renowned Macedonian analyst and editor of "Free Press" "Sloboden Pečat" newspaper
Interviewed by Naser Pajaziti
Branko Gerovski, prominent Macedonian analyst and editor of "Free Press" (original: Sloboden Pečat)talks in an exclusive interview for IBNA on the latest developments in the country relating to the political situation following the announcement of early elections and presidential elections, for the blockade of the Euro Atlantic process and the developments that will follow these elections.
IBNA: We're ahead of the elections and a tense political situation is underway. How do you assess this situation ahead of the start of the electoral campaign?
Geroski: I don't know when it's been any different and when did we have elections without tension?! Political and economic situation in the country has been tense and desperate for many years. We're living in one of the last totalitarian regimes in Europe. Under the influence of populism, fear and massive corruption, a large number of people have accepted the weakening of democracy and freedom. People are discontent, scared and frustrated, but more action is needed in order for these sentiments to be articulated through political action. Unfortunately, especially youngsters, instead of showing resistance, they look for an alternative way out. During the term of this government, more than 250 thousand Macedonians have been displaced from the country. This is also confirmed by official statistics. This country has even been officially announced as a champion in terms of its miserable situation. How do you expect the situation in the country to be anything but tense?
IBNA: Was it necessary to head toward early parliamentary elections, an incentive launched by BDI due to disagreements relating to the idea for a consensual president?
Geroski: First of all, I think that BDI has provoked early parliamentary elections under the pretext that there have been disagreements with VMRO-DPMNE for a consensual president. These are fairy tales. Nikola Gruevski and Ali Ahmeti had agreed on early parliamentary elections in order to extend the duration of this regime. There's no motive or rational reasons for these elections.We have all seen how this government is spending millions of Euros for their campaigns and we were given assurances that we would have early elections. Of course, some of us hoped that reason would prevail, especially on BDI's part, but we can all see that our hopes were in vain. Ali Ahmeti's idea for a consensual president has compromised BDI. The spokesman of this party clearly said it that a consensual candidate implied a candidate who would come out of an accord between BDI and VMRO-DPMNE. Does this show consensus? They made it clear that this would be a candidate who would be a product of their coalition.
IBNA: Even in these elections, we see that cross ethnic confrontations are present…
Geroski: Since the early parliamentary elections of 2008 until today, Nikola Gruevski has won the elections by acting and Ali Ahmeti is also excelling in the same thing. This is also happening now-Gruevski demands 62 MPs in order not to be held to ransom by Ahmeti, while Ahmeti wants 25 MPs in order to be a key player. They are increasing confrontations in the ethnic aspect, therefore, this situation must be considered as being more simple, in order not to fall a victim of their lies and especially of the chauvinist rhetoric used by Gruevski. I also call on FYR Macedonians and Albanians to say "no" to this rhetoric, because it takes us back to 2001. We must not allow this to happen.
IBNA: Parties in power seem to be favorite in winning these elections. How do you comment these warnings?
Geroski: It's easy for them to present themselves as favorites, in a country where elections are won through the misuse of public funds, employment of political armadas, pressure and bribing voters, controlling the public radio television and the most powerful television channels. Besides this, the voters' list is catastrophic and out of the control of the State Election Commission. We all know what the warnings of the parties in power mean about achieving an absolute victory in these elections. Even in this case, they're preparing an electoral massacre, like they have done from 2008.
IBNA: Do you think that the opposition has a potential or an offer to win the elections?
Geroski: I repeat that the citizens are not happy with this government. Even supporters of the parties in power are not happy. The opposition wants changes, but I don't think that this may be reflected in the election result. The regime doesn't allow this and I don't think that this obstacle can be easily overcome through the elections, although the opposition has a serious offer. On the other hand, the opposition has an excellent presidential candidate, Stevo Pendarovski, who is a favorite in the parliamentary elections. And if we face a situation where the government doesn't allow electoral articulations against the discontent caused by the regime, then there's only one answer: The opposition must deligitimize these elections and boycott the parliament which has been elected through illegitimate elections. This decision would be painful, but fair. /ibna/