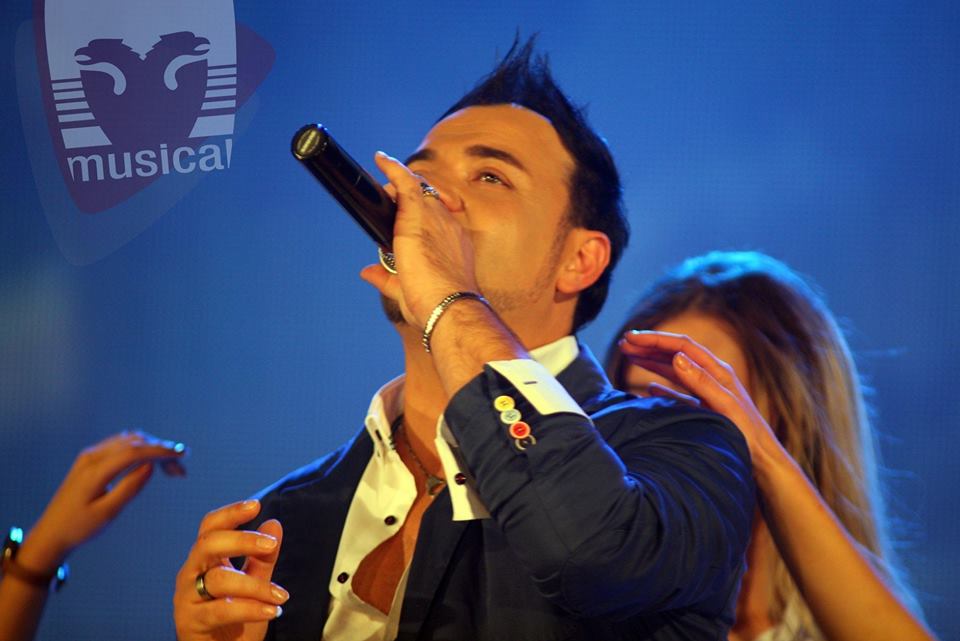 At the start of '90s, when modern music, which was forbidden for half a century, started to be sung gain in Albania, Ervin Bushati was among the first ones that to sing youth music, making him loved by many Albanians.
Two decades later, singer Ervin Bushati continues his career, not hiding his nostalgia for the hits produced during those years.
What are your professional engagements for the moment?
These winter days coincide with the start of the new season of work, filled with life performances and concerts in Albania and abroad. Meanwhile, I'm getting ready to film my new clip.
When did you start to sing?
I started to sing since my early childhood… When I was eight, until the seventh grade, I was part of children festivals of that time, also receiving awards. In 1986, when I was 11 years old, I represented Albania in the Balkan Festival in Greece and then I was the main character in the first Albanian opera for children…. It was a period filled with activities. After that I studied canto and at the age of 17, along with Jetmir Mehmeti we formed the band called "Mister".
Let us stop here, because it's part of IBNA's questions. Let us talk a little about this group… Some of your hits of the '90s cannot be forgotten. Do you feel nostalgic about that time and the art that was made at that time?
Yes, I'm very nostalgic about that time. I was only 17 when I started to get on the stage of festivals and shows of that time. I say this with my utmost conviction that "Mister" band has made an important contribution in the soft Albanian music. The public still remembers and sings those songs and I believe that they will continue to do so for a long time.
How was the public at that time compared to today's public?
The public was warmer and thirstier for music. It valued true singers more and recognized their values. At that time, not everyone could sing; there was a professional selection. I remember that our songs were hits and they used to fill concert halls at that time. It was a golden age for Albanian music! I'm very nostalgic…
In your career, you have participated in many festivals? What awards have you received so far?
At that time, we were ranked second many times with "Mister" band in the "Songs of the Season" festival. I have been awarded with the "Best Male Artist" in many occasions, but the award that the public gives is the biggest award that an artist gets.
You have five albums in the market, but the last one contains selected songs. How has it performed?
It's true, I have five albums on the market: "Mister" with the band, "I long", "You Provoke", "With You" and "Only for You". The latter has performed well; the songs are also heard on Youtube. Youtube has led to a fall in the sale of albums, because songs are downloaded free of charge…
You have had many collaborations. But are they successful and what is the most special collaboration that you've had throughout the years? What was the most popular ones?
I have collaborated with singers Bujar Qamili, Artjola Toska, Irini Qirjako, Myfarete Laze, Soni Malaj, Anjeza Branka and younger singers. I think that they are all special. What I think is special is the fact that almost in all of them, I was invited for duos. I cannot say what was the most successful ones, because the public is the one to decide, but almost all collaborations have been welcomed.
You had announced a collaboration with an Italian singer… Why didn't it take place?
Yes, a year ago I was invited for a project with the Italian singer, Be Angel. To be honest, I was happy. I was sent the melody, I liked it and I confirmed it. After that, when orchestration finished, I didn't like it that much and I didn't continue. It seems a little strange, but if I don't like the song, I don't finish it.  Nonetheless, we have left the possibility of cooperation for a better material, open.
You are one of the most liked singers of the Albanian music. According to you, what makes a singer successful?
Thank you for your kind words… I don't know what to say. I find it very hard to talk about myself. I can say that I have gradually made a career. After a career lasting so many years, I'm still active in the Albanian market and I still have to give more for the public that has supported me.
Today, it seems that you have changed and become commercial. Why?
Yes, times have changed, tastes too and along with them, music and I… Without wanting to evade the question, I have tried to adapt to the public's tastes with a lot of finesse, without tainting my name and what I represent. Fortunately, my vocal is suitable for soft and foreign music and also folk music.
Do you think that today's Albanian music is at the same level as in the past?
To be honest, music is like our country, still in transition, unable to find itself. One is surprised with what one hears. Tastes have worsened. I have the impression that there aren't many good composers, but I can also see that there are also good productions. /ibna/