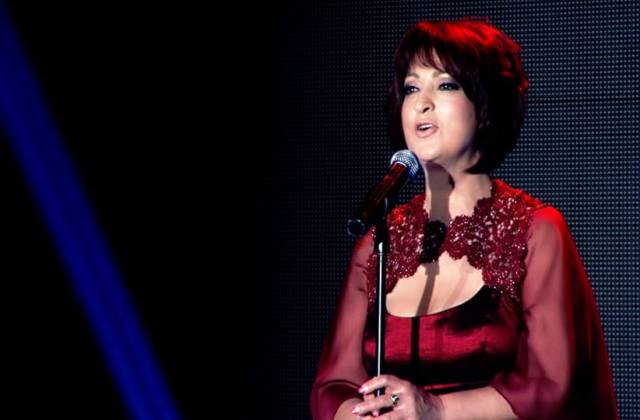 One of the most prominent names of Albanian music, Myfarete Laze is known by Albanians everywhere, as one of the fewest singers who has been active in festival. The girl from Shkodra dedicated all her life to music, by offering to the Albanian cultural treasury more than 150 songs.
In an interview for IBNA news agency, the 55 year old Myfarete Laze talks about her artistic life. She talks about the music of her birthplace and explains why she is very fond of Shkoder". She says that music in Albania is going well, but she expresses her concern that "values are being defeated by anti values".
IBNA: In the years before the political pluralism, other prominent names of that time accompanied your career. Nevertheless, you are known to be a singer loved by the public even after the '90s. It seems that the public not only hasn't forgotten you, but it's also nostalgic and even young people want to listen to you. Therefore, let us start with the last two decades, how have they been for you?
Laze: From 1992 until now, I have had  over 32 new works, composed by Tish Daija, Edmond Zhulali, Alfred Kacinari, Luan Borova, Kujtim Laro, Zef Coba, Ardit Gjebrea, etc. I feel well that I have been honored with important awards. I'm also happy that I have participated in different activities of folk and pop music.
IBNA: Festival of RTVSH remains an important annual event of the Albanian music. You have participated in many years there. Will you continue?
Laze: Yes, I have participated in 17 festivals and I'm happy that I've been honored with 12 awards. In fact, I've been present in every festival of RTVSH as a guest of honor or part of the jury.  I must say that an artist must realize when he should leave the stage or whether he should still remain on stage.
IBNA: Your career has over 150 songs from Shkodra. It seems that you have spent your life singing to Shkoder…
Laze: What Shkoder gave me could not be offered by  another city. I was lucky to be born in the city with two rivers, Drin and Buna, the city with the lake and the sea. There are over 150 songs which depict the girl beauty, in the city of humor, culture, the city which saw the first Albanian music band, the sport club of different sports, the first symphonic orchestra of the city, the first Albanian opera, the first chamber of commerce, the first consulate in the country, that of Austria, etc. This city also deserves a new song, therefore we are working with Frederik Ndoci for a beautiful song dedicated to Shkoder, composed by Avni Mula, called "There's nothing better than to be from Shkoder".
IBNA: Can you make out a song that you love the most?
Laze: Songs are not like love that only comes once, but like wine, the more you drink it, the more you enjoy it.
IBNA: In one of your albums stands out the careful selection of the songs. It contains songs from all regions of Albania, from south to the north and midlands. Why have you made this choice?
Laze: Because this is my Albania. This question made me go back a few years ago to an artistic activity called "We love Albania more". This activity saw performances from all artists who lived outside Albania. What about us, who love our country and never abandoned it? We lived with the good and bad things that this country has, with the hope that one day, Albania will improve and I contribute for this country as a loyal daughter.
IBNA: How do you see new artists?
Laze: We've been in a transition for 24 years and there's still time for the new artists to find their place.
IBNA: What do you see as key to the success for an artistic career?
Laze: Professionalism and artistic spirit.
IBNA: What's your opinion on today's Albanian music?
Laze: It's moving forward, but slowly. Let us not forget our conditions today. What worries me the most is that values are being defeated by anti-values.
IBNA: Much of your career was during t he monist period. How do you recall that time?
Laze: The worst thing of that regime was the so called war of classes, which saw exiles, executions, youth without the right of study, forced labor, etc.
IBNA: Have you ever thought of entering politics?
Laze: My father asked me before he died, never to approach politics.
IBNA: Lastly, shall we soon have a new project?
Laze: There are no artists with short term or long term projects. I work with professional studios and I'm surrounded by friends and people who value me. I teach young people the technique of singing soft music. We're preparing a new cclip for the liberation and independence day and also a clop for Christmas and New Year. /ibna/
A few words about Myfarete Laze
Myfarete Laze (Vekshari) was born in Shkodra, Albania, in a family with early patriotic traditions. She passed her childhood in Shkodra and grew up there. She was brought up in Shkoder with the traditions of the area.
Myfarete is a niece from Saranda. Her parents were born in Konispol and Pandaleimon, Saranda. After many vicissitudes of that time, persecuted by the former communist dictatorship, her family sets in Shkodra where the three children were born.
Myfarete Laze came as an innovation in the slow Albanian music and in those years, even though it was not allowed by the communist censorship, the people called her Mirel Mathieu of Albania.
Myfarete Laze has represented the Albanian culture with her voice inside and outside Albania, invited as participant in the activities of the State Ensemble such as: in Italy, France, Spain, Turkey, Greece, etc.
In her career in different festivals, Myfarete counts 21 awards among the best artists of the Shkoder's songs and all over the country. 
What makes the singer Myfarete Laze special even nowadays in the eyes of the public is not only the longevity on stage, but above all the pure conservation with fanaticism of the real values of the Albanian song with which she never made business. She never misused the values of the Albanian song for personal profits like some other singers who have corrupted such rare values.