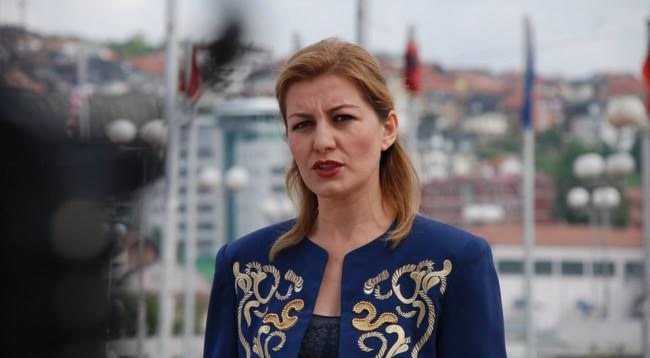 In an interview for IBNA news agency, Democratic League of Kosovo MP, Alma Lama talks about the difficulties that Albanian women encounter in politics, her mission in the democratization of the society of Kosovo, challenges of the governing coalition, political crisis and her plans for the future
Interviewed by Muamer Mellova
IBNA: How difficult it is in Kosovo to be a woman politician?
This a question addressed not only to me, but to all other women in politics. Meanwhile, I don't think that it is ever addressed to men who are in politics. Perhaps because in their subconscious, journalists are convinced that politics is for men. I don't think that this is the case. On the contrary, men are the ones who have failed in politics, by putting their personal interests above everything else and by damaging the interests of the citizens.
In fact, time has come for them to be replaced by women in order for society to change positively. As far as being in politics is concerned, I believe that it is a little harder than in democratic or more civilized countries. This due to the fact that there exists an attacking and prejudicial mentality for women who are in politics. They often find themselves victims of the insults of groups of ignorant people, who unfortunately seem to be great in number. I have often found myself attacked with these insults. But a strong woman, in both politics and other domains, must not be affected by these people.
IBNA: You're an MP. Are you happy with your engagement? Have you managed to deliver the demands that your voters have made?
This is the second term for me. I have been engaged in an extraordinary way for many issues that serve the interests of the citizens and the state of Kosovo. I think that the citizens must make their assessment, but I have tried to raise important issues in parliament, issues that relate to democratization, fight against crime and corruption, freedom of media, rights of women, including those raped during the war. I am also engaged in amending laws and in monitoring the work of the government through the instruments that parliament enables.
IBNA: Reports from international organizations say that the government of Kosovo is facing many challenges. Is there hope to deliver the priorities of the governing coalition for the economic development of the country, reform in the judiciary system, fight against corruption and the speeding up of the European integration process?
Kosovo faces challenges from all sides. Unfortunately, the government of Kosovo has not been able to work a single day in normal conditions, as it has faced the opposition's violence. It was not even allowed to work normally during the first 100 days in office.
I believe that there are several reforms in the economy which have been implemented and which I think that they will soon show their results, especially in the domain of investments and the opening of new jobs. Foreign investments are crucial for this therefore the necessary conditions must be created for this and the government is doing it. But the images of teargas in parliament and violence on the road have conveyed negative messages for Kosovo in the international arena. As far as fight against corruption is concerned, I think that it is the job of the justice institutions.
IBNA: How do you see the tense relations between opposition and majority in Kosovo?
The opposition is fighting for power and this is normal, but the means that it has chosen are not normal. Teargas in parliament which was used for months in a row, was an attempt to overthrow the government through violence or through a gradual coup d'etat which was deemed to be unacceptable and damaging for Kosovo. I hope that we have become more aware now and that those scenes will not be repeated. I hope that we will race with ideas and values, that there will be a normal political debate and engagement for the best interest of the citizens. For me, those scenes have been very serious and they have caused so much damage to the state of Kosovo. /balkaneu.com/