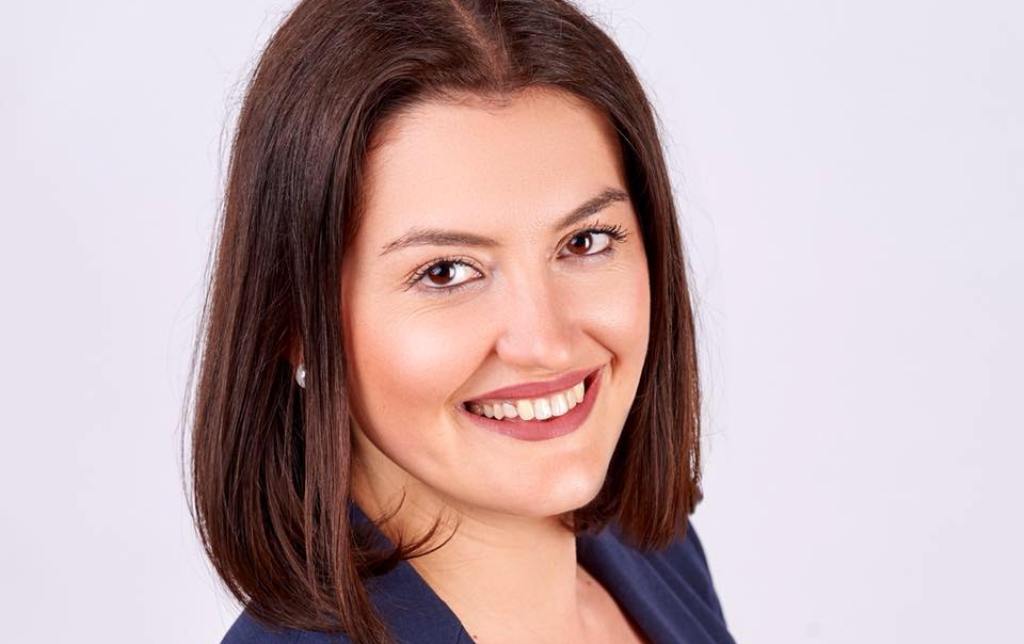 She was 12 years old when she moved to Belgium along with her family. Studying was her passion and the political career is an aspiration that is helping her to move forward.
Alketa Selimaj, 30 years old, originally from Vlora, is now expecting to become the newest Member of the Belgian Parliament..
But her political career has not started today. In 2012, she was appointed political advisor to the President of the Francophone Parliament in Brussels. Selimaj currently works with former Prime Minister and minister of Interior of Belgium. Last year, in the local elections Selimaj was a candidate for Humanist Alternative civil movement, she's a member of CDH right wing party which has 9 seats in the house of representatives and 4 seats in the Belgian Federal Parliament's Senate. This party has representatives in all three Belgian regions and a seat in the European Parliament.
In this exclusive interview for IBNA Media Group, Mrs. Selimaj talks about this rare experience of an Albanian who is running for the parliament of a European country.
How did your political career start in Belgium?
Like many of my fellow countrymen, I left along with my family from Vlora when I was just 12 years of age. I graduated in law and European studies. In August 2012, I started work as political advisor for the President of the Francophone Parliament in Brussels. I currently work with former Belgian PM and  Interior minister. I am also involved with the party acting as International Relations Secretary for the youth. Last October, I also ran in the local elections held in Brussels and was elected councillor in this municipality.
CDH party has also nominated you candidate in the May 26 elections in Belgium. Did you expect this or did it come as a surprise to you given that competition in a country with a developed democracy is intense?
Competition is always intense. The party decided to offer a chance to motivated youngsters who want to bring new ideas. As I said, I've been involved for years now and the party placed its trust on me.
In Belgium there's a big community of Albanians. What sort of relations do you have with them and to what extent Albanians have helped you in this path?
Yes, the community is very important and very integrated. Like most of them, I also maintain strong ties with the home country, Albania. I've also known many Albanians by working at the embassy and by lobbying not only for their wellbeing in Belgium, but also by lobbying for the integration of Albania in the European Union.  I am one of the founders of the first organization of Albanian females in Brussels, "Albelges" and member in several other associations such as "Konitza" and "Albalife". Given that I've been in politics for many years, many of them were not surprised that I was a candidate in the elections, considering it a coherent continuation of my engagement in politics. I am hoping on their support.
Do you encounter prejudices by Belgian politicians or the Belgian community for being an Albania or is it the opposite?
No, it's quite the opposite. I serve as a model of integration in their society. At least for my party. I have never felt prejudiced, although I know that this phenomenon exists.
Every Albanian would like to see an Albanian in the political capital of Europe. What sort of message or what sort of promise do you have for them?
That I will continue to work for their wellbeing, by supporting them and representing them in the federal Parliament. Albania's integration in the European Union is also one of my biggest priorities and I will continue to lobby for this.
I trust you have followed political developments in Albania. What impressions has the political class in Albania left on you in terms of the vision that it has for the future of the country?
Albania has seen major changes throughout the years, but the political class remains the same. There needs to be a change. I'm used to politics in Belgium where politicians talk to each other and find compromise. Albania is dominated by a "bipartisan" system and by a battle of personal egos rather than a battle of ideas. But in the end, people are the ones who pay the price.
Albania is hoping on opening accession talks with the EU in the month of June. Must Albanians feel optimistic or must they do more?
I'm confident that the future of our country is in Europe. But we need to do much more. I adhere in a political party where education is a top priority. When I see the situation in Albania, the way students are treated and when I think about the integration of the country in the European Union, then this leaves me a bitter taste.
Why did you decide to enter politics? Perhaps it's still early, but have you ever thought of returning to Albania in the future?
After working for different organizations, I decided to enter politics, because I saw this as a way to advance my convictions. To be honest with you, I have often thought about this. With the experience I have gained here, if I return to Albania, I would focus on the rights of women, democratization and education.