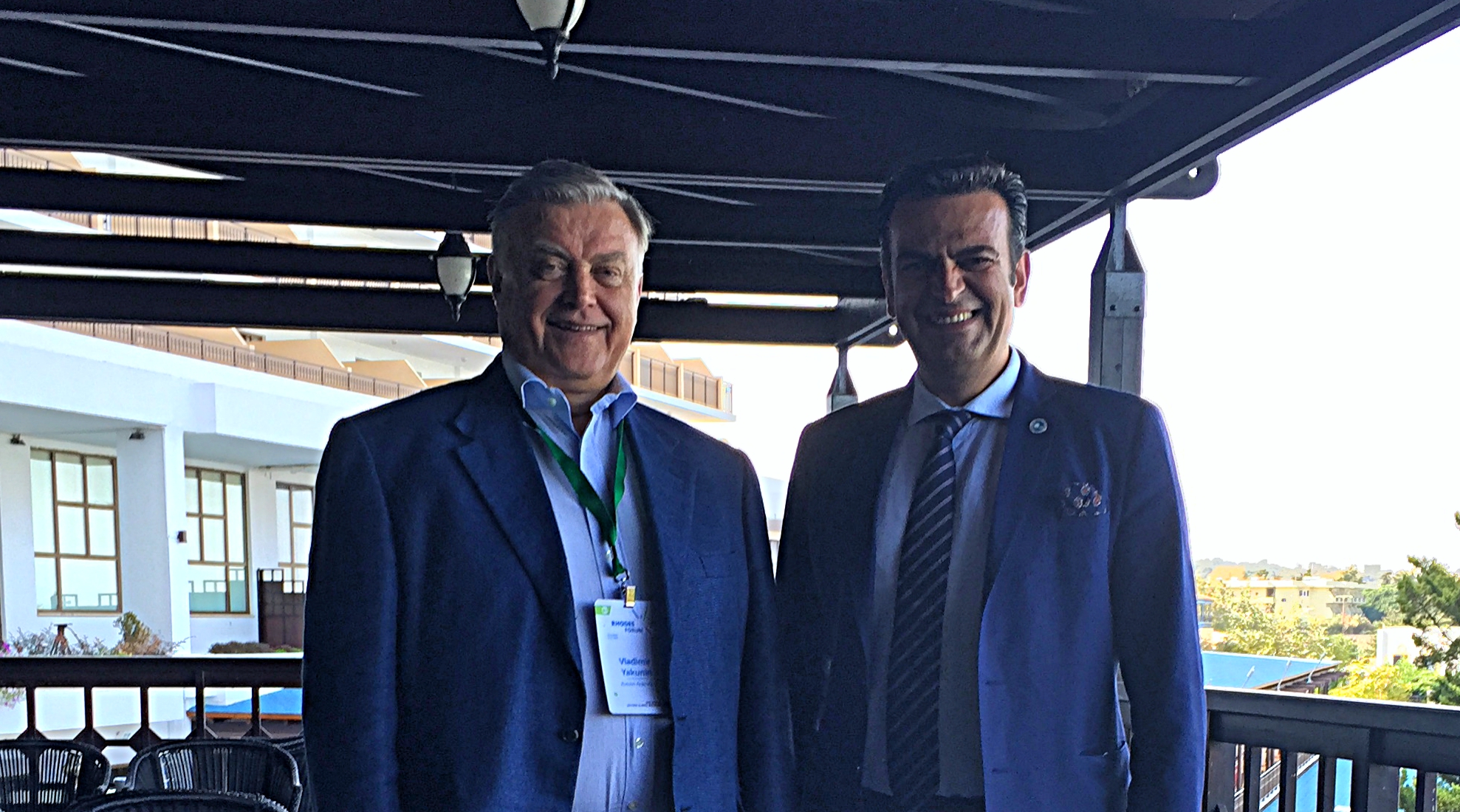 Rhodes, October 13, 2015/ Independent Balkan News Agency
By Spiros Sideris
Vladimir Ivanovich Yakunin is a Russian businessman and former president of Russian Railways. Vladimir Yakunin is also President of the "World Public Forum – Dialogue of Civilizations", an International NGO, registered in Vienna, Austria, which he co-founded with C.Kapur of India and N.Papanikolaou from Greece/USA. "World Public Forum – Dialogue of Civilizations" is an initiative to link people of different civilizations, traditions and religions. It organizes the annual Rhodes Forum on Dialogue of Civilizations
Mr. Yakunin, in a fluid environment is there room for talks or is it necessary that we move on to action? Could it be that words just scatter in the air and vanish?
I believe that words have great power. Take a look at propaganda for example. It creates whole ideologies for people. Depending on who the propaganda comes from, it could do the people good or bad. Therefore, lets not underestimate the importance of the right and timely words.
You are completely right that these talks occur between two friends, two partners. Their result will not be too great if they are not two leaders of two countries for example. But if such NGOs, like this world forum here, attract many people from more than 50 countries and proceedings have targeted results and these results are correctly analyzed and proposals and visions are expressed regarding the causes of the crisis and how to exit, this is exactly what social action is. Action with a political, cultural and social character. Such dialogue has every right to impact on politics and scrutinize the actions of states, state entities and leaders and essentially shape the ideas of all those in power today based on the real needs of the people and societies they try to control. In this sense, the Rhodes forum is an important phenomenon and with great benefits. It also has benefits for Greece. First of all these voices come out of the Greek island of Rhodes. People from 50 counties come to Rhodes, to Greece. They see with their own eyes what is happening and they participate in developing the appropriate paths and ways. Again this may not be enough. More participation from Greeks themselves is necessary in such gatherings. It is wrong to think someone from abroad will come and solve all the problems Greece has. It is like expecting someone to come into a family from outside and solve the problems of a husband and wife for example. This can only create problems. You understand what I mean.
Usually the rich people in this world are more concerned with increasing their wealth than taking part in public affairs. What was it that prompted you to get involved and create the "dialogue of civilizations"? Are you an active citizen or is it an indirect political intervention favoring Russia in the world stage?
First of all I never refer to very wealthy individuals. I never was one. I have some money and made some wealth through my work. I have an account in Russia which is good, it is full, in a Russian bank. I believe I am self-sufficient but the world forum began when I did not have much financial help, in 2002. I can say that I have been trained to be in this position. Tell me as an active citizen if I can make some observations about the action of state organizations or bodies in Russia or abroad. I must first prove though that I am not just being critical but show what I have done and what I am capable of doing in my work at the country. With the dialogue of civilizations, this world forum, and the Andreas Protoklitos Foundation I have in Russia and other Foundations I have won the right for myself to speak as a person who is active. I may have made some mistakes but nobody can say I have not done anything, that I just sat on my couch or was fishing. Even though I love fishing very much.
Until recently, you were president of the Russian railways and showed interest in investing in Greece. This role of your makes you knowledgeable about Greek realities. What is Greece doing wrong and it can't attract investors?
It would be rude of me while I'm in Greece to criticize the current, future or previous Greek government about any issue. If I am asked by the representatives of the Greek government themselves, if they come to me and say: "Mr. Yakunin I'd like your opinion about us as a friend or an expert" then I would do it. But I don't think I could criticize Greece or the government from the outside. The only thing I could say is a very good Russian saying: Don't put off what you can do today for tomorrow.
Greece and Russia have strong traditional ties but the relations of the two countries is not at a level that makes them team-mates and associates on an energy and on a geopolitical level. Why do you think this is and what can be done to shape a new environment in interstate relations?
The least we can say is that we are people connected with East Orthodox Christianity. Besides this we should also be active which is something both sides lack. I don't think it would be wrong for me to point out that there should have been more Greek initiative here [in Rhodes]. Because, if Russia is active in some countries, on some issues, it could create the impression it is trying to intervene in something or against somebody, or divide someone. In this respect I think Russia was always a state that was self-controlled. We never went anywhere without an invitation.
After a long period of silence, is Russia getting a voice again? What do you think it wants to achieve? The creation of a new bipolar system or is there another thought?
Russia has not gone anywhere. If someone believed it could wipe Russia off the world map with a rubber it made a great mistake. Because being strong is not just a matter of political power. It is determined by the people and you cannot just dismiss the people. This is proved today by the fact that today, 80 or 90 percent of the people support the Russian president. In no other country in the world, excluding authoritarian regimes, where something similar is seen. What you said, that Russian voice was not heard in the world, let's just say that it had an illness in its vocal cords. Russia is OK now.
Mr. Yakunin is there hope we can leave behind a better world than the one we received?
You know, I will tell you a joke I told my journalist friends here. I am clinically optimistic. I have been diagnosed. And I believe the majority of people cannot be optimistic because pessimism leads to inactivity. A pessimistic person allows himself everything, even bowing before another person's will. Man dies, mankind is immortal. This is a positive message.