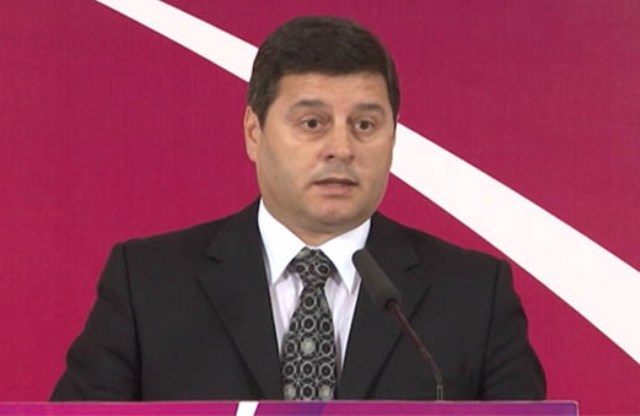 Pjerin Ndreu: We are not programmed robots
Socialist Party MP, Pjerin Ndreu, who is also member of the Parliamentary Committee on National Security, says that the government of the majority that he's part of, has been trying, in these two years, to repair, according to him, grave mistakes accumulated through many years. Ndreu also explains the reasons why there's discontent among the people, including the left wing voters who voted the SP two years ago.  In an interview for IBNA, Mr. Ndreu says that the Socialist Party will win the local government elections of June 21, which are considered as a test for the governing majority.
Mr. Ndreu, it's almost two years now that the majority that you're part of, governs Albania. To what extent have you met your objectives during these two years as majority?
They have been two difficult years, after we took power in miserable conditions. Imagine if you enter an empty house without furniture where you have to live in. There was no institution without debts. There were even unpaid lunch bills. The state treasury was empty!  Even the most sworn enemy of this country would not have done so much harm to Albania. Albanians must be aware that great efforts are being made in order to improve different aspects in the country, but it's not easy. Reforms are painful, but they are necessary. Law and order, education, legalizations, energy, etc, are the first tones to offer the impulse of change.
How has SP governed better than "Berisha" governments?
In everything. This government has imposed the discipline of the law, where the state official and the citizen are equal, thus narrowing the gap of inequality in front of the law. For example, my son's driver's license has been revoked for a year. He's the son of a majority MP and before June 23, nobody could punish him. But today, things are different. Relations between the government and the citizens are fairer and more transparent.
What can you do better?
Everything. Society moves forward, is developed while we're always behind, instead of moving forward.
There's been a recent debate about the need to make changes in the governing cabinet. What do you think?
The government is working well and there's no reason to make changes. Everyone has a program and objectives which cannot be measured in two years. I'm surprised by several "erudites" who expect from this government to do in two years what hasn't been done in 8 years from the previous government. But we're not programmed robots. Things are not easy and not everything is in the hands of the government. We must raise national awareness about the difficulties that exist, in order for everyone to contribute as to what can be done to improve the situation and not only to observe it.
Many people, including leftists, are disgruntled by this government. Where do you see the causes?
The government is not something where some benefit and some sink into misery. We follow no political approach in the administration and this is evident.  The discontent comes as a result of the jobs. But, it's not fair to be graduated at "Vitrina University" [private university shut down by the new government-editor's note] and look for a job as a director. There are many who do not understand that the party's membership card is not a university degree. This is a good sign that we're governing for all Albanians without discriminating anyone.
We're ahead of the local government elections. Is the SP ready for these elections? What are its chances of winning?
The SP has been tested in election campaigns. It has experience, maturity, capacities and it's capable of holding good elections. We're always the main contestant for the title and this is why we're ready and we will mark a convincing victory. There's no doubt that we will win. The alternative in front of us is old and without ideas. The only thing that they know what to do is to defame for everyone who's not with them. They're in a miserable state.
We're entering these elections with a new administrative-territorial division. Will this division bring problems for the June 21 elections?
What problems?! There's no problem, on the contrary. It will facilitate the campaign, the selection of candidates, municipality councils and the administration of territories, leaving behind communes who used to have an administration although they had 100 voters. There's no reason to have problems.
Who is the best figure that SP can offer to Tirana?
SP is lucky because it has many figures and we will win this race. I don't know where to point my finger, but we have many. It's not time yet for the names. /ibna/