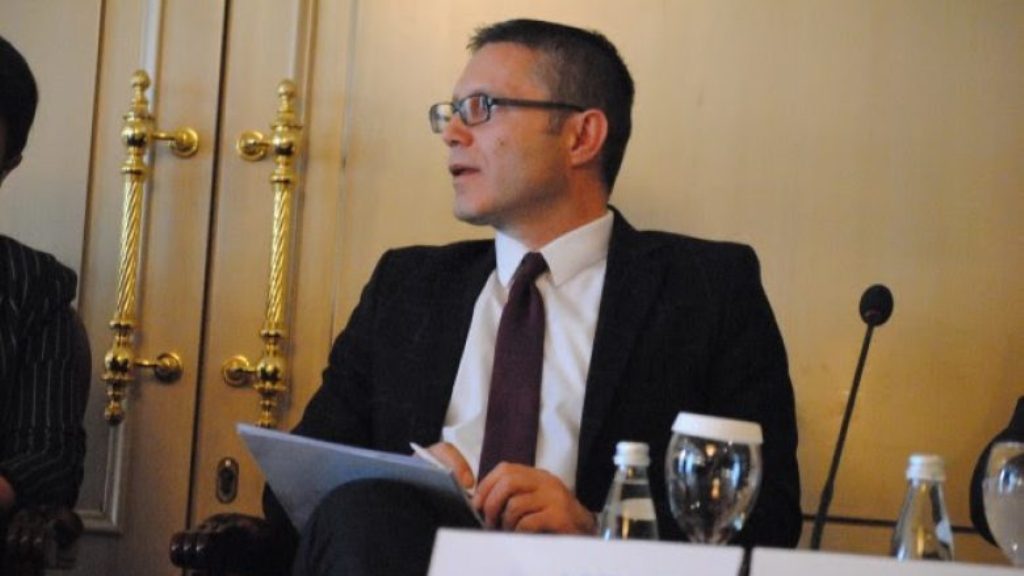 Kosovo's deputy Minister of Defence and National Coordinator for Integration and Accession in the NATO, Burim Ramadani spoke in an exclusive interview for IBNA about the role of Kosovo Army in the stability of the region, NATO accession process, security situation in the North of Kosovo, Russia's influence on the destabilization of the region and the recent political developments in Kosovo
IBNA: What will be the role of Kosovo on the peace and stability of the Balkans?
Ramadani: Kosovo is committed to contributing in regional and global security. As such, along with its political, diplomatic and military institutions, it will be in full coordination with our strategic partners, led by the US.
For us, it's clear that mandating Kosovo's Army has had a positive impact on regional security. The consolidation of the state of Kosovo stresses the necessity of deepening regional cooperation and European-Atlantic integration in order to achieve permanent peace in the Balkan region.
Kosovo's Army is a professional, modern and multi-ethnic force, ready to contribute for peace and security everywhere in the world. We want to develop, advance and further modernize FSK in order for us to be a strong partner in the democratic world. Today, FSK is the most trusted institution in Kosovo and as such, it also benefits the entire region.
IBNA: How difficult will Kosovo's accession in the NATO be?
Ramadani: Kosovo understands the importance of NATO accession. Therefore, we're aware of the journey ahead and the role that coordination plays in becoming a member of this organization.
What matters the most is the fact that Kosovo has no dilemmas in terms of belonging to the Euro-Atlantic family. Kosovo is not a neutral state and it will never be. What's more, based on NATO's open doors policy and based on Article 10 of the North Atlantic Pact, we believe that NATO's enlargement in the Balkans will never be questioned. Therefore, we can easily pretend to become the 31st NATO member, especially now that North Macedonia is wrapping up its accession in the NATO. Based on current political developments, I hope that a way will be found for us to be an active member of the Partnership for Peace at first and then become a full NATO member.
IBNA: How do you assess the security situation in the North of Kosovo? Do you expect to see tensions?
Ramadani: Political tensions have not affected security in that part of Kosovo and this is a very good thing for developments ahead. We have seen some strange scenarios that Serbia has attempted in the north of Kosovo, but such scenarios are very hard to realize, because the international community is very attentive and nobody believes Serbia's propaganda for "humanitarian crisis" or similar scenarios. Of course, we have taken all necessary measures to be in touch with our international partners in order for such plans to fail, as they have!
IBNA: Are Kosovo security agencies collaborating with the US and Europeans to prevent Russia's attempts to destabilize the region?
Ramadani: Foreign influences, especially Russian influence has turned into a real concern for the entire Balkan region. Russia's objectives are clear in terms of creating an unstable situation, of interfering in democratic process and pushing Balkans away from Euro-Atlantic processes.
Nevertheless, it's clear that Kosovo is constantly fighting the Russian influence. The Russian influence is mainly being spread through Serbia, a country in which Russia has set up its ideological, military and diplomatic basis.
IBNA: What sort of threat does the fact that Russia is assisting Serbia to modernize its army pose for the Balkans and Kosovo?
Ramadani: Serbia is sending threatening messages for the entire Balkan region. What we've seen in the recent years is a diplomatic offensive that Serbia has embarked on in order to be supplied with Russian equipment. This means that Serbia is only looking to interact with Russia as far as military is concerned. Serbia's autocratic regime has decided not to collaborate with the countries of the region, because collaboration is directly linked to the standard of equipment and armament systems. Of course, this is a big concern for the entire Balkan region. The only thing that guarantees peace and security in the Balkans is the modernization of Balkan countries, especially in the domain of security and defence. While all other countries in the region have been orientated towards NATO, Serbia is the only country which has taken the opposite direction and this is something serious for the entire Balkans.
IBNA: Kosovo is entering a new electoral process. What are AAK's expectations from this? Is this party expecting to grow based on the results of Haradinaj's government?
Ramadani: I think the political stage in Kosovo is not being analyzed properly. Political parties and citizens of Kosovo must think about the reason why these elections are being held. The problem in this case has to do with Serbia and the policies that this country is implementing. Current president of this country, Vucic, used to serve as Information Minister during Milosevic's regime. Meanwhile, Foreign Minister Ivica Dacic was Milosevic's spokesperson. Serbia's two main leaders have one thing in common: propaganda.
Serbia says that it has sent a new file on Haradinaj. In other words, it has fabricated a new file following tens of previous ones which have led to nothing. I think that this situation is not a simple one and must not be seen as internal political struggle. /ibna/