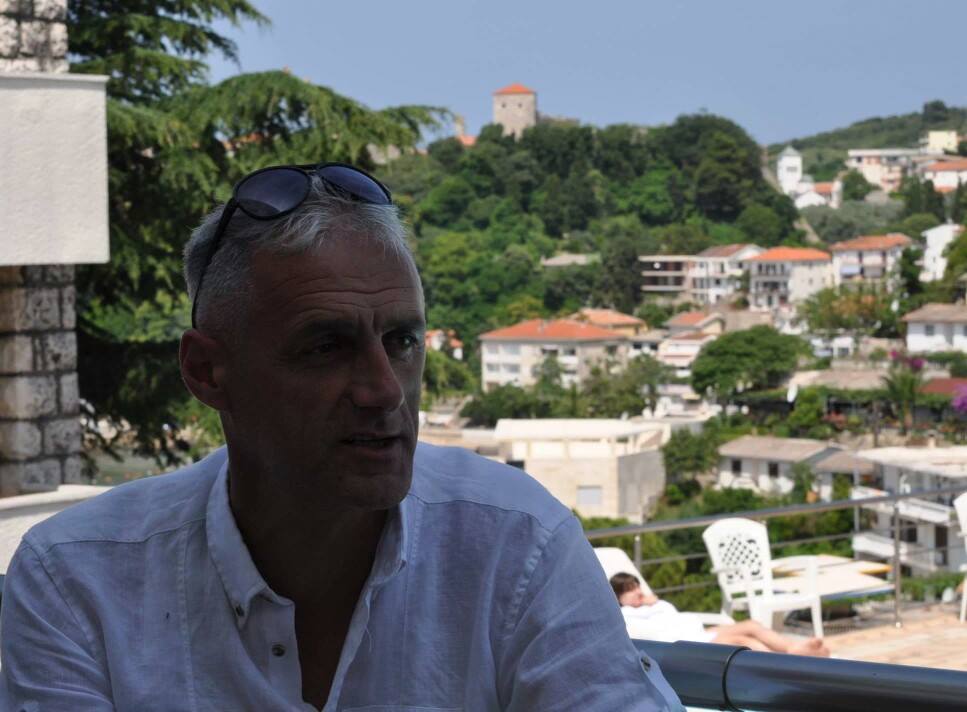 In an exclusive interview for IBNA, actor and prominent producer, Adem Zhitopotoku, talks about the situation that artists in the country face. He stops on the role of politics in culture and the failure of cinematography to make an objective and professional film on the war of KLA. In the interview that you may find below, Mr. Zhitopotoku talks about the role of theaters and TV series in the education of young people in Kosovo
Interviewed by Muamer Mellova
IBNA: How difficult is it to find artists or directors in Kosovo, knowing that no adequate support has been given to the artists' community from the period after the war until today?
Art and culture is not a priority for a country that has just come out of the war. In 1999, Kosovo had zero institutions, zero production plants and zero administration. I often discuss with my friends that Kosovo is not that bad, although we complain a lot. I'm one of them who follows a program on TV called "I am in Kosovo too" and I make a comparison between the life of artists in Kosovo and those images that I see, but it's hard for me to find a balance, because we have people who are very rich, although we all know how they were before 1999 and we also have many poor.
We cannot say that art people have not been given a chance. We have cases when producers or directors have been given money from the state budget and have misused them and this has damaged good creators, because someone has abused with those monies earlier.
IBNA: Is it necessary to be a relative of people in power to obtain a role or obtain a film project? How much is politics involved in art and culture?
I don't think that one must be a relative of someone in power or obtain a role or benefits. Take me for example. I am involved in my political life for eight years now and I had no benefits in terms of my artistic life. On the contrary, there was no time. Meanwhile, my colleagues who have no ties to politics, are very present in film and theater projects.
If we complain that we have not been engaged as much as we should have,  then it's clear that the faculty of arts educates artists without having a strategic plan. Kosovo has more artists than it needs. If we look at our population, then we will realize that something is not working out.
IBNA: 15 years have gone by since the end of the war in Kosovo. How is it possible that we don't have a film about the last war in Kosovo? I'm talking about a film with standards…
We have had attempts to make films about the war in Kosovo in more than one occasion, but we all know that they failed. Some make films in order to justify the budget with bills and nothing more. So, institutions are not always to be blamed. We, artists, must also be blamed because we're not that serious.
I'm happy that there's not yet been a film about the last war in Kosovo, because the soldier of KLA is being presented so bad that we're ashamed to watch the film. The, to make a movie on Kosovo and not to include NATO and the world politics in it, I would say that we're playing a children game with the entire process.
We didn't win the war in Kosovo on our own. We had the Albanian Diaspora who gave everything they could for this war. If all of these elements are not included in the film, then we are not being serious.
IBNA: In general, the National Theater of Kosovo is showing plays by foreign writers and events which have occurred time ago and in other countries. Why isn't it handling subjects that relate to today's reality in Kosovo and the social drama that we are living?
I don't think that the problem relates to the subjects being handled. Our TV stations have bombarded us with TV Series, which have become part of our families and these series are changing the way how people in our country think.
Then, theater is less interesting for the poor people, because theater plays do not show how people become rich overnight. This is only shown in TV series. Under these circumstances, the National Theater doesn't have the necessary impact on the education of young generations.
IBNA: What are you currently doing? Do you have any film project?
I am completing the playwright on the film dedicated to the Albanian national hero, Isa Boletini. It's been several years that I've been making research on his life and activity. I believe that I'm in the right path for a film that talks about the life of Isa Boletini and his objectives, which culminated with the creation of the Albanian nation.  /ibna/