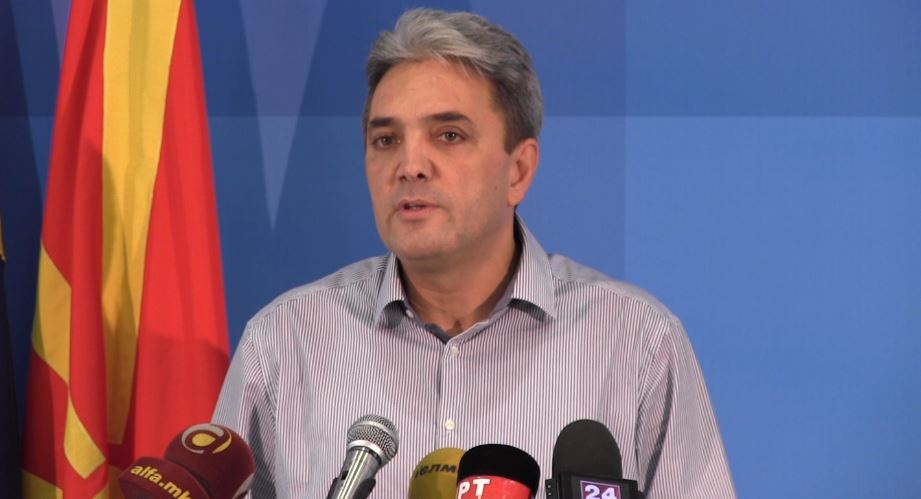 Petar Atanasov: "All capacities must be exploited to overcome the crisis and solve real problems"
In this exclusive interview for IBNA, member of the steering committee of the largest opposition party SDSM (Macedonian Social Democratic Union), Petar Atanasov, a professor at the "St. Cyril and Methodius" University in Skopje, talks about the current developments in the country, the wiretapping scandal, the solution of the political crisis, cross ethnic relations and European Atlantic integration. Atanasov is chairman of education committee at SDSM, but he's also an expert of multi ethnicity and multi cultural.
Interviewed by Naser Pajaziti/IBNA
IBNA: How do you assess the present political situation, especially the wiretapping affair that was made public by your party?
Atanasov: This is the culmination of a crisis which started on December 24 and the so called "black Monday", when the opposition was removed from parliament through the use of force. This crisis continued for two years in a row and culminated with the non democratic elections of last year. The wiretapping scandal is only the tip of the iceberg. SDSM's conferences with journalists show how the government of Nikola Gruevski has been abusing with the state, politics, citizens and the entire society for nine years in a row. If you want a diagnosis, the political crisis, which has come as a result of Gruevski's bad governance, is now institutional. We have a situation of gridlock in the corrupted state apparatus and we're unable to hold normal political processes.
IBNA: What is the solution of this crisis according to your party?  Several phases are also being mentioned which require a political solution.
Atanasov: Now we're clear on several things, although the people who are in power are causing turbulences. First of all, SDSM is not part of the problem in all of this political chaos. On the contrary, SDSM wants transparency for all this and it wants public opinion to see how VMRO-DPMNE has governed in an "efficient" way. It's also clear now that Nikola Gruevski is no longer part of the solution of this institutional crisis. We have only two solutions as far as overcoming this situation is concerned. There's a good epilogue and a bad epilogue. At the end, each of the solutions will yield the same result,  but the good solution will make us overcome this situation quicker.  With the withdrawal or departure of several politicians which everyone has seen how well they have "ruled" in the system, the situation would have an institutional epilogue. In all cases, we will go through a turbulent period, including the equipment of Nikola Gruevski's government with blank bullets and other protective measures, which were approved with the new law on police. Nikola Gruevski must make his step now.
IBNA: You were one of the opposition's front men against the government plan for reforms in education. What are your arguments against these reforms that sparked the protest of students and the withdrawal of the government?
Atanasov: The government was approving laws which damaged education, teachers and professors, including the autonomy of universities. A lot of money was spent, but the model of reforms was wrong. Education in our country needs support, instead of political pressure or punishment. Education needs investments and increase of the quality of teachers and professors, because this is where quality education starts from.
The main problem consists on the fact that the Ministry of Education has never applied quality control in education. Educational projects must not be selective and isolated. Education doesn't tolerate individual interventions. Besides this, the standards that VMRO-DPMNE's government wanted to impose had no good intention, but it was an attempt to introduce control over the system and professors. In this situation, instead of having solutions, the government has caused more problems. SDSM has criticized these developments with a good intention and with a critical approach. But when this was ignored, then we unmasked the policies of this government and we have done this throughout the entire year in a public way, because the government and Ministry of Education have not offered the necessary explanations for their major projects. This was followed by protests and resistance by students, teachers and professors.
IBNA: Ethnic relations are another problematic segment of the country. What is your assessment?
Atanasov: Yes, this segment is being assessed as problematic. For two decades , we have not been able to find a solution in this domain. Sometimes, small things can offer the big picture, but we often lack the small positive things in this aspect. Here, I can count the protests of the citizens, where in some cases this barrier has been overcome, but we have very few positive examples. I would mention the period after 2001 with the end of the conflict and I say that all opportunities must be exploited for good ethnic relations. We have structural rules that offer possibilities for sustainable institutional solutions. But when we analyze this topic, we must mention two points that aggravate relations between the two communities. First of all, Nikola Gruevski and Ali Ahmeti have not been interested on this topic in the past. Each one of them took good care of their entourage and to meet the demands of "their citizens".
Such status quo in this domain is intolerable. In this aspect, there must be creativity, energy and constant engagement.
Secondly, relations between Macedonians and Albanians have also been affected by many other factors such as historical, political, but also cultural differences that have their impact. Negative moments from the near and distant past continue to put at test issues that relate to power, policies and symbols of the state and ethnic communities. Also, the biggest problem relates to big prejudices and isolation, which are difficult to be overcome.
IBNA: Do you think that these problematic developments are distancing the country from the Euro-Atlantic path?
Atanasov: I often say that our country must either be democratic or not exist at all. Big states can allow different experiments, but small states must wisely decide for their future. I often think that our society must cultivate values in many aspects. In my lectures with students, I prefer democracy to come before multi culture and economic development before ethnic competition. Our country must find the strength to exploit the capacities that it has in order to solve this crisis and to solve the problems that the citizens have. Anyhow, every problem that relates to the rule of democracy is an obstacle for the near integration in the European community. At this moment, I can easily say that Brussels to us is as far as Moscow and Beijing. /ibna/