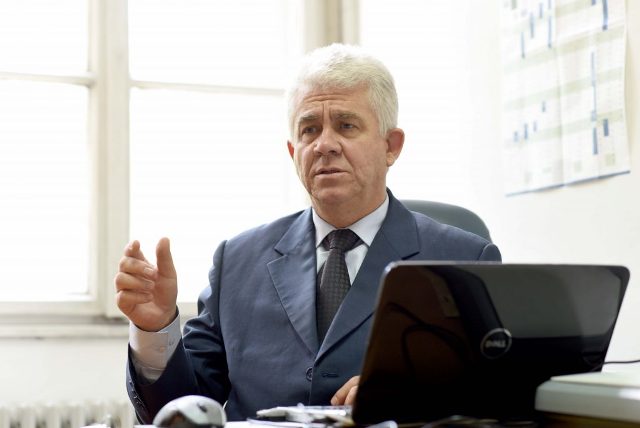 Former minister of Education in the former Yugoslav Republic of Macedonia, Prof. Dr. Nenad Novkovski, talks in this IBNA interview about the current developments in the country, the solution of the crisis and the holding of early elections. The university professor says that citizens' awareness on the need for change must grow. He also says that conditions must be enabled and then fresh elections must be declared
Interviewed by Naser Pajaziti/IBNA
 IBNA: The political crisis continues and there are no signals that it will be overcome. Do you thing that with what is happening, the country is risking taking steps backwards?
Novkovski: To say that our country is making steps backward because there are no positive results in overcoming the crisis, is incorrect. Macedonia has made lots of steps backward and this due to the government which has been in office so far. All of this retrograde movement has made the country take steps backwards. But, a positive thing out of all of this activity against the crisis relates to the increase of citizens' awareness about the errors of the government.
IBNA: Who is to blame on this situation?
Novkovski: It is difficult to talk about blame. What's important is that all forces must be joined to move forward. Unification of these forces is the only path to solve the crisis.
IBNA: How do you consider the role of the main political parties or the assessments of some of them which require a bigger engagement from the international community to solve the crisis?
Novkovski: Political parties must be engaged more, but unfortunately, there are not enough political forces to overcome this situation. A special case exists with VMRO-DPMNE, which is not willing to give up on the mechanisms which caused the crisis. This party doesn't realize that changes must take place. Our problems cannot be solved by the international community. It must act intensively in helping us solve the problems with the available mechanisms.
IBNA: Economic indicators show a deterioration of the social and economic crisis, which could lead to other problems. What is your opinion on this?
Novkovski: The economic and social crises have come as a result of the institutional and political regression which has been created. If the crisis is solved rapidly, then it would be easier to cope with the consequences of the crisis.
IBNA: The elections are seen as a way out, but there must be conditions which make them free and democratic. What is the most acceptable period for holding them and what must change?
Novkovski: The framework or deadline for early elections must not be decided the lack of cooperation by the government. What's important is for us to have early elections. The conditions for holding them have been provided for by the Przino Agreement. According to me, what's more important is to clear the voters' lists of any mistakes and avoid any possible irregularity.
This cannot be done through consensus by political parties, but only by regulating this instrument for normal elections. This problem has been existing for 20 years and now it has grown immensely. This creates problems of all kinds in the state structure. The best solution is to actively register votes with accurate biometric data. /balkaneu.com/