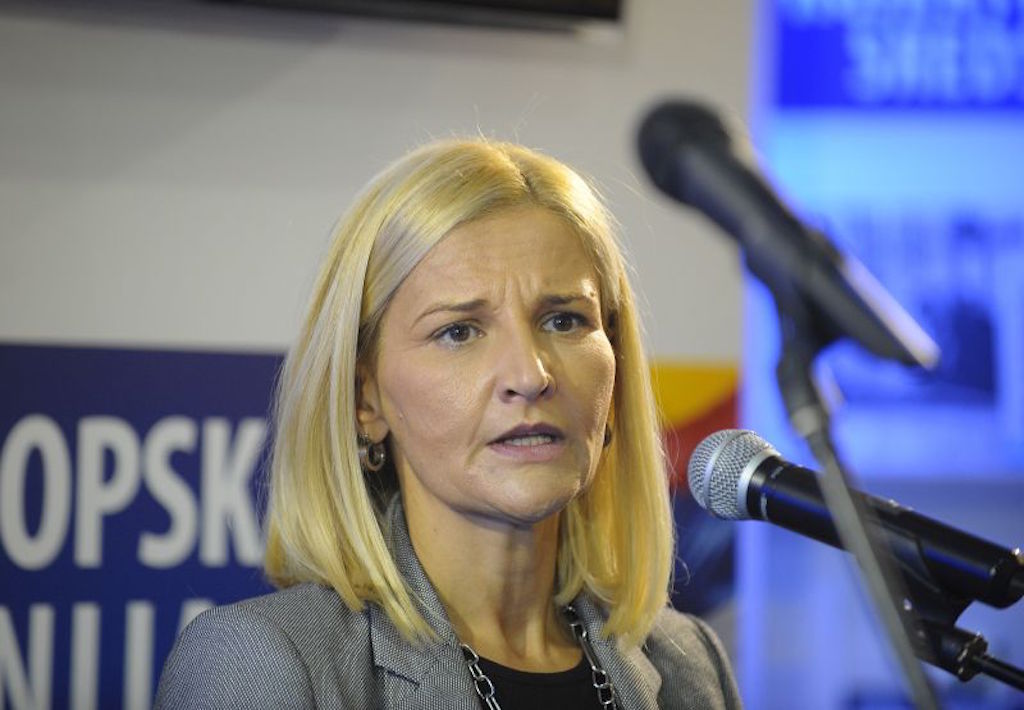 Tanja Miščevic is a PhD holder and the Head of the negotiating team for the accession of the Republic of Serbia to the EU. Through her exclusive interview to IBNA she speaks of the importance of her country's bloc accession course, to her personally as well as to the EU, about the progress that has been made with the opening of the chapters and the implementation of certain reforms, she talks of Alexis Tsipras' role in Serbia's EU accession course and about the need of co-operation within the Balkan region. Tanja Miščevic also stressed that Belgrade has informed both the International Community and the EU, that the unilateral proclamation of Kosovo's independence would make all hell break loose and would be the basis of future trouble.
Mrs Miščevic, why do you consider Serbia's participation in the EU important?
Undoubtedly a European country, with EU member states as its neighbours, Serbia has so far focused mainly on trade with them and on developing good neighbourly relations. But, being influenced and influencing European politics are only few of the reasons why our membership in the EU is important. Not only for us, but for the EU itself. Look at one obvious example – the recent migration crisis, where Serbia was a very important part of the answer to this situation and, as Greece did, showed that it is sharing European values of solidarity and tolerance. That is my vision of Serbia in the EU, as a country that can add some values to the integration and help its further development, while, at the same time, it is helping itself. 
To what degree have the ten new chapters that have been opened regarding Serbia's accession course helped to this cause?
The opening of new chapters in the negotiation process is only the beginning of the road toward membership. The fact that we opened twelve chapters up to now (on December 11 we opened two more) and provisionally closed two chapters, depicts our ability to assume the obligations of a member. That those areas are well situated regarding legislative framework and now we have to concentrate on its implementation. This is our main argument when urging to open as many chapters as we are ready for: shift of focus not on creating harmonised laws but on making possibilities for our people to use these laws for a better life of their own.
The main issue connected with Serbia's accession is the country's relations with Kosovo. Is it realistic to think that these differences will be finally solved or will a barren nationalism prevail?
International Law – from the Lausanne Treaty to the Dayton Agreement and the Security Council Resolution 1244 – has to be respected. As the President Pavlopoulos has recently said in his interview to Belgrade's Politika – Pacta sunt servanda! Dialogue on normalisation was not, is not, and will not be a dialogue on the status, and in that respect, Serbia is fully dedicated to continue with this process. But, as people say: you need two to tango. We also need the other side to see importance of this type of debate. Have to add for the sake of clarity – it is not only normalisation with Pristina as a main issue, but also Rule of Law, too. The fact that process of normalisation is accepted as a model, that Serbia expresses its devotion not only to participate but also to implement all agreements shows that we are very serious in order to provide normal life for the people there, regardless of their nationality. Let me remind you that we managed, not easy at all, to finalize deals on police, judiciary, recognition of diplomas, free movement of people. At the same time, Pristina's did not even start discussing statute of the Community of Serb Municipalities.
How could the Quadrilateral Summit between Serbia and the three Balkan EU member states be of help to its accession course?
Enormously! We really appreciate Prime Minister Alexis Tsipras' strong leadership and are very grateful that he incorporates Serbia in Greece's foreign policy architecture and vision, and especially as an important partner of Greece in the Balkans. We could all hear that leaders of our four countries put emphasis on the issue of the European Integration of Serbia, how to speed it up and use it better. Our neighbours, which are EU member states, and especially Greece, Bulgaria and Romania, are the first ones that understood what we are doing regarding reforms in the economic field, and who understand all problems that we are faced with. In that respect, their role as "our voice" in the EU comes naturally. At the same time, it is in the best interest of all of our countries that our advancement towards the EU is steady and consistent, because, having neighbour that is in the same club as you is a positive step forward for all.
How does Serbia regard its accession course towards a non-united Union with difficult-to-solve problems at present, plus the secession tendency of parts of some of its member states (e.x. Catalonia). Although, possibly, this is a totally hypothetic question/case but, Serbia too, has Vojvodina that has expressed such a tendency?
Serbia has always admonished International Community and the EU that the case of Pristina's unilateral declaration of independence could serve as a very dangerous precedent. And that is exactly what has happened in the other parts of the world, including Europe. We think that our position about necessity to respect international law, mutual agreements and importance of the dialogue is now clearer to everybody in the international community.  
Yes, we do see that the EU is facing so many issues and problems, with Brexit too, but I argue that we are part of the solution, not part of the problem. Even just our strong interest for joining the EU in such and very difficult a moment in its history, is a powerful argument that idea of the EU is still very attractive. At the same time, we are following all developments with the EU reform very closely, aware of the fact that we will become a member of an EU which will be different from what it is today. And aware that we could also help and not just be beneficiary of the EU./ΙΒΝΑ
Photo: Dado Đilas