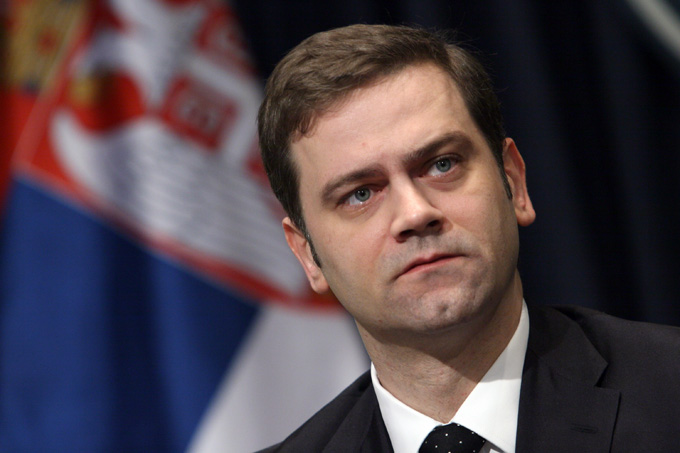 By Milos Mitrovic – Belgrade
In recent months Democratic Party (DS), the main opposition group in Serbia, has repeatedly indicated that the political atmosphere in the country was moving towards autocracy. Borislav Stefanovic, DS Presidency member who was the head of Democrats parliamentary club until National Assembly has been dissolved ahead to March 16 early elections, says that Serbia "is approaching to one-man rule". In the interview for IBNA, Stefanovic positively answered when asked whether the situation in the country, in that context, resembles the authoritarian regime from 1990s.
"Unfortunately, everything indicates that we have similar situation owing to oppression of  independent institutions and media freedom as well as the collapse of the economy. We are moving toward a quasi-institutional system characterized by the fact that one man decides about everything. Quasi-democratic system is being established where opposition activities are covered by pro-government media only in electoral campaign. The regime strives to crumble opposition in order to prevent any opposition party to gain more than seven or eight percents at the elections. In such an situation without real opposition they would be capable to pick their coalition partners. However, DS is the only true opposition in Serbia", Borislav Stefanovic emphasized.
When you talk about "one-man rule" its obvious that you point to Progressives (SNS) leader and Deputy PM Aleksandar Vucic. Do you think only Vucic is responsible for alleged emerging autocracy or authoritarian political culture in Serbia also has its share? 
"This is the part of the plan and system organized by Mr Vucic`s advisory team and media. They are stirring up such an atmosphere among the voters. The environment where opposition is considered to be the enemy is being created. When we ask why electricity price goes up or raise the issue on hiring ruling party members in public enterprises they accuse us of being criminals or call us "cancer".
Polls results suggest that SNS will win almost 50 percents of votes and DS  less than 20 percent. How do you rate this researches?
"Generally, we are following the polls, but we also conduct our own researches. Considering bad experiences with some polls, I think the results should not be taken so seriously. The reality is that the current regime wants voters to stay at home on March 16.  The regime is hoping that the disappointment among our voters with the DS performance during its term in government – and this disappointment is partially justified – will weigh down the sense of responsibility. They also count on voters fear."
Former DS leader Boris Tadic, who was also Serbian president, has recently left DS and announced he will create his own political entity ahead elections. Some other DS high officials followed him. Do you find DS is weaker now? 
"First of all, I would like to stress that DS and especially its leader Dragan Djilas was exposed to media lynch in recent 18 months. At the same time party officials have been imprisoned with political motivation. The regime is now trying to make DS weaker from inside. However, DS has its program and position at the political scene".
Have you been surprised with Tadic`s move? 
"This has been surprise, although there were some expectations in that regard. Tadic has been saying he will never left DS. Nevertheless, the fact that they have left the party amid the elections says more about themselves than about DS".
It seems that one of SNS top priorities is Vucic to become prime minister. Is DS going to propose any candidate for this post?
"By all means, among first 10 candidates on DS list there will be five capable for premiership. We will offer the competent team to the voters, rather than personalize our campaign. We are opposed to idea that one man should decide about everything, even when the snow will be removed from the streets".