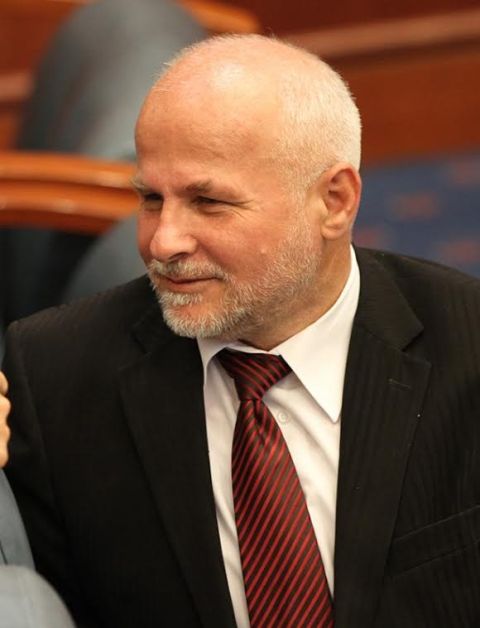 The deputy speaker of Parliament of the former Yugoslav Republic of Macedonia, Rafis Aliti talks in an interview for IBNA about the latest political developments in FYROM, the negotiations that are taking place as part of the agreement for the solution of the political crisis and internal issues of BDI (Democratic Union for Integration) which is part of the governing coalition with VMRO-DPMNE
Interviewed by Naser Pajaziti
IBNA: The political process is entering the final stage of the implementation of the agreement which aims at overcoming the political crisis. At last, we saw the appointment of the Special Prosecutor as part of the agreement. Do you think that things are moving in the right direction and will the political crisis be avoided?
Aliti: I believe that we have a positive development and there has been significant progress during the talks for the implementation of the June 2 agreement, brokered by the European Union. I believe that this is the last chance to restore the trust of the citizens on state institutions. We're all witnesses of the fact that the majority of people do not have faith on institutions and this situation has deteriorated the political crisis and the functioning of the state.
IBNA: Do you think that political parties are responsible for this, including your political party?
Aliti: Yes, all political parties in the country have a responsibility for the lack of trust toward institutions. As a party, we share a responsibility too, but we have long warned that state institutions are losing their credibility as a result of the problems of the country. As we all know, ten years ago, we were unhappy with a trial where several Albanians were convicted and we demanded the involvement of international investigators, although we were part of the government. Innocent people were convicted and the wiretapping affair proved this. This was also known by the heads of the Ministry of Interior and the government. We have similar suspicions on the "Monstra" case too, where 7 Albanians were given life in prison sentences, accused of killing five Macedonian citizens near the Smilkovc lake in Skopje, a crime taken place three years ago.
IBNA: Recently we have had the affair with "Magyar Telecom", which is a joint owner of Macedonian Telecom and where your leader, Ali Ahmeti and the deputy prime minister who comes from your party, are accused of accepting a five million euro bribery from this company in 2005 in order not to allow competition in the mobile phone market. How do you consider this case?
Aliti: As far as this case is concerned, we're on the phase of speculations. We only have one piece of evidence which must be taken into account. The justice institutions must have the last say. We believe that even in this case, a campaign is taking place against our party, in order to damage our image. I believe that someone, through accusations or testimonies is trying to blackmail or create a situation of mistrust against BDI, which is a party with no rivals and which has done a lot for Albanians in Macedonia.
IBNA: How does your political subject see the future of this country or the solution of the political crisis, which was associated with big problems?
Aliti:  In the last elections, as a party, we managed to win maximum votes amid the Albanian voters because citizens believe in us and in our platform, which is based on progress in the Euro Atlantic integration and ethnic demands from ethnic Albanians. In order to accelerate the process of accession in the NATO and EU, by solving the name contest with Greece, as a political party part of the government, we didn't make a priority of our ethnic demands. But the processes and the political situation led to a crisis, which had serious consequences. We concluded that the solution wasn't going to come by abandoning the governing coalition with VMRO-DPMNE, because the situation would become even more serious in the aspect of cross ethnic relations and we didn't want to contribute in the deterioration of the institutional crisis. Therefore, we're contributing in order for the political crisis to be overcome and for the country to meet its goals for integration in Euro Atlantic structures. /ibna/