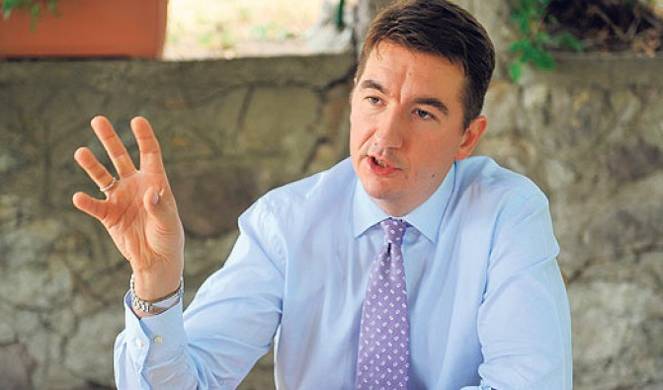 By Milos Mitrovic – Belgrade
Serbian foreign policy priorities should be defined exclusively by protection of our values and national interests, Dušan Spasojević, Democratic Party's (DS) Foreign Affairs Committee Chairman said in the interview for IBNA. Spasojević and his party colleagues recently had meetings with European Union representatives in Brussels.
Democratic Party delegation has visited Brussels twice over the last several days. This week you had a meeting with Enlargement Commissioner Štefan Füle. What was the objective of the visits and do you find any differences with regard to EU policy between DS and ruling parties?
"DS is state-building party, determined and unrelenting opposition; however, our priority is to be constructive actor in Serbian political arena. The start of Serbia-EU accession negotiations will be an important station on the road which was traced in 2000 by DS-led government. The objective of our visits to Brussels was to inform our European interlocutors that the main opposition party unequivocally supports the start of EU-Serbia accession talks as soon as possible. The fact that we consider transforming Serbia into reformed, stable and prosperous country as the core of EU integration process makes the difference between DS and its rivals."
Former Foreign Minister Vuk Drašković has recently said "there is threat Serbia to become new Ukraine". Do you find pro-Russian foreign policy turn is realistic scenario?
"Democratic Party is the firmest dam to current government's obvious intention to make Serbia a country where political opponents are harangued by media, persecuted by the police and pre-trial detentions which constitute the breach of the Constitution. Mr. Drašković has noticed that in Ukraine same things were conducted with simultaneous turning to Russia. I am deeply convinced that current Serbian government has failed to legitimize such anti-European methods by hiding itself behind pro-European rhetoric in last year and a half".
Prime Minister Dačić recently said that "West has shifted Serbia toward Russia". What is your comment?
"In our nation's perception Russia is dominantly considered to be a friendly power which has protected Serbia during the decisive moments in history, has allied or not confronted with us, at least. Although this perception is essentially correct, it is simplified as any other "national" perception; such an image cannot make the foreign policy foundation and define strategic courses of the political elite as well. Last century has marked great rises and falls with regard to relations between Serbia and Russia. The aggressive politics of the former Soviet Union has shifted us toward West barely several years after spheres of political influence were defined at Yalta conference. NATO bombing against Serbia and strong support to the project of independent Kosovo by the key Western countries have undoubtedly strengthened Russian influence in the region. Nevertheless, foreign policy priorities should be defined exclusively by protection of our values and national interests".
In October, Serbia angrily reacted to statement by Turkish Prime Minister Erdoğan which suggested "Kosovo is Turkey and Turkey is Kosovo". Do you think this statement, reactions and subsequent withdrawal of draft laws on cooperation between Serbia and Turkey have seriously harmed the relations between two countries?
"Prizren statement by the Turkish PM was undoubtedly inappropriate, especially providing significant improvement of our bilateral relations in the recent years. In that sense, official Belgrade's initial reaction was reasonable and DS has supported it. However, situation should now be settled. We believe that further development of bilateral relations based on reciprocity and mutual respect is in the interest of both Belgrade and Ankara".
FM Ivan Mrkić repeatedly complained that Serbia lack "diplomats good enough" for ambassadors in United States, China and Germany. Do you share his position?
"Regardless the long standing and current inappropriate personnel policy in our diplomatic service, there are people which are worthy to represent our country and protect its interests in the most important world capitals. In spite of all, Foreign Ministry disposes serious professional diplomats which fulfill appropriate high criteria".