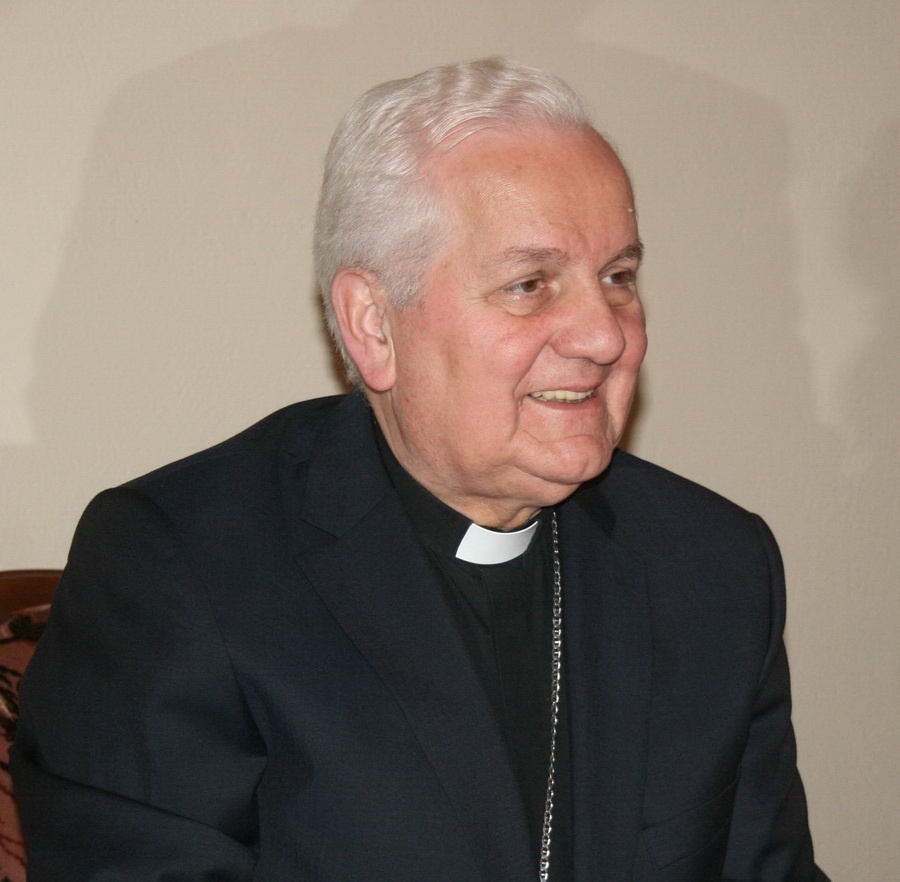 Banja Luka, December 28, 2014/ Independent Balkan News Agency
By Mladen Dragojlovic
His weapon is his smile. Banja Luka bishop, Franjo Komarica, talks with a soft and clean voice, which is only raised when talking about the rights of refugees and displaced persons, particularly the Croats in the Republic of Srpska and the whole of Bosnia and Herzegovina. Twice he was a serious candidate for the Nobel prize for peace. In an interview for IBNA, Komarica said that he is looking forward to Pope Francis' first visit to BiH.
What will this visit mean for BiH as a state and its reputation in international community, and for citizens of BiH?
The Popes' visit to any country is a great honour. For BiH it would be a strong stimulus to join forces to reach common goals, in order to move the country out of the unenviable economic and political position, in which it is now. Pope Francis visit would be a great moment to draw the attention of the international community on the political issues of the country, especially on the problems in state structure.
This country has been suffering for such a long time that its citizens are leaving it forever. Only a small number of countries in the world pay so little attention on their own citizens as is case here. Certainly the visit would be a strong message for politicians and citizens. I spoke with Pope Francis and he told me that his wish is to visit BiH, but it is not so simple.
First we must fulfill certain conditions for the visit, first among them being the full respect of the interstate agreement between the Vatican and BiH, which was signed eight year ago, but our politicians are not able to agree on its implementation. There is no political will for that.
However, during the visit of BiH Presidency member, Dragan Covic, to the Vatican he promised the Pope that he will work hard in order to push politicians to solve these problems and to open the door for the visit. Catholic community in BiH will do everything to help the realisation of this visit.
In every occasion you emphasise the bad status of Croat returnees in Republic of Srpska and call responsible institutions on all levels to do more to ease their life. In addition, you are calling on those institutions to create better conditions for the sustainable return of refugees, especially Croats. BiH had elections in October, what do you expect from Croat, and other, representatives in the governments?
Croatian nationality citizens, with full right, expect that Croat elected representatives on all levels in BiH advocate their interests and rights. In fact all of new elected representatives must represent the rights of all citizens. In the past, I expected that Croat representatives would do something more to improve the status of Croatian nationality citizens, but the results of all efforts from politicians, Croats or not, are more than disappointing.
It is especially in Republic of Srpska where Croats are reduced to a negligible minority. Unfortunately, I had a chance to hear some international officials saying that Croats are minority in BiH and that Serbs and Bosniaks are nations. Who made this situation possible? In half of the country the number of Croats is so small that we can say that they don't exist and in other half their number is radically decreasing. In RS today live just five percent of the pre war number of Croats, and this is a fact. It is obvious that one constitutive nation in BiH is being expelled and it will not end well.
Recently, you organised a round table discussion in Banja Luka on the status of Croats in BiH. What were the conclusions of this meeting?
We organised a discussion on this issue and international community High representative, Valentin Inzko, said that Croat nation in BiH is "the smallest of the three brothers in the country", but with strong power to pull the country development since members of this nationality are linked with neighboring Croatia, which is a member of the European Union. That is why Croatia have full right and obligation to participate in actions to help BiH come out from the unenviable political and economic situation in which our country is.
Members of the Croatian government and their representatives in European Parliament were also present at the round table and they said that some actions are ongoing in order to provide help to BiH. We don't have any other way than to get closer to the community of European states which, despite of all difficulties and specificities between them, created a Union, because they realised that they have more things in common than they have differences.
I often said that, if we want to speak about the success of the EU, let's show it on the example of BiH. If BiH succeeds in the "unity of differences", than it could also be accepted in the EU. But, the nations in BiH must show a lot of will in this unity before other countries accept us as valuable and reliable partners.
What can the international community do to help BiH?
I ask from the international community and international officials in BiH to change their view and start to watch us in different way. We would not be in this position if progressive Europeans showed respect to all nations and people in all corners of Europe. It is sad to say that BiH, in regard to the status of Catholics, is standing side by side with Iraq and Syria. But, BiH is in Europe and politicians in EU must know that those who are strong show their power through their love to the weak. This is the right message.