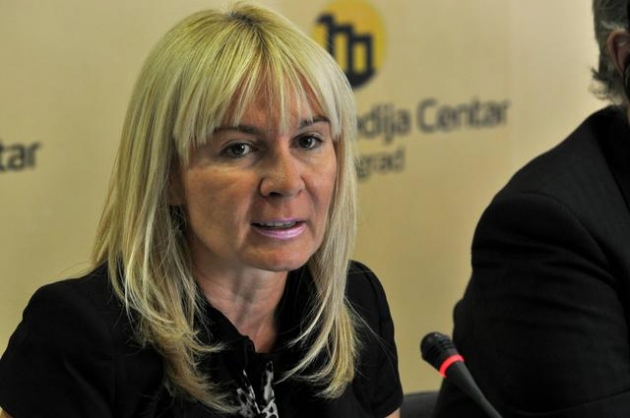 Belgrade, December 5, 2014 / Independent Balkan News Agency
South Stream collapse will cause political fights in Serbia
By Milos Mitrovic
"Serbia's European orientation has never been put into question, but relations between Belgrade and Moscow are being thoughtfully observed. The small countries are always the victims of the disputes among the big ones", Aleksandra Joksimovic, director of Serbian Center for Foreign Policy said in her interview for IBNA.
Do you think that Russian giving up on the South Stream project could affect Serbia's foreign policy in terms that it can make it easier for Belgrade to become more inclined towards the European Union?
"From the very beginning South Stream issue did not depend on Serbia in any degree. The construction of the pipeline and businesses in total have been negotiated by Moscow and EU, or Italy, to be more precise. In order to distribute gas it was also necessary to construct the pipeline through other EU countries. It was clear that the project would be mission impossible without the consent of the EU. On the other hand, we have heard that waiving from the project will not affect Serbia's gas supply this winter. Considering Serbia, its contracts with Gazprom have had deficiencies from the start. This would be on the agenda of the current government's talks with Russia.   Taking into account that these contracts have been accepted by the previous government, the issue will be used in internal political clashes in Serbia.
At the same time, due to Russia's veto power in United Nations Security Council, Serbia would hardly give up from its links with Russia (Russia may block initiatives on Kosovo in UN SC, author note). Still, in the last 14 years all governments in Serbia have been pro-European. At this moment 57 percents of Serbian citizens support the country's path toward the EU. Therefore, Serbia's European orientation has never been put into question, but relations between Belgrade and Moscow are being thoughtfully observed. The small countries are always the victims of the disputes among the big ones.
Serbia is not the only country which has decided not to impose sanctions against Russia. Bosnia-Herzegovina and Macedonia also did not impose sanctions to Russia and even Montenegro is under suspicion because of its Russian investments. This region is occasionally faced with injustice taking into account that some EU countries have not easily imposed embargo against Russia. In London, there's enormous number of Russians who have invested their capital there and nobody asks about the origin of the money. A similar situation exists in Switzerland. If the deterioration of the relations between Russia and West gets worse byh marking Russia as "rogue state", a black and white picture would be created and spread through the region".
European Parliament has adopted resolution on Vojislav Seselj – initiated by Croatian MEP's – blaming Serbia for failure to dissociate with his hate speech. This came shortly after Serbia's disputes with Albania. Certain European officials suggest it is Belgrade's responsibility, as well as the media's. The Associated Press even reported on Serbia's "return to the iron rule of nationalism". Do you find that the international reputation of Serbia is threatened? 
"The claims about Serbian responsibility in Seselj's case are completely meaningless. Seselj's return to Serbia is was decided by The Hague Tribunal (International Criminal Court for the Former Yugoslavia). Serbia did not demand Seselj to come back, not was it pleased with his return. For 12 years the Tribunal was not capable to sentence him over hate speech. Seselj is now minor political figure in Serbia, but he was used in the electoral campaign in Croatia. Personally, I was surprised by the EP's resolution. This was bad news.
With regard to Albania, I think that Serbia suffers due to political crisis in Kosovo. The normalisation of the relations between Belgrade and Pristina is still at the focus of Western centers of power. Belgrade did a lot and had a political will in order Brussels agreement to be reached. Unfortunately, political crisis in Kosovo did not allow for a faster implementation of the Brussels agreement. If a partner (for the dialogue) in Kosovo existed, Serbian international contacts would be much favorable now".
Do you think that there was a need for Serbia to dissociate with Seselj as Croatia has demanded?
"I am convinced that Seselj should not get huge media attention, because this actually feeds him. Serbia has distanced itself from 1990s stereotypes a long time ago. Seselj does not deserve any attention in Serbian public space".
Serbia is to start accession negotiations with the EU. Do you expect our EU neighbors would primarily protect their own interests during the process – with using pressure against Serbia – or be "best Serbia's advocates in the EU", in accordance with famous phrase of the diplomats?
"I'm afraid that blackmailing capacities are incomparable stronger. The recent past has shown there was no a single country able to exceed this temptation. As you remember Croatia had serious problems with Slovenia during its accession process. Despite the official claims that Croatia is ready to help Serbia – and this is basically in technical level, exchange of translated documents for instance – the resolution of bilateral issues will be difficult. On the other hand, there is no reason for too much worry. There will also be problems with Bulgaria and Romania, but the most unresolved issues that we have are with Croatia. However, as long as the EU has the political will to offer a membership to a country, there are also mechanisms to reduce these pressures".