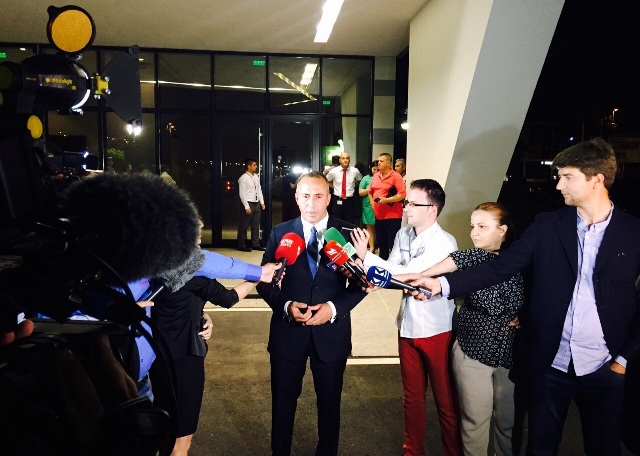 Albanian politicians and prominent analysts comment on the arrest of the former Prime Minister of Kosovo, Ramush Haradinaj
By Edison Kurani
In Albania, the repeated arrests of the former Prime Minister of Kosovo, Ramush Haradinaj is being commented with rage against French authorities. They say that this arrest is unacceptable, as it is based on invalid arrest warrants issued several years ago by Serbia. What's more, Mr. Haradinaj has been tried by the Tribunal of Hague and has been acquitted. But this doesn't prevent Serbia from demanding from world authorities to arrest those Albanians that it lists as accused of war crimes. At the same time, there's a readiness of these countries to grant these requests.
This situation has led to strong criticism against the EU in general, whereby PM Edi Rama seems to be the most disgruntled one. He warns the EU that events such as this one can have a bad impact for the entire Balkans.
He says that big question marks arise: "Why is the acquittal that Ramush Haradinaj received from the Tribunal of Hague is not enough for this citizen of Kosovo not to be stopped on European borders as if he were an internationally wanted criminal?!".
Another question that Mr. Rama asks is that "how is it possible that the arrest warrants of a country which has been the aggressor in a war that involved NATO itself against that country, can still be valid today as legitimate warrants for police forces of a number of European countries, to imprison warriors that fought against that aggression and who then put themselves at the disposal of the Tribunal of Hague and voted in favor of a Special Tribunal which would try them?!".
Rama says that he is not able to answer to these questions today. "But I am certain of one thing, which must be said today rather than tomorrow: Stability and security of Kosovo, where NATO has its biggest presence in the region, is a vital requirement not only for the stability of the region, but also for Balkans as an investor in the architecture of peace and European security".
Rama goes even further with his criticism against the EU: "The EU's double approach toward Serbia and Kosovo, where the first one is allowed inertial excesses of its own past, such as the validity of international arrest warrants for KLA "criminals", while the latter is imposed sui generis conditions even for the liberalization of visas, is causing a psychological damage for relations with United Europe, but in general for Albanians, who have contributed so much in the great project of peace and European integration of the region. Kosovo's international joint liberators must wake up before Kosovo feels betrayed by them!".
***
Within the Albanian political camp, the Socialist Movement for Integration, an ally of PM Rama in the government, is more composed and doesn't announce a "war" to the EU. Its vice chairman, Petrit Vasili, says that the arrest was absurd as it doesn't help political dialogue between Kosovo and Serbia. He demands Mr. Haradinaj's release and appeals for these arrests based on old warrants issued by Serbs against Albanians of Kosovo.
According to Vasili "his immediate release would be the only solution" and demands for such things not to occur again.
Meanwhile, Speaker of Parliament, Ilir Meta says that the arrest is an absurd and unacceptable action which doesn't help the spirit of dialogue that has existed so far between Pristina and Belgrade.
Meta calls on French and EU authorities to address this incident, but also "clarify their stance on Haradinaj's arrest and not to allow such cased to be repeated in the future".
Meanwhile, two government ministers also demand Haradinaj's release, who in contrast to his arrest made in Slovenia several months ago, this time he's spending more time in prison.
Minister of Justice, Ylli Manjani has sent a letter to his French counterpart, Jean-Jacques Urvoas, where he expresses his concern on "the abuse of authority by the Serb state through Interpol structures for issuing international arrest warrants and arresting Albanians of Kosovo for political reasons".
Manjani asks the French side to apply the European Convention of Extradition of 1957, by not accepting politically motivated requests by the Serb state.
Meanwhile, Foreign Minister Ditmir Bushati says that "the arrest based on an arrest warrant issued by Serbia in 2004 must be condemned, at a time when everyone knows that international justice has acquitted him of all charges".
Bushati adds that "any efforts made by Serbia to tarnish Kosovo's liberation war would fail the same way Milosevic's genocide policies in Kosovo failed, against which Ramush and KLA fought".
Bushati warns that "unfortunately, this act damages the process of the normalization of relations between Kosovo and Serbia".
Basha: Tirana and Pristina must suspend their ties with Belgrade
The democrat leader, Lulzim Basha says that what happened with Haradinaj is also connected with the way how Edi Rama does politics with the Serb side. "Rama must understand that his unconditional submission in front of the Serb government and without anything positive for Albanians, must come to an end", Mr. Basha says.
Basha called on Tirana and Pristina to request from France the immediate and unconditional release of Ramush Haradinaj. Basha also demands for relations with Serbia to be suspended: "Governments of Kosovo and Albania must suspend any ties with Belgrade until it suspends all international arrest warrants against members of KLA and citizens of Kosovo who fought against Milosevic's murdering regime", Mr. Basha says.
Majko: If the Balkan is stirred, Aleppo will be history
Former PM Pandeli Majko says that Kosovo is a European project and as such, this project doesn't only belong to Albanians and Serbs that want it.
He warns that what happened with Crimea slightly threatens the Balkans, adding that Aleppo would be history if the Balkans is stirred.
"After 'Crimea', another precedent has been created and it is worthy being considered as a 'fait accompli' in today's international relations. In the current Balkan, it could trigger a chapter of events where Aleppo would be history. Europe's failure is being aimed in its most delicate point… the Balkans", Mr. Majko says.
Blushi: Haradinaj will be released, but Balkans will never be the same
The left wing MP, Ben Blushi says that Haradinaj's arrest in France is not a court decision, but a testimony of the times that we're living in.
He expresses is conviction that "Ramush will be freed, but the question is what will happen with Kosovo and the region in the years to come".
For Blushi, this event will have an impact in Pristina's domestic policies, in the sentiments that Kosovars have for Europe, which weakening every day, giving room to extremist and religious ideologies.
In spite of everything else, Mr. Blushi says, Kosovo will remain independent, but the question is, what direction will its democracy take and above all, what will be the quality of this democracy.
Qosja: Haradinaj's arrest shows what sort of blow we have given to ourselves
Prominent academic, Prof. Dr. Rexhep Qosja, says that it is unacceptable to arrest the political leader of a country for which France itself helped to liberate it from the Serbs.
"Ramush Haradinaj's arrest upsets us because the court is a French one, belonging to a country which along with the Kosovo Liberation Army fought in order to liberate the country from Slobodan Milosevic's regime".
At this point, Mr. Qosja addresses a question: "Is it not surprising that those who have fought alongside him for the liberation of Kosovo arrest him?!"
Qosja says that "it is not easy to understand why the countries that participated in Kosovo's liberation war are creating a special court to try Albanian liberators".
Meanwhile, he says that "Ramush Haradinaj's arrest shows what sort of a blow we have given to ourselves and to the war that we fought with that court."/balkaneu.com/