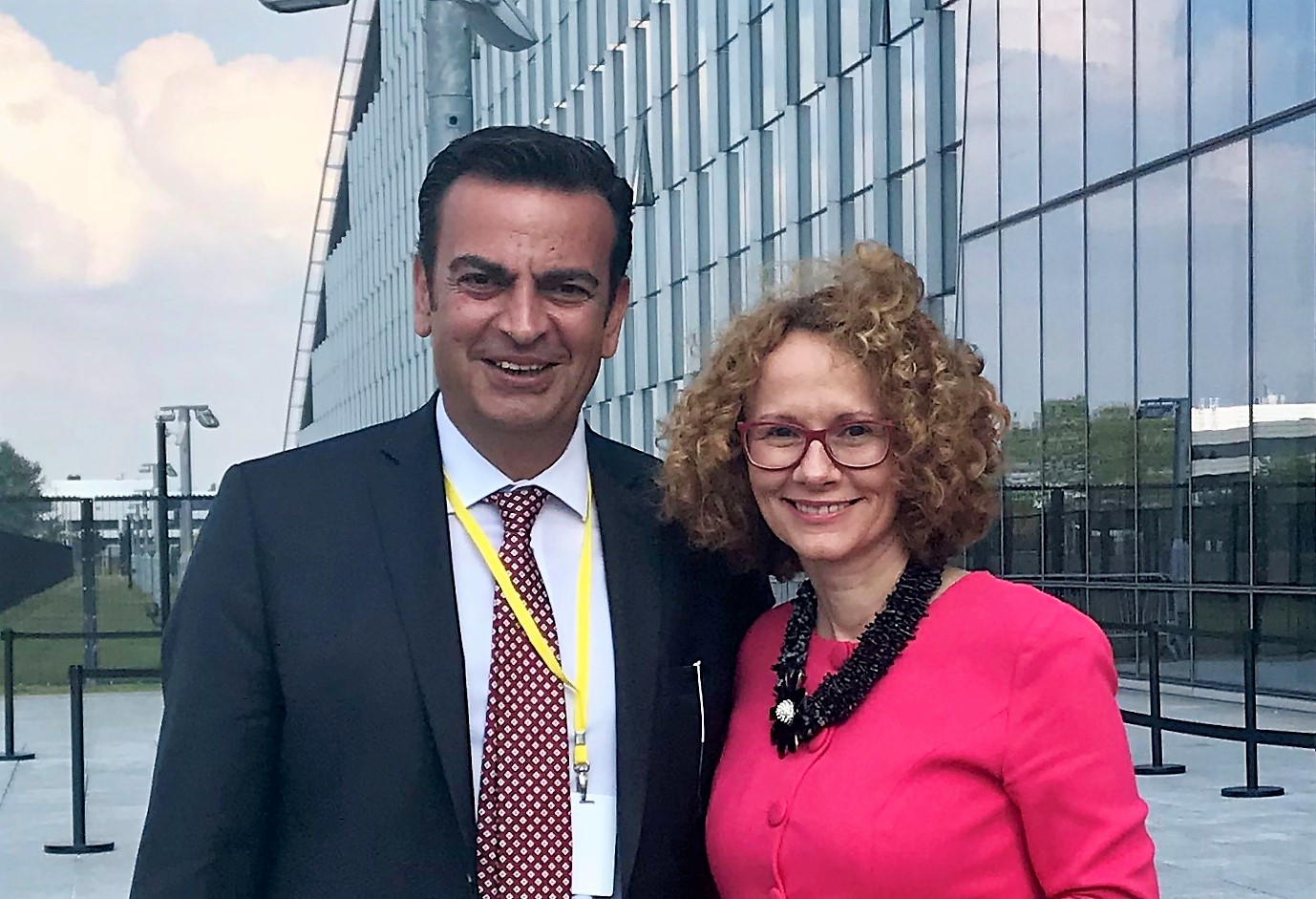 On the sidelines of the NATO Summit in Brussels, the fYROMacedonian Defence minister, Radmila Šekerinska spoke exclusively to IBNA, immediately after the NATO invitation for accession talks with her country was signed.
Radmila Šekerinska spoke to Spiros Sideris about the difficulties in the country's internal affairs that the government has to face on its way to its NATO and EU accession, shared her optimism over the completion of all prerequisites in the Prespa Agreement and the upcoming referendum in fYROMacedonia while she also addressed the Greeks, inviting them to build ties of friendship and an alliance with a state of the North, which is open and friendly towards Greece.
Today it was a historic day for the former Yugoslav Republic of Macedonia. How do you feel?
We have been so tense in the last few months that it is sometimes difficult to enjoy the moment. The country has gone through really difficult, critical periods, in the past three years. We have gone from one crisis into another. And it was always really a question of whether the country will survive; of whether the critical moments will prevail over hope and optimism. I remember the moment we managed to create a new government. It was a moment of joy, but it was also a moment of huge responsibility. So we said, 'OK, since we have earned this responsibility, then we need to deliver'. And we wanted to spread the optimistic view that next year Macedonia can get the invitation to NATO, that we can get the accession date for negotiations with the EU. But we were a bit skeptical whether things could move quickly enough. So, when the agreement with Greece took place, it was really a moment of hope. Today, this hope is becoming more real. But in politics, especially in the Balkans, only the fully finished business is finished. And this is why we have to remain focused. We can have one day of celebration but actually most of our thoughts and emotions are now turned to the next goal; and this is a successful referendum, a successful process of implementation of the prerequisites and then the NATO accession.
Are you optimistic about how people in fYROMacedonia feel about the agreement?
You know, I am an optimist due to and based on (my) experience. Because the last three years, regardless of the hardship, showed that without optimism you cannot achieve anything big. So, our optimism was not unfounded. We really fought and we really gave a lot in order for this optimism to prevail. But, I am also aware that any kind of compromise, especially on issues that are very emotional, that touch our core sense of identity, are always risky. And there will always be people that see the glass half full and some who see it half empty. But based on the many conversations and discussions that I've had with a large number of people in Macedonia, people are being critical of certain aspects of the Agreement, towards the whole concept that we were supposed to negotiate about something like this in order to move forward. But deep down they appreciate stability. Deep down they appreciate solutions. Deep down they appreciate leaders who tell them 'it is difficult but we will manage', instead of those that complain about the others, those that create enemies around us. So yes, there will be loud critics of the Agreement, but I have no doubt that the majority of the citizens of our country feel better and more secure by seeing this different future unfolding in front of their very eyes.
Actually time, for both the referendum and the changes that must be made is really short. Are you ready to explain all the details with regards to the referendum, what problems exist, etc.?
I think that Macedonia has missed one historic opportunity in 2008 and we cannot afford to lose it once again. It has cost our country not only a decade, a lost decade, but we were also left behind, lagging behind our neighbours. It has cost us a lot in terms of political turmoil and economic development. I see today our colleagues from Albania, Montenegro and Croatia. Both Croatia and Albania were supposed to join NATO together with us. Now, they have been in the room while we were waiting outside to expect and pray for a positive outcome. It's much better to be in (the room) and decide for your own future, than wait for the others to do it on your behalf. So, the consequences of
"No" are serious. And people don't need us to depict this bleak picture because they have seen it in their real life. I do believe that we need to have a campaign that will focus on the positives. And I don't think that just the NATO invitation or EU accession are the only positives. I'm not being falsely idealistic when I say that if you look around and face your neighbours as your allies, you will be much better off. You will be stronger. You will be more stable. So, I think that maybe the key argument for our agreement with Greece is not only EU and NATO but the fact that we can say 'we have opted for another path'. We cannot count on Finland to come to our rescue. Greece cannot count on Portugal to find common ground. We share the same problems, we share the same risks and we were faced with the same crises. And if we cannot realise what region we live in and our stability, someone else will. And we won't like it.
Finally, a question about Greek citizens because a lot of them – not all – disagree with the Agreement. What is your comment on this?
Maybe that is actually the best argument. The easiest argument to say that we have come up with a good compromise where both sides can equally complain but also both sides can equally claim success. If this was not the issue, the problem would have been non-existent all along. I think Greek citizens will find a very open and friendly nation in the north. And we have shared many things and this decade of frozen relations has made us forget these things. Greece used to be the biggest investor in Macedonia. I think that this was good for the Greek economy as well. I think it was great for Greek tourism, small businesses, etc. It makes sense. I think there are enough risks around us, let us create allies and friends when we can…. / IBNA