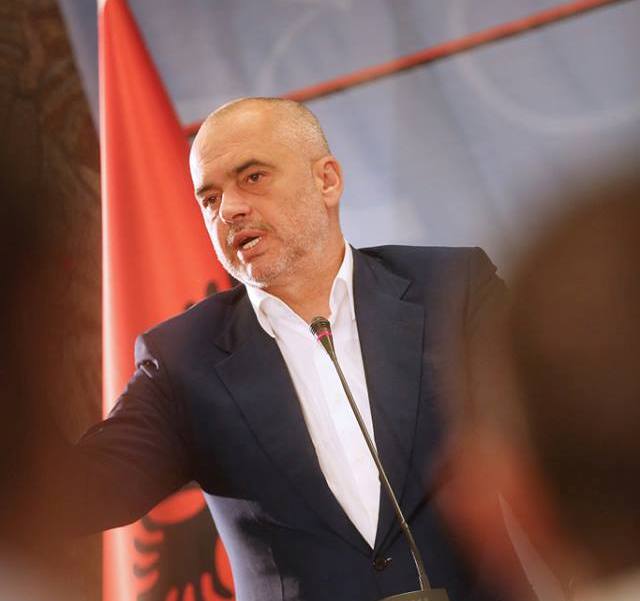 Tirana, 30 July 2015/Independent Balkan News Agency
By Edison Kurani
Relations between Albania and Greece don't seem to have relaxed as it was expected, following the visit of the Greek Foreign minister, Nikos Kotzias and the agreement for the division of sea borders is expected to be settled in the arbitrage.
Albanian PM, Edi Rama replied today exclusively to IBNA agency as to  the current relations between the two countries. Asked if there will be other high level meetings between the two countries this year, much spoken by media in Tirana and Athens, Mr. Rama replied that he doesn't intend to visit Athens.
He said that he has invited the Greek counterpart, but apparently, there's no confirmation to this invitation.
"I have invited the Greek counterpart and I welcome him at every moment, whenever he finds it suitable. I have no plans of visiting Greece this year", Mr. Rama said resolutely.
The issue of the maritime border is keeping relations between the two countries under tension for at least six years.  Albania and Greece cannot conduct oil searches at sea.
Both sides claim the ownership of the so called A5 area and a decision by the Albanian government taken several years ago, recognized this area to Greece.
The agreement was sent by the then opposition led by the head of the Socialist Party, Edi Rama at the Constitutional Court, which made the pact between the two countries invalid.
At this point, it seems that everything will start from the beginning, but at the same time, both the Greek government and the Albanian government have announced international tenders to conduct searches at sea, namely in the "hot zone".
Until today, no searches have started and according to experts, this is a great economic loss.
This is also confirmed by Mr. Rama, but he warns that the government doesn't intend on giving up the contested zone.
"It's a loss that we cannot conduct searches in that zone, because it's a contested zone, which in our point of view, belongs to the territorial waters of the Republic of Albania, but I don't believe we can surrender that part of our territory just because searches must be conducted", Mr. Rama replied to IBNA's question.
Rama says that that sea territory belongs to Albania: "Searches can be made there once it's clarified who that area belongs to. That territory belongs to the Republic of Albania".
But what's the way out of this vicious circle? Mr. Rama says: "We have agreed with the Greek side that in case we don't find a common language in the negotiations, a third party will decide. Arbitrage or a third party for which both sides will agree". /ibna/