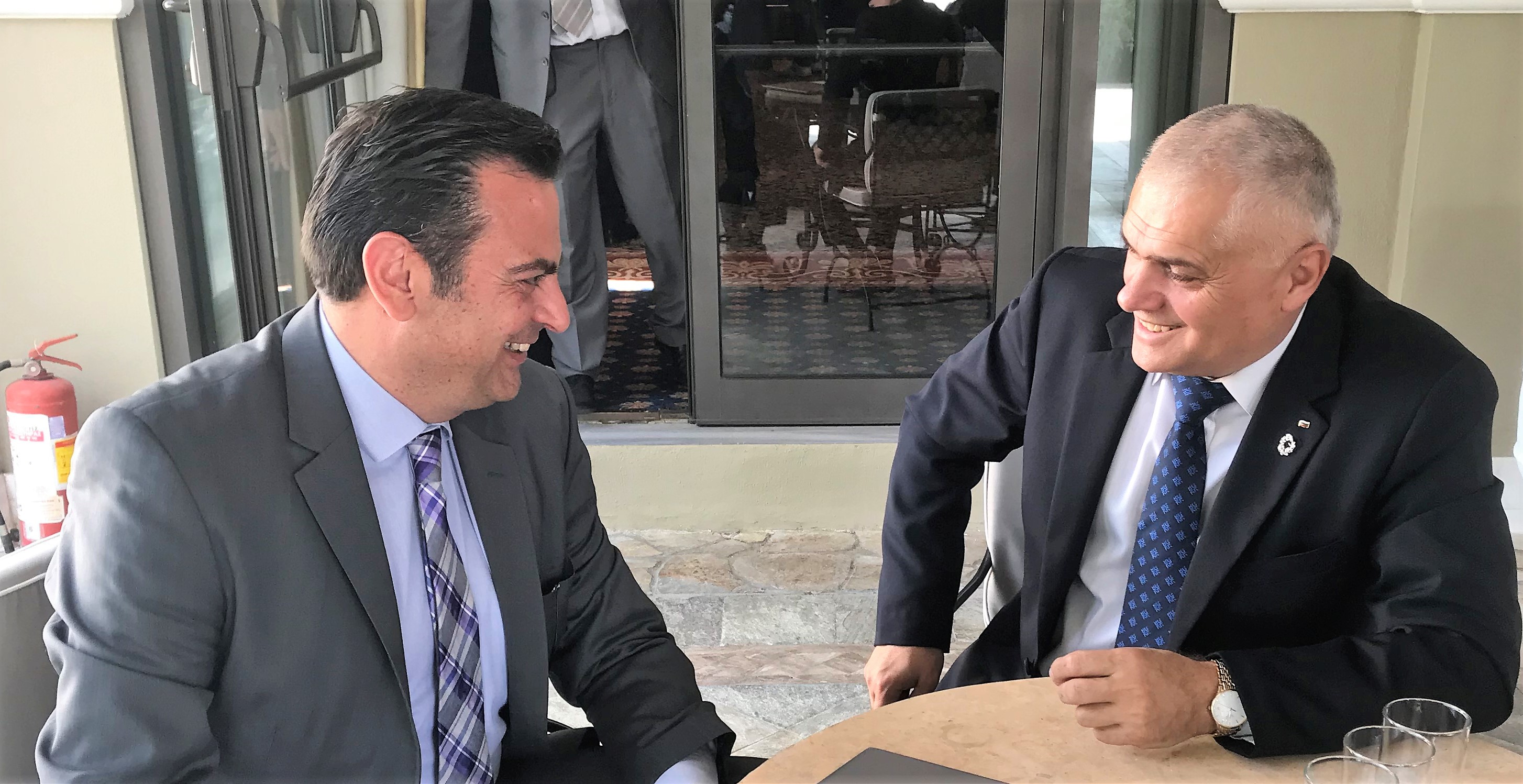 Valentin Radev, Interior Minister of Bulgaria, attended a four-country ministerial meeting which brought him together with his counterparts from Athens, Skopje and Tirana.
At the meeting, Radev, whose country currently holds the rotating Presidency of the Council of the EU, underlined that the European perspective of the Western Balkans is a special priority for Bulgaria. He spoke of areas of cross-border co-operation, including policing and fire-fighting. Radev gave an interview to IBNA, the Independent Balkan News Agency.
Have the two years of cross-border co-operation yielded tangible success?
What we have achieved, not only in these two years, but in all – what we see inside – the four flags placed side by side – is something that impresses. This is the third meeting we are having, and of course time is not enough. The steps we are now taking in the last two years are steps that have not been taken for decades.
This means that the political elites in our countries are already in step with the times and this is very useful. This is noticed by everyone in Europe and they are encouraging us. And another thing that is very important, I do not remember who said it – this is not the Bulgarian Presidency of the EU, it is the Balkan Presidency. This is very good because one of our priorities is the European perspective of the Western Balkans. This is the basis of everything. And everyone recognises that.
What are the security steps the EU is expected to take this summer?
I have said that extremists will come. The pressure of those fleeing from Syria, from North Africa will continue and this is particularly dangerous. And we as the Presidency and I, as the chairman of this council – the Justice and Home Affairs Council – look at and examine the whole picture. I spoke a month ago with the new Minister of Migration of Greece at his request – he also said to me – yes, we must do something, obviously in Bulgaria the pressure has diminished, we are doing well, including with European resources, the border is well maintained and guarded, the Bulgaria and Turkey border, but there is a problem between Turkey and Greece. And there is a new route – Greece, Albania, Macedonia, Montenegro and Western Europe. We must make sure that Greece does not continue to suffer. And we, in Bulgaria, have decided on the Dublin agreement and the general conditions of migration, if possible part of that dossier, as it is said, may be closed.
The second part is also very important. Fighters may come. We have closed the route through Bulgaria and Serbia but they can get through each of our old ones and go on to Europe. So this week at the beginning there was an Interpol meeting in Bulgaria. This is the first meeting of the new chairmanship and there those issues were also discussed. And I thank you for this question. It is very important to stop and check everyone so that some of these fighters do not get back. You know that some of these fighters are born in Europe – Belgium, France, or stay in our countries. That is what we must do and stop, including with help from Europe and with the help of all these services – Interpol, Europol, Selekt in Romania. Let's do it together with the Western Balkan countries that are not EU members but are involved and participate in these services.
Is it more difficult now with the decisions of Assad in Syria, do they want to take territory?
Yes, this is an additional burden.
This question must be solved at a higher level than our groups of countries. Of course we will. But it must be politically decided across Europe. It will not be just with us, it should be examined politically, other forces such as the United States, for example, will be involved. Russia should also not be excluded regarding pressure on Assad. Because it mostly affects our countries. If Assad continues with these restrictive measures, people will begin to leave. Here, I am very impressed by what the Foreign Minister of Greece said – 14 million Syrians are on the move, they are determined to leave the state. So as we said, summer is coming, nice weather, we can expect people to go somewhere. One way of acting is pressure on the government of Assad, which has been there so long, to be literally disciplined, so that countries like ours do not suffer – Greece, Bulgaria, Italy too – from there they go through Albania.
On May 17, there is an EU meeting for the Western Balkans. Will your ministry have common security actions with other countries?
We already do. I mentioned the Greek Minister, also with Macedonia, Albania. With all these colleagues, we are in constant contact. Now, of course, we are also strengthening contacts with Serbia, Kosovo, Bosnia and Herzegovina. We invite them, I invited them to Bulgaria as  chair of the Justice and Home Affairs Council, we discussed the strategy that the EU wrote. For four months, we have had a strategy and action plan and discussed how we can be useful. The Commission tells us – there is a European perspective for the Western Balkans, but please implement this plan. We, with Greece, which are members of the EU, always have our colleagues. The interior ministers are always in touch. And the EU's comments on the channels of goods and people, terrorists – to take them into account and to protect the EU's external borders. For a single purpose – less terrorism, more security for the EU.
You are optimists about the future of the EU?
We are very big optimists, and not just us, the interior ministers, our leaders, Prime Minister Boyko Borissov who gathers us together, the leaders of the governments of the European countries, and when everyone gets together and speaks, there is no Great Bulgaria, no Great Macedonia, no Great Serbia, we are all equal and we are all partners against the dangers – that's very important. And that is how it is now, at a meeting like today's. I heard it again, they say it – that it's not the Bulgarian, but the Balkan Presidency. And I trust that this will continue, with the Austrian and Romanian Presidencies./IBNA