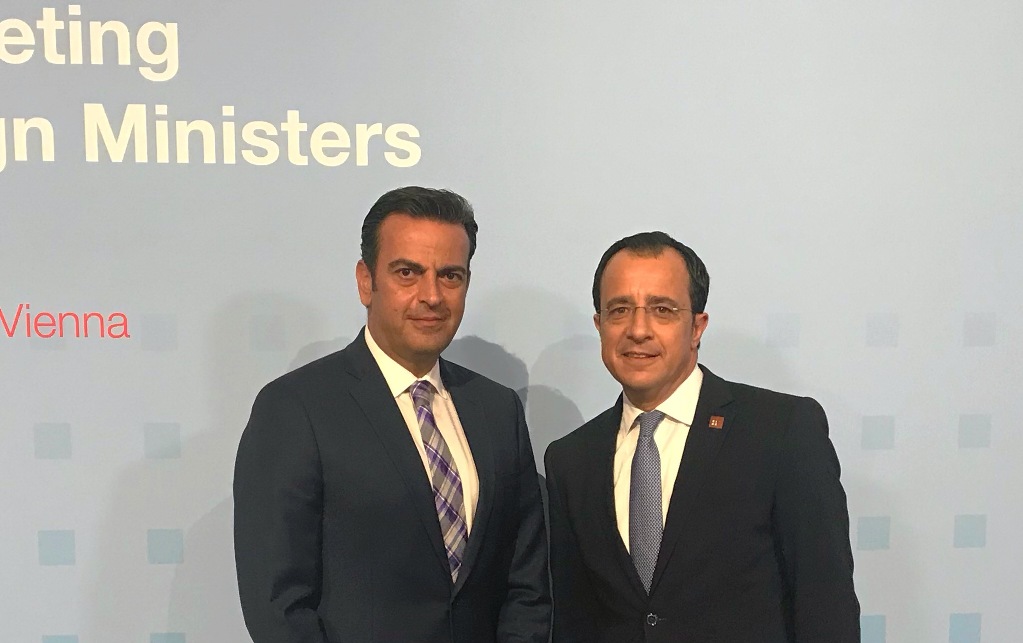 The Minister of Foreign Affairs of the Republic of Cyprus, Nikos Christodoulides spoke exclusively to IBNA about his meetings in Vienna on the sidelines of the informal EU Foreign Ministers' Council (Gymnich), the latest developments on the Cyprus issue with UN Special Envoy Lute as well as about Cyprus' tripartite partnerships.
Dear Minister how important was the Gymnich Summit for the Republic of Cyprus?
Beyond the topics of the agenda that were particularly important, such as developments in the Middle East where both the Republic of Cyprus and Greece have a special role either through the tripartite mechanisms or through the excellent relations we have with all neighbouring states, I have had the opportunity to talk both with the Greek Foreign Minister Nikos Kotzia and with my British counterpart Hunt as well as with the EU High Representative Mogherini. My interlocutors will be Mrs Lute's next contacts in relation to this period, during which discussions are taking place under the instructions of the UN Secretary-General. The aim is to examine if it possible to resume talks (on the Cyprus issue). So, I had the opportunity to exchange views regarding these meetings.
What we can say is to express the wish, the expectation and the hope that after the completion of Mrs Lute's contacts and the report she will submit to the Secretary-General, facts will lead to the resumption of talks from where they were left at Crans Montana.
The President of the Republic will have the opportunity to meet with the Secretary-General during the UN General Assembly week in New York where he will be informed about the results of Mrs Lute's mission and we will weigh the progress of the process.
Is this a note of optimism for resuming the talks, or you consider Crans Montana to be the swan song of the effort to resolve the Cyprus problem?
No, in no case (do I believe this). On the contrary, we need to take into account the important work achieved during the last round of negotiations and the fact that the main issues of the Cyprus problem were discussed for the first time. Let's build on these conventions that have been achieved to see how we will be led to a positive result. In our opinion, there is no choice but to achieve a positive result that will be nothing more than a solution to the Cyprus problem.
The next time there will be a tripartite meeting in Israel between your Israeli and Greek counterparts. What do you expect to come out of it?
It is a very important meeting, both time wise and given the regional developments. At this meeting we will have the opportunity through a frank and open dialogue with a very specific agenda -that I am not in a position to elaborate on right now-, to see how the three countries can, through joint initiative, joint actions, to address common challenges in the region as a whole. We believe that these tripartite mechanisms, either with Israel or with Egypt or with all the neighbouring countries, bring concrete results. I have to express our gratitude for the interest shown by both the EU and other states, either EU or other states, for these partnerships and the fruit they will bear…. / IBNA
Main Photo: Cyprus's Foreign Minister, Nikos Christodoulides (R) with IBNA's Spiros Sideris