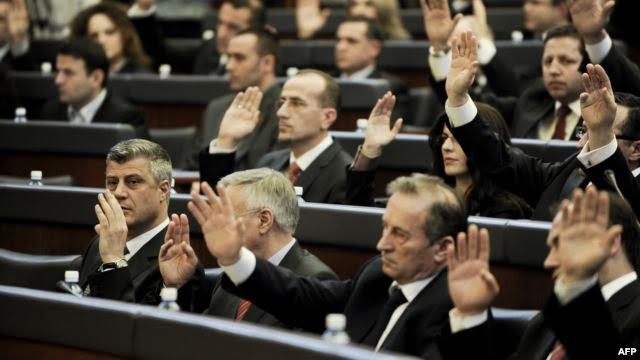 Pristina, 30 August 2016/Independent Balkan News Agency
By Elton Tota
At the beginning of September, Parliament of Kosovo is expected to vote the ratification of the demarcation agreement with Montenegro. The government says that the failure to ratify it threatens European integration processes and the stability of the country. This could also have consequences for the governing coalition and could provoke early elections.
Leaders of the highest state institutions and political parties in the country call on MPs to ratify this agreement.
Opposition leaders say that MPs are facing anti-constitutional pressure and ask for the agreement not to be voted.
Opposition starts protests
The main opposition force in Kosovo, Self Determination insists that the demarcation unfairly gives Montenegro 82000 hectares of land.
Leader of Self Determination, Visar Ymeri said today that MPs and activists of this political subject will  protest inside and outside of parliament to prevent the voting of this agreement.
"Those who want to approve demarcation will face the protest of the citizens. We must stop demarcation at any cost and any democratic means", Ymeri said.
The government: We will not give away not even a meter of land
While the opposition is convinced that Montenegro is being given land from Kosovo, Prime Minister Isa Mustafa insists for the opposition. "Neither I, nor the government will not allow even a meter of land o0f this country to be given to Montenegro or any other country", Mustafa says.
Analysts predict elections in case of failure
Analysts in Pristina say that if the demarcation agreement is not ratified by parliament, Kosovo may enter a crisis and the country could face early general elections.
Expert of developments in Kosovo, Shkelzen Dakaj told IBNA that the lack of national consensus on demarcation can bring an unpleasant political situation and difficulties in the functioning of democracy.
"Demarcation may threaten the lifting of the visa regime with the EU, destabilization, but also isolation of the country in the international aspect".
Under these circumstances, Dakaj says that the only solution is to create a technical government or the declaration of early parliamentary elections.
Dakaj says that the government is not capable of managing the situation in the country.
"The wiretapping affair pointed out the massive corruption and nepotism of the current government. The current government doesn't have a legitimacy to govern the country. The political crisis has significantly damaged the economy of the country and the perspective of the citizens. The only solution is to create a new political class for the consolidation of the state and the solution of the problems of the citizens", he says.
***
The ratification of the Demarcation Agreement with Montenegro is the only remaining criterion that Kosovo must deliver in order to be granted the lifting of the visa regime.
According to EU officials, this criterion has not imposed now, but "since 2012, when the EU agreed with Kosovo on the roadmap which would lead to the liberalization of visas". /balkaneu.com/