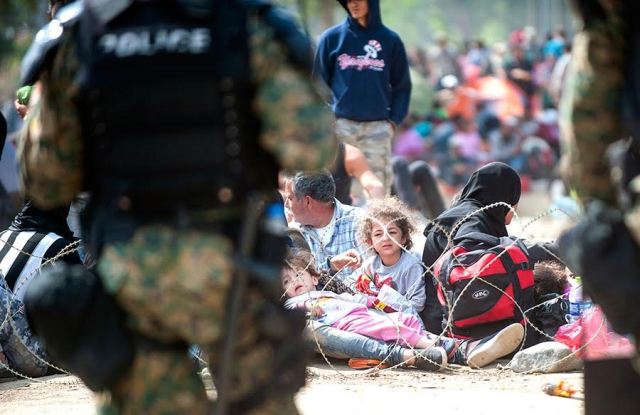 Skopje, 30 August 2016/Independent Balkan News Agency
By Naser Pajaziti
Opposition in FYROM has demanded from institutions dealing with security to inform the citizens if the country is facing any security threats. This issue is being debated in parliament too. Opposition MPs are demanding from secret services such as the Office for Public Security and Counter-Intelligence Agency, to offer information on the state of security and the possibility of terrorist acts.
Heads of these institutions say that currently there is no threat for public security. They say that all threats are being monitored, but the head of the Parliamentary Committee for the Oversight of Secret Services, Hari Lokvenec, has his doubts. He says that the citizens must truly be informed if there is a real threat.
Meanwhile, he raises a question: "Do the authorities have full control over the security of the country or are they behind the numerous threats?"
Lokvenec says that the fact that secret services monitor suspected cases of terror is not enough and that "more intensive measures must be taken to prevent or tackle possible threats".
The influx of refugees is also seen as a possible cause in security breaches. The issue of refugees was raised last month by the opposition. At that time, President George Ivanov and Interior Minister, Mitko Cavkov warned a new wave of refugees and security threats through a terrorist attack.
"There are real possibilities for a terrorist attack. No special expertise is needed for this. We must just be led by the indicators that exist", minister Cavkov said last month.
Meanwhile he added that so far "high professional capacities have been manifested in tackling terrorist violent groups and we have coped with them in an effective way".
Lokvenec says that the southern border must be monitored due to a possible influx of refugees.
President George Ivanov also fears terrorist acts. Speaking on this issue in the capacity of Supreme Commander of Armed Forces, Ivanov said that the country needs a national strategy for the prevention and fight against terrorism. According to him, there is no time to improvise, because concrete steps are needed.
On the other hand, security experts in the country have a different opinion. They say that for particular political purposes, the government is causing tension playing the security card. According to them, this is an attempt to veer off attention from domestic and economic problems.
Political analyst, Saso Ordanovski says that time has shown that what President Ivanov says cannot be trusted. "Such declarations are only made for political purposes. To install fear among citizens", says Ordanovski. Meanwhile, he adds sarcastically: "But, unfortunately, nobody is scared". /balkaneu.com/