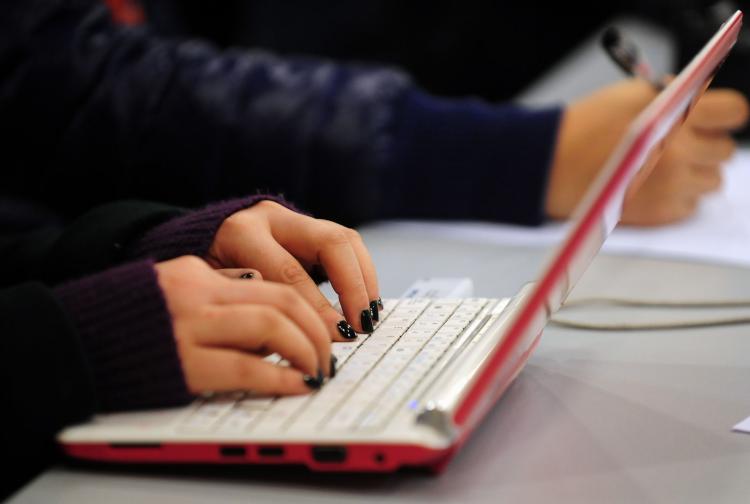 Tirana, 7 July 2015/Independent Balkan News Agency
Although internet became part of Albanian life a little later than in other European countries, it expanded rapidly. Today it can be said that very few people do not have access on the internet.
Skender Koltraka, manager of Datacom Team in the main communication company, ALBtelecom, explains in this analysis for IBNA, the reasons why Albania has become one of the countries with a high percentage of penetration or above the average on the internet.
Mr. Koltraka says that there are several factors that characterize Albania such as: geographical position, culture, tourism, average age of the population, interest for information, technology, etc. Based on these conditions and the clear vision of internet service providers in Albania to support these demands, Albania has made lots of progress in this domain, ranking 60th on a global level and leads over neighboring countries such as Italy, Greece, Montenegro, FYROM, Turkey, Serbia, etc.
Koltraka says that one of the main reasons of these results has to do with the technological means and the low cost of internet access in Albania, where ISPs occupy the highest percentage.
ALBtelecom is a leader in Albania in offering internet services, making high and constant investments, especially after 2010, which saw an exponential growth.
"We can compare this with the growth in percentage of the most developed countries in Europe such as England, France and Germany", Mr. Koltraka says.
The company has invested over 150 million Euros for the infrastructure of its network. Thanks to this, Albania has the most contemporary standards, at the same level as the most developed countries in Europe.
"Today we have internet with higher speeds, over 50 Gbps and within this year, this speed will double. The technology that we use is up to date and it belongs to the most prestigious companies in the world, where we can mention the setting up of the Data Network infrastructure (data transmission network or internet) with IPMPLS protocols, which are the latest breakthrough in technology and which have been taken from the world network leader, CISCO. As a result, we are able to supply 10 Gbps internet or network data with fiber, cable, antenna or mobile connection,  to every home, portable device, office, etc", Koltraka says.
Over 90% of Albania is covered by this network with very high capacities of over 20 Gbps for every city in Albania. Almost every internet user in Albania is part of ALBtelecom national network in a direct and indirect way, as it offers services for individuals, households, businesses, corporations, ISP and national or foreign operators. Internet access is offered through ADSL, VDSL, optic fiber, 3G and 4G, starting from several Mbps up to 10 Gbps for all subscribers in Albania.
4G is soon expecting to be introduced in Albania. Out of the mobile phone operators in the country, three of them Eagle Mobile, AMC (T-Mobile), Vodafone have announced that they will soon come out with the 4G technology. Koltraka says that Eagle, which is part of ALBtelecom, has carried out successful tests and will soon introduce the 4G technology.
Albanians "go crazy" for social networks
Based on the statistics of internet navigation that ALBtelecom holds, Albanians are more interested on social networks. YouTube and Google are on top of the list with the highest traffic.
Statistics clearly show that young ages can adopt more to technology, applications, social networks, English, etc. This is also stressed by Koltraka: "Without any doubt, youth is the biggest internet consumer. Based on the fact that they are capable of easily absorbing the latest novelties, we conclude that this age group is the one to navigate the most on the internet. As we know, youth spends more than 50% of its time online, on social networks, online media, online libraries, shopping, etc."
But this is where there's a problem with internet security, a very important and delicate point. Mr. Koltraka says: "In Albania, we are having problems, because there's a lack of awareness by internet users. Many parents are not informed on the limitless "freedom" that internet offers, something which leads to the other side of the medal". Although the company offers extra platforms for internet security management, household subscribers have very little interest. /ibna/