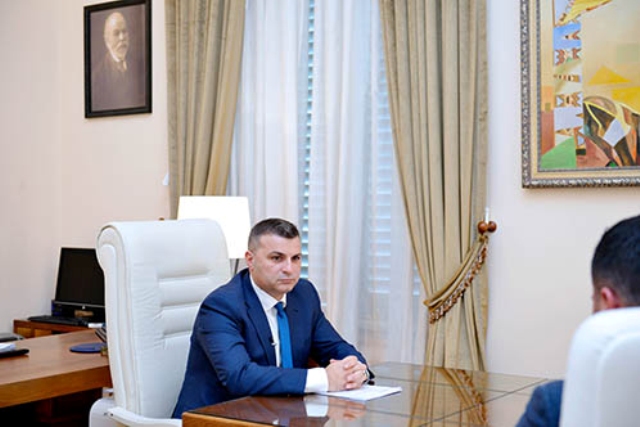 The Supervisory Council of the Bank of Albania reviewed and approved the interim Monetary Policy Report. In conclusion to the discussions on the most recent economic and monetary developments and the expected outlook, the Supervisory Council decided to keep unchanged the monetary policy rate at 1.25%.
Additionally, the Supervisory Council decided to keep unchanged the interest rate for the overnight deposit facility and the interest rate for the overnight lending facility, respectively at 0.25% and 2.25%.
Governor of the Bank of Albania, Gent Sejko analyzes the economic and financial developments during the current year and the perspectives for 2017 and for the long-run.
Data from the real and financial sector indicate an economic activity under improvement, an inflation rate which is gradually heading toward the target and a favorable financial climate in Albania.
Sejko says that the Albanian economy will continue to mark an improvement in the medium term. According to him, the economic activity is expected to achieve equilibrium in 2017 and inflation is expected to come back to its target within 2018.
Inflation was 1.9% in November, growing by 0.4% as opposed to October. Sejko says that total inflation growth this month came as a result of the growth of inflation for food products and fuel, while inflation for other basket goods has remained relatively unchanged.
Meanwhile, economic growth seems to have strengthened in the second half of 2016, following the 3.1% growth in the first half. Sejko says that this growth has been fed by the revival of consumption and private investments, backed by the increase of salaries and employment, by the improvement of confidence and the favorable conditions of financing. "Economic activity in the second half of the year has been backed by the acceleration of the realization of budget expenses and the growth of foreign demand in the sector of tourism", Mr. Sejko adds.
He says that BoA is expecting a further improvement of economic growth during the two years to come. "Rise in domestic demand will continue to boost growth, while tax policies will continue to remain a consolidating factor. External environment will continue to be characterized by weaknesses and insecurity".
As far as crediting is concerned, crediting activity in foreign currency remains low, although the level of interest rates has dropped to historical levels. Now, banks are issuing loans with an interest rate of up to 1.8%, which is at least 10 times lower than 10 years ago.
The total portfolio of loans marked an annual growth of 2.9% in October, but mainly in the domestic currency, lek.
Bank of Albania is projecting a good lending performance in the years to come, although it admits that banks' lending policies continue to remain strict. Sejko suggests that "the improvement of the lending environment will enable further reduction of risk and will give way to a better lending performance and a better economic activity in Albania". /balkaneu.com/