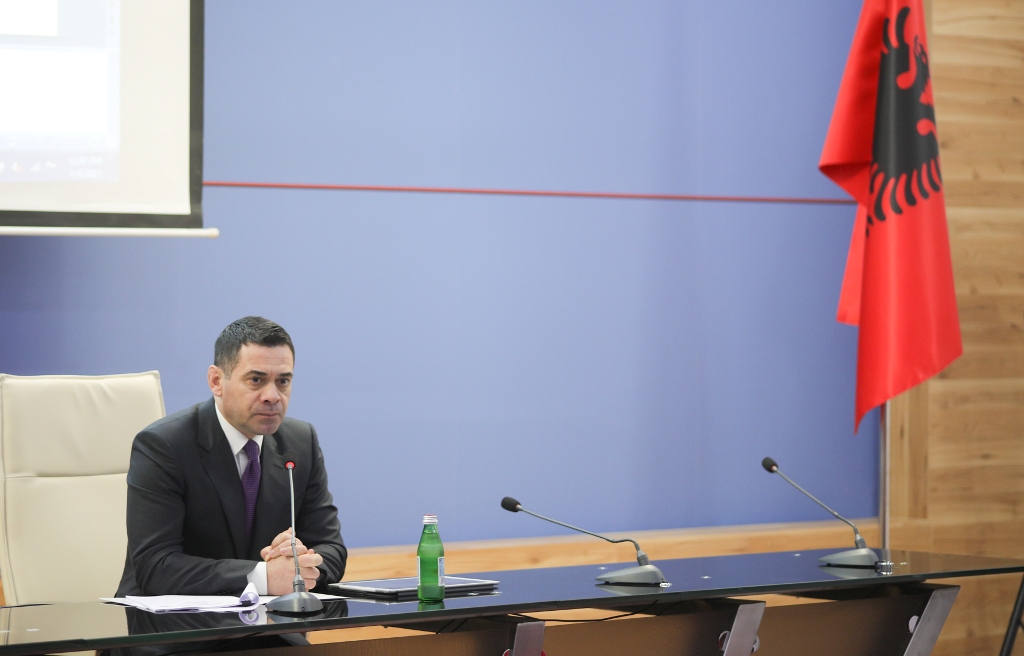 The Albanian Finance Minister, Arben Ahmetaj analyzes the economic situation in the country during the first three months of the year.
Ahmetaj is optimistic that economic growth in 2017 will be 3.8%, following last year's growth of 3.46%.
According to him, this growth will continue and will go up to 5.5% until 2021, if the country continues to be run by socialists.
For Mr. Ahmetaj, this shows that the economy "has entered a positive and sustainable growing trend and that the reforms have started to work out in favor of the Albanian citizens".
Analyzing the figures for the first quarter of 2017, Mr. Ahmetaj says that economic sectors have all grown on an annual basis. "We have trade and energy as the main contributors of economic growth. Although there are other sub sectors which have marked a higher growth than these two sectors, their pondered weight is so big that it attracts the other part of sectors and sub sectors toward a 3.46% growth rate", the minister says.
"If we see Albania's economic growth in the region, we realize the truth on the urban legends for other Balkan countries. Albania is the second country in the region with a 3.46% growth and the growing trend that it is registering makes it different from other countries", minister Ahmetaj said.
As far as consumption is concerned, the minister says that it has grown by 2.5%. According to him, "aggregate demand has been assisted by growth of employment, stimulating conditions, growth of confidence and direct foreign investments".
According to the minister, employment has also grown. He says that employment grew, while unemployment fell by 3.1%. "Unemployment has dropped to 14.2%, while the participation in the labor force has grown by 57.2% and this is a very positive trend", Ahmetaj said.
The minister says that consumer loans have also seen a positive trend. "Consumer loan in lek has seen a double digit growth, around 11%", he says. According to him, "the growth of consumer loan in lek indicates the favorable conditions and the mature policy of the Bank of Albania, but also the growing confidence on the domestic currency and directly on the Albanian economy".
As far as direct foreign investments are concerned, as one of the main sources of growth, Ahmetaj says that a record figure has been reached, 1 billion euros.
But is TAP's effect indicating this growth? Mr. Ahmetaj explains: "Investments in the oil market have fallen from 52% to 19%, but this has been replaced by other projects, investments in tourism or investments in other sectors. So, a diversification has started with foreign investments in other sectors".
Ahmetaj also makes comparisons with the region: "We're second in the region in terms of foreign investments as percentage of GDP, but we haven't yet been able to attract big investments, such as Montenegro has attracted in the domain of tourism, which would boost foreign investments even more".
Mr. Ahmetaj also identifies a strong growth in the domain of tourism. "Tourism has seen 1.5 billion euros worth of revenues in 2016. Compared to 2013, we have a 38% growth. Compared to 2013, 13%. In 2013, revenues from tourism was 1.1 billion euros, while today, revenues from tourism amount to 1.5 billion euros".
For Mr. Ahmetaj, all these figures are a clear indicator of confidence in the Albanian economy. Ahmetaj says that this confidence is the highest one in the past 10 years. /balkaneu.com/