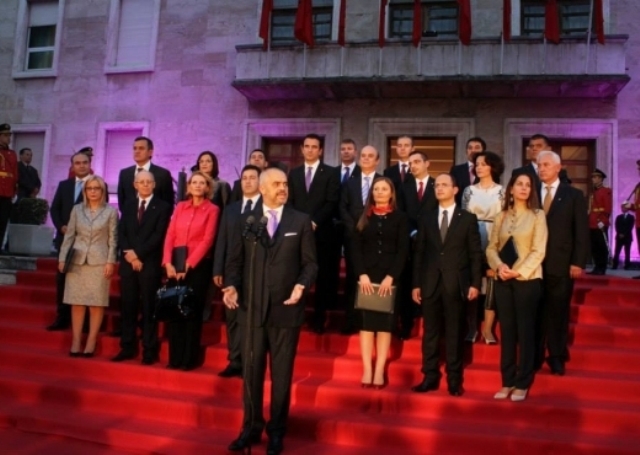 Tirana, 16 February 2016/Independent Balkan News Agency
By Edison Kurani
In contrast to the left wing government from 1997 until 2005 and the right wing government from 2005 until 2013, although this is the third year of the term in office of the current government, there's still no full reshuffling of Rama's cabinet.
This seems bizarre not only as a result of the media pressure and the frequent demands made by SMI, but also due to the fact that for more than a decade and a half, these sort of reshufflings became something normal. It was quite normal to call governments "Nano", "Nano 2" or "Berisha",  "Berisha 2", although within the same term in office, they saw frequent changes.
In fact, in contrast to Nano who was more liberal – perhaps under more pressure from within the SP to make changes – his successor, Berisha, was more or less like Rama in terms of the names of his cabinet members and on the idea that there was no reason to reshuffle the government.
Berisha was obliged to make a partial reshuffling of the government when SMI decided to change all of its ministers half way through the government term, 2009-2013.
Even then, Berisha was clear: "SMI has its own part in the government. It can do whatever it wants with the posts that it controls".
Even in this cabinet, which SMI is part of, with Rama as the head of it, the efforts to change ministers have been clear. But SMI seems to have been stuck, because Rama insists, on the media and face to face meetings, that he doesn't wish to make a full or partial reshuffling of the government that he leads.
Last night, Rama, once again made it clear that he's against reshuffling, when he said that "I have never understood even when I have seen others do it. I know that they are linked to internal political balances of the majorities or political parties, but they never bring what they aim to bring".
Under these circumstances, SMI at least so far, was happy with one change, that of the Minister of Justice. This change followed the resignation of Nasip Naco from the Ministry of Justice, a departure that was justified by him with the discontent toward Rama, while he insisted that there should have been a higher level of cooperation, which according to Naco, had never existed.
Naco's departure elevated Ylli Manjani one step higher. He left the post of deputy minister of Transport and said that he was very committed in undertaking the reform in the justice system.
But in certain occasions, even Manjani has expressed his discontent on the way this reform is taking place, by stressing that this reform must not serve politics, but the interests of the citizens.
Naco's departure was not the first change in Rama's cabinet. The "age" of changes started a few months after the left wing came back to power. Former head of the Central Election Commission, Ilirian Celibashi, announced his resignation in a sudden move and this resignation had preceded his resignation as MP.
Celibashi's resignation was explained by personal motives, which were never made public. His place as minister for Relations with Parliament was taken by Ermonela Felaj.
Another change was the departure of Erion Veliaj form the ministry of Social Affairs and Youth, as he was elected mayor of Tirana. Veliaj was replaced by Blendi Klosi.
Today's change is something more than an internal change in Rama's cabinet: Arben Ahmetaj left the ministry of Economic Development, Tourism and Enterprise and was appointed Minister of Finances of Albania.
What is seen in Ahmetaj's case is a strengthening of his position, becoming perhaps the most powerful minister of the cabinet. When Rama appointed Ahmetaj in September 2013, he gave him a very important ministry, that of Economy and Enterprise.
But, several months later he also gave him the ministry of Tourism, by removing it to Eglantina Gjermeni, who remained with the Urban Development alone.
Now, Ahmetaj replaces Shkelqim Cani, who was discharged by Rama without any official and public motivation.
In a statement that the Prime Minister's press office issued, it says that Rama thanked Cani for the work done as a minister and that he was replaced by a colleague of his, by not clarifying the reasons for this decision.
However, the reasons must have been given a night ago in the TV interview that Rama gave on Vizion+. He did warn today's "mini storm", when he said that although he was against reshufflings, "no minister who cannot justify his work can remain".
Rama expressed his conviction that the ministers "have fully justified their work". But he added that "this is something that must happen every day".
One question arises with today's decisions: "Did Shkelqim Cani not justify his work and could he no longer remain in office?"
Perhaps the answer must be read on last night's interview, which seemed a clear message not only for Cani, but also for other ministers, who, according to government sources, are expected to undergo the same fate.
In the case of Cani's removal, which gave way to the appointment of two new ministers, Ahmetaj as minister of Finance and Milva Ikonomi as minister of Economy and Tourism, Rama says that there's a clear mission: "The strengthening of the operation against informality and further facilitations for honest businesses".
With this official; motivation that he made to for today's government changes, Rama is perhaps admitting that he's making several imposed reshufflings, instead of the reshuffling which has been demanded so much by allies and analysts. /ibna/