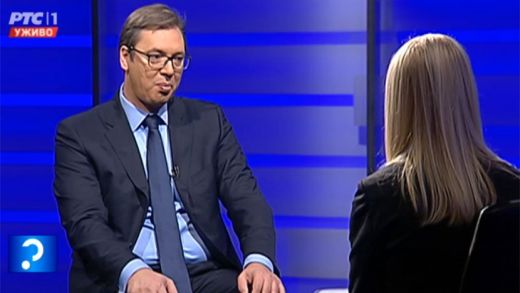 Serbian president Aleksandar Vucic has used his freshest TV appearance to criticize opposition groups ahead of local elections in Belgrade. He announced the voting for early December.
Vucic referred to the protests that have been organized in Belgrade earlier this year.
In April, the protests have taken place over Vucic's election win and to mark a year since the illegal overnight demolishing in the center of Belgrade. The demolishing of the old buildings with apartments by bulldozers occurred at the place of Vucic's mega project "Belgrade Waterfront" financed by an UAE company. In 2016 Vucic admitted that action was wrong and said that Belgrade city was responsible; he suggested that mayor Sinisa Mali would bear the consequences. But Mali is still Belgrade's mayor.
"They (opposition groups) have protested over election fraud; now they say that there was no any fraud", Vucic said last night. Speaking in the state owned Radio-television of Serbia's studio he added: "I would rather kill myself than still a vote".
Considering the demolishing, Vucic ironically said that "that was α terrible case".
"It is not terrible to leave billions of debts", he said alluding to former mayor Dragan Djilas whom Vucic and his allies intensively started to attack in previous days; namely, they claim that Djilas would be opposition candidate for mayor. Djilas did not confirm nomination yet. "But it is terrible to dismantle ruined slams and build a monumental skating ring for children", τηε president went on.
"Belgrade was never as beautiful as it is today. So much money has never been invested", Vucic claimed referring to the hundreds of construction sites in the capital, simultaneously erected which has caused traffic jams on daily basis. "And they (citizens) are complaining because they are coming late at the workplace, as like that is the biggest problem", Vucic said.
When it comes to the so called music fountain in the inner city, which was closed shortly after opening because of the further reconstructions, the president said "it is among τηε ten most beautiful fountains in Europe". "The fountain even sings in spite of haters", Vucic said./ΙΒΝΑ