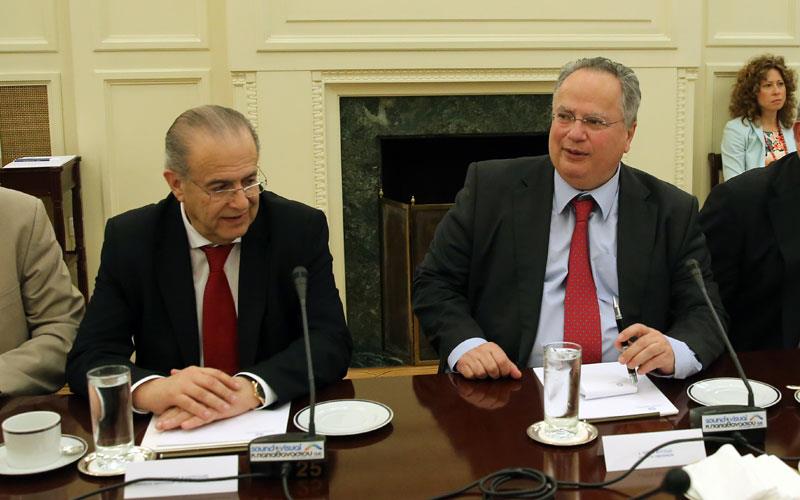 Αthens, May 26, 2016/Independent Balkan News Agency
By Spiros Sideris
With the participation of Foreign Minister Ioannis Kasoulides took place the National Council on Foreign Policy works on the developments in the Cyprus problem.
Mr Kasoulides, who accompanied President Nicos Anastasiades who had successive contacts with the state and political leadership in Greece, was welcomed by Greek Foreign minister Nikos Kotzias.
Of the original innovative meeting with representatives of parliamentary parties in Greece on foreign policy issues spoke after the meeting of the National Council on Foreign Policy, the Foreign Minister Ioannis Kasoulides.
Mr Kasoulides said he informed the participants in the Council for the process and the progress made and the difficulties of the negotiation for the Cyprus settlement. "I want to say that when we managed Greece and Cyprus the great achievement of the accession of Cyprus to the EU, we achieved it thanks to the close cooperation of the Athens Government and Nicosia, regardless of which party was on one side or the other, but also because the Greek Parliament stood strongly by Cyprus, indicating that it did not intend to ratify any enlargement, in that wave of 2004, unless it included Cyprus. So now the efforts of Cyprus to seek relief from the Turkish occupation can only be achieved through close fraternal cooperation with Greece, the Greek government and their representatives and the Greek people themselves", noted the Cypriot Foreign Minister thanking his Greek counterpart Mr Kotzias for the invitation.
On his part, Nicos Kotzias noted that he speaks with and listens to the thoughts of I. Kasoulides always with great pleasure. He thanked him for accepting the invitation to participate in the National Council on Foreign Policy as a continuation of the visit of Mr Anastasiades and the meetings he had with the president and prime minister. We love Cyprus. It wounds us, but it fills us with hope as well.
In the Council did not participate, although invited, according to its policy the KKE, which argues that there is a competent committee in Parliament in which relevant discussions could be held. Golden Dawn was also absent from the Committee, since after the issue caused by the leaks from the previous session of the Council, it stopped being invited. At the meeting under Nikos Kotzias participated the representatives of the parliamentary parties.