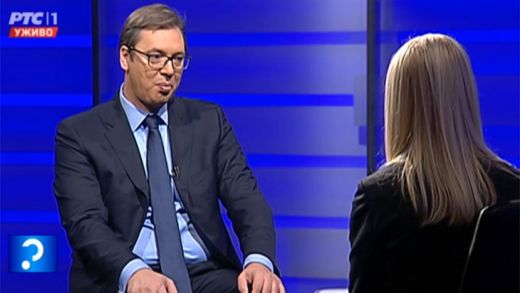 In its foreign policy Serbia follows its own interests rather than the interests of any foreign power, including the United States, Russia and the European Union, president of Serbia, Aleksandar Vucic, said on Monday evening.
Vucic's statement came as a reacted to the latest statement by US State Department official Brian Hoyt Yee, who recently said that Belgrade should clearly demonstrate its ties with the West and distance itself from Moscow.
When it comes to Russia, Vucic said he does not want to oppose the emotions of the people.
"I have a simple answer to all this (what Yee said), the Americans are our friends, everyone is our friend, but we are conducting our policy in accordance with our own interests", the president said in a TV show. He quoted Stojan Novakovic, a Serbian politician from the 19th century, who allegedly said: "I prefer it when Serbs are more Serbs", rather than being too close to world powers.
Following Serbia's own interests is, in Vucic's words, of key importance for the future of the country.
Vucic admitted that there is "pressure from different sides"; however, the Constitution obliges the president to protect the country "and do what he as to do".
He underlined that there was "no one single rational reason for Serbia to impose sanctions against Russia", as the EU and the US have done, reiterating that Serbia would not impose sanctions against Russia as far as he is the president.
"Russia did not do any harm to us. Why should we impose sanctions to such a country? At the same time we have not been punishing some other countries which did cause us harm", Vucic elaborated.
He concluded that he "cannot see" why should he oppose the emotions of his own people regarding Russia, suggesting that the majority of Serbs have affective attatchement with Russia.
Last week Vucic officially visited Russia and met with president Vladimir Putin. The bilateral military and political cooperation were among the issues discussed between the two./IBNA