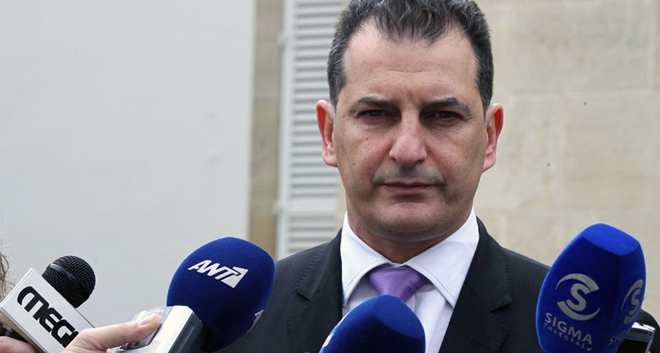 Minister of Energy Yiorgos Lakkotrypis said that discovery of hydrocarbons in Cyprus Exclusive Economic Zone could be an incentive for Turkey to resolve the Cyprus issue, while reiterating that the government`s firm position is that the national problem is not related in any way to hydrocarbon designs and activities.
The Minister spoke in an open debate on "Energy as an economic parameter and as a factor in the solution of the Cyprus problem", organized in Larnaca.
Analyzing the subject of the debate, the Minister said that "at all levels of the government, our firm position is that our national problem is in no way linked to our hydrocarbon designs and activities." "Nevertheless", he continued, "we know that hydrocarbons could be an incentive for Turkey to resolve the Cyprus problem."
The Minister also said that all actions of the government on energy are well-designed, such as the recent third licensing round.  He added that the Ministry of Foreign Affairs knows and has the ultimate planning in cooperation with relevant state services, on forthcoming activities and on the possible reactions of Turkey, which as he said will continue its provocations.
"We should remain calm and sober", he said, adding that "we will continue to do our job".
Stressing Cyprus' advantages in relation to hydrocarbons development he said that geography allows Cyprus to contact trilateral agreements, aiming to hydrocarbons development in the region and geology will hopefully lead to more discoveries in Cyprus' EEZ.
Lakkotrypis also referred to the economic benefits that Cyprus will have from the exploitation of hydrocarbons such us the arrival of big companies in Cyprus, the preparation of their offices and the recruitment of staff for the drillings, that cost between 50 and 100 million euros each. As he said a lot of this money will be spent on the economy, in materials, personnel and services, adding that this was the reason why the situation in Limassol had to be stabilized so that hydrocarbon companies could be accommodated.
Regarding the medium-term benefits, he explained that these will come from the revenues of hydrocarbons and said that the Ministry of Finance has created an investment fund that will administer the revenues from Cyprus` hydrocarbons."
The long-term benefits, he continued, will come from the exploitation of human wealth in Cyprus. He explained that "we think we need to build a knowledge economy based on hydrocarbons".
Lakkotrypis said that after three licensing rounds, Cyprus awarded licenses for seven blocks, plus block 12. "Our priority, he said "is our energy program, starting in July with the drilling at Block 11 of Cyprus' EEZ by ENI – TOTAL"./IBNA
Source: Cyprus News Agency