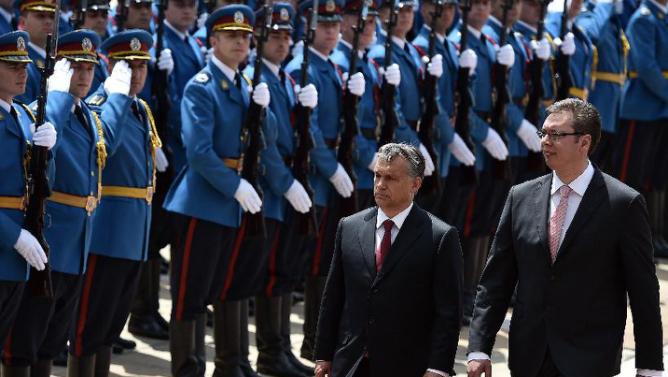 Belgrade, February 25, 2015/ Independent Balkan News Agency
By Milos Mitrovic
After registering unexpected high number of Serbian applicants for the Hungarian citizenship, Budapest has introduced more rigorous checks, B92 reported today. According to account, the number of applicants has increased in the villages in southern Hungary,
Hungarian authorities allegedly reacted by demanding excellent language skills as the precondition for citizenship to be granted. This is being checked both during the interviews with the applicants and in loyalty oaths which are the part of the procedure. Therefore, the number of people attending Hungarian language lessons has increased.
Serbian media have been reporting earlier ridiculously poor preconditions for obtaining Hungarian passport. In many cases greeting clerks in something like Hungarian was enough. Criteria are now allegedly tougher with testing language skills in informal conversations.
"It is needed to answer correctly to all questions regardless whether they refer to details in your biography or not", says Nikola Travica who recently obtained Hungarian passport.
Since 2011 some 130,000 Serbian nationals have applied for Hungarian citizenship. Unofficially, 25 percents of total applicants are ethnic Serbs. Travica says that applicants from Vojvodina, Serbian Autonomous Province which borders with Hungary, have had slight advantage.
"All of us from Vojvodina have some basic knowledge because we have been raised in multi-ethnic milieu. The curses are what you learn first", Travica stresses.
Erzebet Marjanov, Hungarian teacher, says that courses are not easy. She explains that the most of the attendants are unemployed or students and both groups cannot afford for more than two lessons per week. And this is not enough for good language skills, Marjanov says.
Granting Hungarian citizenship to the nationals of the neighboring countries was in the focus of the internal political clashes in Budapest with some parties using passport requirements liberalization as the tool in campaigns, sociologist Zolt Lazar said.
But Lazar emphasized the foreign-political aspect of the issue.
"This is not about ethnicity anymore, to grant citizenships to ethnic Hungarians who live in other countries", he explains adding that Budapest now strives to provide passport to all applicants whose ancestors have lived in the former Hungarian territories.
Until 1918, Vojvodina was the part of Austria-Hungary, for instance.
"I would say this is a perfidious politics of spreading the influence on the territories which have been in Hungary in the past, Lazar says.
Photo: Prime Minister of Hungary Viktor Orbán (L) and his Serbian counterpart Aleksandar Vucic in Belgrade