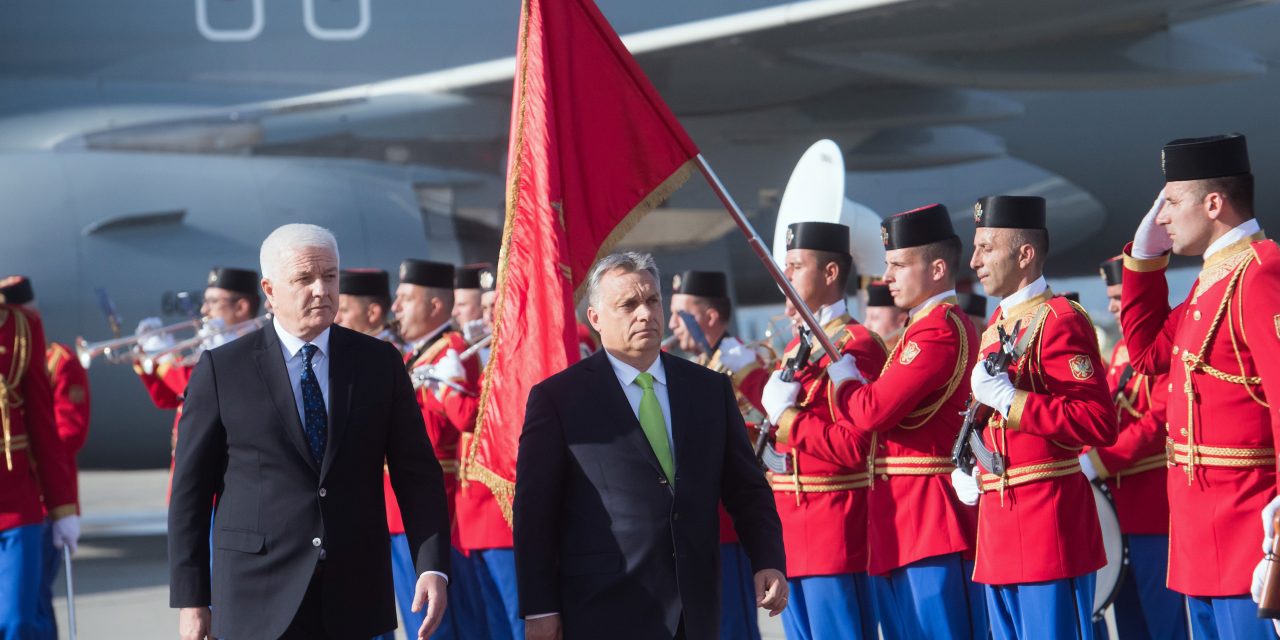 Hungarian anti-immigration prime minister Viktor Orban who is on an official visit to Montenegro, and the country's premier Duško Marković held a joint press conference on Tuesday in Podgorica, following their official talks earlier in the day.
Both PMs agreed and stated that the relations between the two countries are at the highest level, characterised by the alliance in NATO, European integration co-operation and the extraordinary room for investing in the Montenegrin economy, as is mentioned on the governmental webpage of Montenegro.
Orban told his counterpart that "Great opportunities are ahead of us. We will be glad to take part in modernising the Montenegrin economy", with Marković saying that "Hungarian investors are welcome, Montenegro is becoming more and more attractive to companies from all over the world and we are especially looking forward to see our partners and friends, such as Hungary, recognise that they can use it in mutual interest."
Regarding Montenegro and its NATO membership, the Hungarian premier noted this:
"You have not chosen only an organisation, but your future as well. Hungarians are also part of that future, as we are a NATO member. I see real opportunities for Montenegro to become a member and EU soon … I can say that Montenegro is essentially ready for membership in the EU."
Referring to this long-awaited step, Marković underlined that "The EU is an absolute priority for us, a strategic goal we are fully committed to and is very important for both us and Europe. We will continue to work towards adoption of values, implementation of reforms, and the strengthening of democracy. The most complex phase of integration is ahead of us and with the support of our partners, we will be ready to face all obligations."
With migration issues still high on the European agenda and also deeply affecting the Balkans in various ways, the discussion of the two heads of government could not have left this matter out of the discussion. The Hungarian Prime Minister told the press that today's talks also addressed migration and concluded:
"I told the PM Marković that if they have issues with migrants, Hungary is willing to help, because when Montenegro defends its borders, it does not only defend Montenegro but Hungary and the entire EU as well."
Premier Marković spoke of their migration talks, too, saying: "We have exchanged opinions on various topics that are present today from the aspect of security in the region as well as in Europe. Montenegro has set up mechanisms to preserve its security, but at the same time it contributes to regional and wider global security."
However, when the two men reached the practical part of dealing with migration, although Orban offered to help Montenegro "defend" its borders from a rising number of migrants and refugees, Montenegro's PM replied that there was no need yet for a Hungarian-style fence. Let us not forget that this is not the first time in recent months that something like this is happening. Last, May too, Budapest offered to donate a fence to Podgorica, with the latter saying that this was not necessary, "so far".
Orban's administration "has built two rows of razor-wire fence on its southern border with Serbia", the AP reminds its readers, "after hundreds of thousands of migrants passed through in 2015."
While Orban keeps slamming the Union for the "wrong" -in his opinion- handling of the particular crisis and insisting from Podgorica that "Europe is still making serious mistakes", especially ever since 2015 (when the it put on the razor-wire fence) relations between Hungary and the bloc have been tense due to Orban's administration strict anti-migration and anti-refugee…. / IBNA