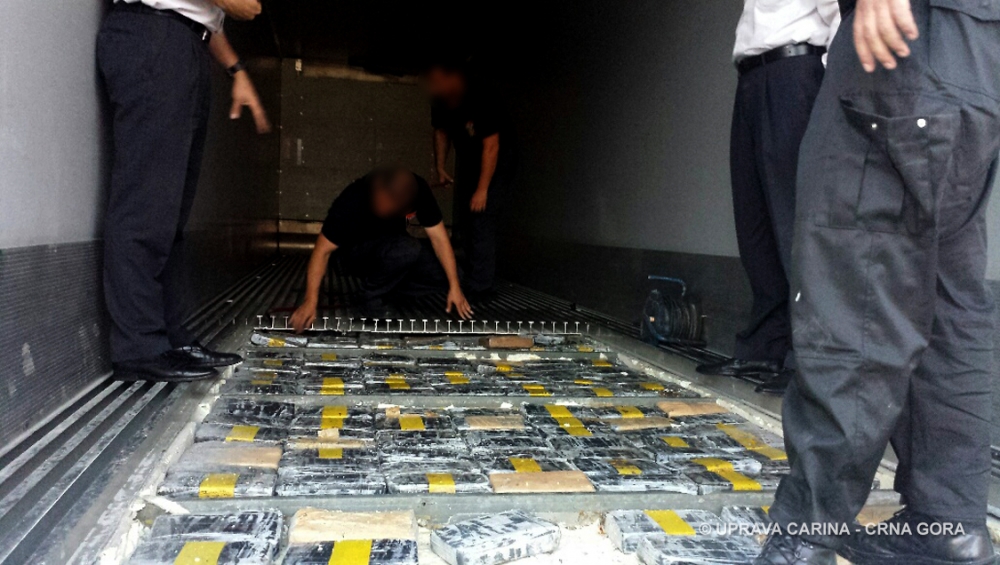 By Adnan Prekic – Podgorica
Montenegrin customs officers at the Port of Bar discovered 250 kilograms of cocaine, worth more than 12.5 million euros. This is the largest amount of drugs ever seized in Montenegro. The cocaine arrived from Ecuador in a container that was transporting bananas. The port of Bar was not the final destination of the shipment, since the container was supposed to end up in Albania.
During a routine check of one of the containers at the Port of Bar, the Montenegrin customs officials have seized the largest amount of cocaine to present. According to an announcement by the Customs Administration, the drugs were placed in a container that arrived from Ecuador. The container was traveling for Albania. Director of Customs Vladan Joković said that the cocaine was found during a routine check of the container. "These containers from Ecuador supplied bananas that were intended for a firm in Albania", said Joković at a press conference.
The customs officers scaned the container after which it was open by the members of the Department of Anti-Smuggling. "With the use of specialized tools for the detection of drugs it was noted that the floor of the container contained specially designed bunker with   223 packed and hidden packages of cocaine. According to preliminary measurements, the package contain 250 kilograms of cocaine, of which the market value, according to independent estimates, is more than 12.5 million euros", says the statement.
The consignor is the company Vimtcorp from Ecuador, while the recipient is specified as Rrapo company from Albania. The Customs has informed the Police that together with the competent prosecutor will take the required measures and actions within their jurisdiction.