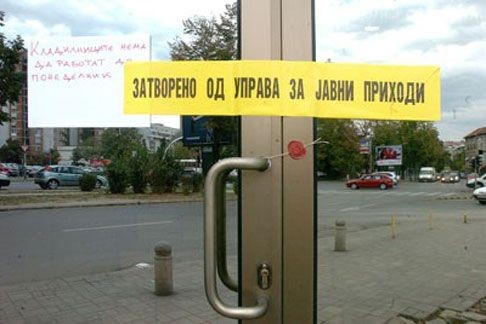 Skopje, September 26, 2013
Hundreds of shops have closed in the recent weeks by the Directorate of Public Revenues in FYR Macedonia.
Majority of businesses have reacted toward this massive campaign against businesses in this time of crisis and reactions have also come from opposition parties. From Kumanova to Struga, hundreds of commercial subjects have been closed.
Several business owners manifest their discontent for this massive campaign of inspections, which according to them, is being carried out in a period of crisis and high unemployment and poverty in the country.
"It's been a week that I have closed the shop and I've been asked to pay the fine of 3 thousand Euros, otherwise the penalty will increase. There is no tolerance whatsoever", says Ilmi R, businessman in Skopje.
Opposition parties have reacted against the massive inspections by inspectors of the public revenues. Opposition accused the current government that it's issuing fines to small businesses in order to fill the deficient budget of the country.
But, in spite of this criticism, directorate of public revenues has issued a press release where it says that it will continue its inspections toward businesses that do not fulfill their legal and financial obligations. /ibna/