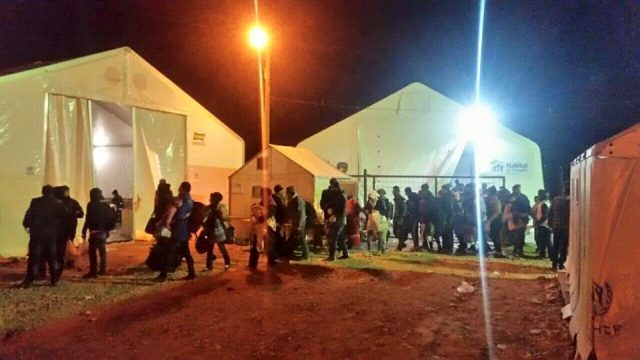 Skopje, 20 November 2015/Independent Balkan News Agency
By Naser Pajaziti
Hundreds of refugees from African and Asian countries have gathered in refugee camps in Tabanoc, near the Serb border. This situation follows the decision of the authorities of Serbia to only allow the entry of refugees from Syria, Afghanistan and Iraq, while refugees from other countries are not allowed.
As a result of this decision by Serb authorities, last night, many families spent the night outside. Refugees that could not continue their journey express their concern about this stop, demanding help from humanitarian organizations.
"We are from Bangladesh. I don't know what the problem is, but they have told us that only Syrians, Afghans and Iraqis can cross the border. People from Bangladesh, Pakistan and Iran cannot cross. We've been here for three days and we have slept here. It's very cold. We're all from Pakistan. We don't know why police is stopping us. It's been two days that we sleep outside and we haven't eaten anything", a group of refugees say.
UNHCR representative to FYROM, Muhamed Arif said that the situation has not changed and that refugees from other countries are not being allowed in Serbia.
"There are many families, refugees and migrants who have been blocked here. Many of them have been accommodated in this center between the two borders. Serbs are not allowing them to cross into their territory and on the other hand, Macedonians allow them back here. It's very cold in here, although they lit fires to feel warmer. The majority are women and children", the UNHCR representative said.
The deputy head of the Ombudsman office in FYROM, Naser Vejseli told iBNA that the problem rests on the Serb side. "We came here and we were informed on the situation. The problem rests on the Serb authorities, who are not allowing groups of refugees from other countries to enter Serbia with the justification that they are not citizens from countries where there's war", Vejseli said.
The situation has also been tense in the southern part of the country in the Greek border. Authorities there are preparing to install barbed wire fences to prevent a possible uncontrolled influx of refugees.
The Security Council of the country, led by president George Ivanov, has warned that the border will be barricaded if the country is swarmed by an uncontrolled number of refugees and if such measure is also applied by other neighboring countries or EU member countries.
Bulgaria was the first country to close the border in June of last year. With the installment of a 33 km long and 3 meter high barbed wire fence, the number of refugees saw a significant drop from 2000 to 300 a month. Bulgaria also installed a barbed wire fence in the border with Turkey, 275 km long. Bulgarian PM followed Hungary's example, which installed a 175 km long barbed wire fence in the border with Serbia. /ibna/