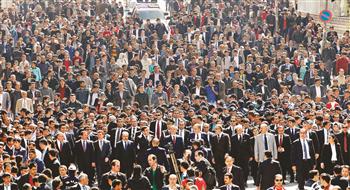 Turkish President Abdullah Gül was welcomed by a large crowd during a visit yesterday to the eastern province of Muş, a first by a Turkish president in 29 years.
The ongoing efforts to find a peaceful solution to the Kurdish issue marked the visit to the province, which has a high population of Kurds.
People chanted slogans, saying, "Turkey is proud of you," during the prime minister's visit to the governor's office, while many carried Turkish flags and red and white carnations.