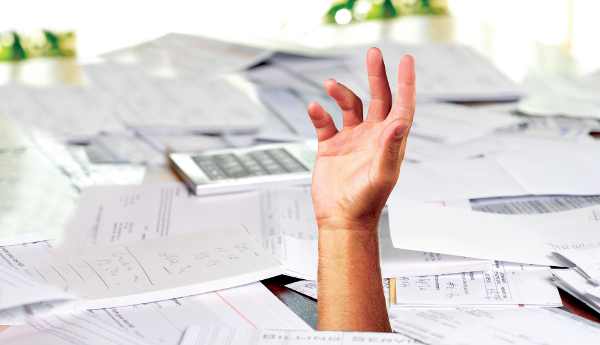 Athens, August 5, 2016/ Independent Balkan News Agency
By Zacharias Petrou
Concern is increasing in Athens over the huge arrears that are piling up this year, threatening to derail the economy and confirming that Greeks are struggling to meet obligations following the latest round of tough austerity measures imposed.
Official figures show debts to the State grew to 6.807 billion euros so far this year.
Specifically, in June there was an increase of new tax arrears by 1.2 billion euros, taking the total unpaid debt to the state for this year to 6.8 billion, according to figures published by the General Secretariat of Information Systems (GSIS).
Considering overall unpaid debt conjured up in previous years, the total comes to 89.8 billion euros.
So far this year, Greek tax authorities have collected 1.2 billion euros of old debt and 868 million euros of the new arrears.
Should the government miss tax collection targets, it is feared that an automatic spending cuts mechanism agreed with lenders will kick in, resulting in more wage and pension cuts.
Greeks face a series of tax payments ahead the first installment of a property tax (ENFIA) must be paid in coming months along with personal income taxes, corporate taxes and the higher VAT from the ongoing tourism season.
Furthermore, according to reports taxpayers and pensioners in particular are in for a triple shock in September.  A total of 800,000 people will be immediately affected by the latest round of austerity measures that begin to kick in as of September. Specifically: at least 100,000 salaried workers in the private sector who worked in season jobs during the summer are expected to go back into unemployment. Also, at least 490,000 pensioners will suffer dramatic cuts as a result of the latest bill introduced by the Labor Ministry on 8 May 2016; and approximately 190,000 civil servants on special pay rolls will see their salaries cut by a total of 118 million euros.
The mounting troubles for Greek taxpayers come as unemployment figures continue to be sky high. The jobless rate was steady at 23.5 percent in May from an upwardly revised figure in the previous month, statistics agency ELSTAT said Thursday.
Meanwhile, the General Secretariat for public revenues appears determined to increase vigilance and clamp down on tax evasion. The authority recently announced it will intensify inspections for receipts, especially on popular Greek holiday islands, as well as temporarily shut down businesses systematically found to be violating tax rules.