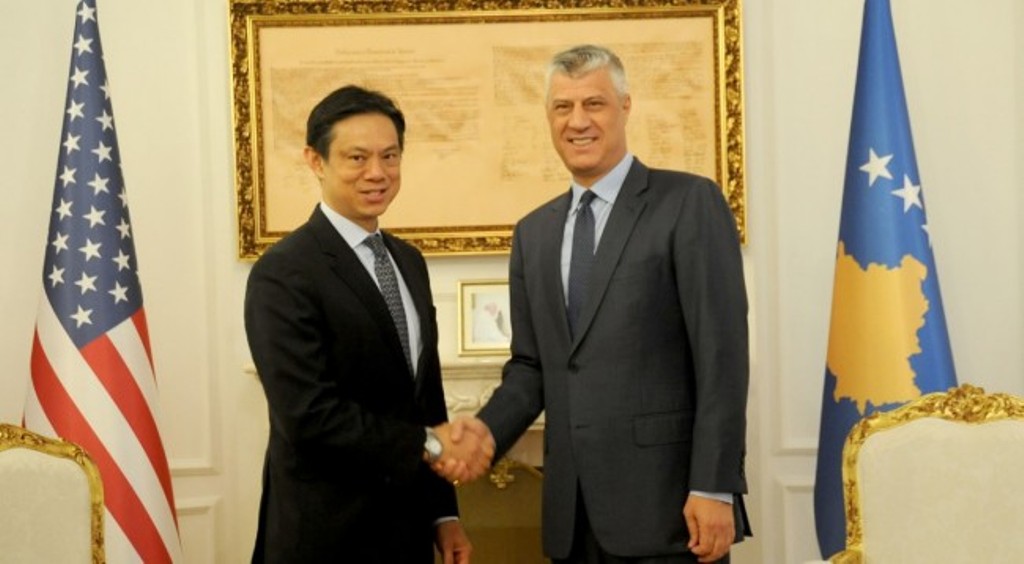 President of Kosovo, Hashim Thaçi has received today the Deputy Assistant Secretary of State Hoyt Brian Yee.
During this meeting, President Thaçi and Deputy Assistant Secretary Yee discussed about the bilateral relations, the role of the USA in the region, Kosovo's Euro-Atlantic perspective, the dialogue with Serbia and other issues of common interest.
On this occasion, President Thaçi has said that the continuation of the US support for Kosovo and the region remains the key to peace and stability.
"We are grateful for the continued support of the USA in all sectors of life in Kosovo", added the President.
The President has informed Deputy Assistant Secretary Yee about the most recent successes of Kosovo, about the municipal elections and the oath of the judges and prosecutors from the non-majority community.
"The municipal elections are another proof of Kosovo's political maturity, while the decreeing of the judges and prosecutors is a big step towards the strengthening of the justice system and the consolidating of Kosovo's state integrity", said President Thaçi.
Speaking of Kosovo's priorities, President Thaçi stated that the conclusion of the visa liberalization process, the conclusion of the dialogue with Serbia and the transformation of the KSF remain concrete priorities, without leaving aside the permanent priorities which are economy and the strengthening of the rule of law.
On the other hand, Deputy Assistant Secretary of State, responsible for European and Eurasian Affairs, Hoyt Brian Yee, has said that the USA will continue its overall support for Kosovo.
"The European perspective for Kosovo, and for the whole region, are priorities of the USA", declared Mr. Yee.
In this meeting there was also discussions on the fight against terrorism and extremism, where it was assessed that Kosovo is a leader in the region in combating terrorism.