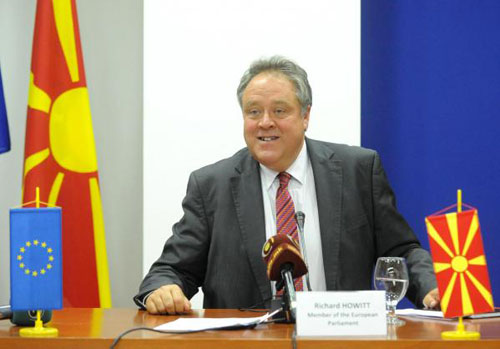 Skopje, December 12, 2013 / Balkan Independent News Agency
European Parliament rapporteur on FYROM, British MEP Richard Howitt declared that FYROM must start its negotiations for accession and that this is also in the best interest of the European Union.
"In the quality of rapporteur, I believe that negotiations must start and I have given reasons for this. This is not only in the best interest of the country, but also of the European Union. I hope that the draft resolution delivered by me in support of the start of negotiations will put pressure on several governments in order for a fair decision to be taken", said Howitt MEP.
Howitt has prepared the draft resolution on FYROM, but yesterday was the last deadline on which other MEPs should have delivered the supplementary amendments. Howitt stressed that the debate on the draft resolution will start in mid January 2014.
Rapporteur on FYROM says that the draft resolution is published before the European Council Summit next week in order to add more pressure.
"There's a strong debate on Macedonia, on its European future and the challenges that it's facing. But, in the quality of rapporteur, I'm convinced that we will reach compromises that are in the best interest of the country and its European future", said Howitt, underlining the name dispute with Greece which is blocking the process of the accession of the country in the EU.
Howitt hopes that MEPs will agree with his draft resolution, which states that there's a lack of credibility in the process of negotiations for the name and his opinion according to which between FYROM and Bulgaria there exists an atmosphere of cooperation and good relations. Howitt demanded Skopje to do everything to achieve its aspirations for European integration. /ibna/