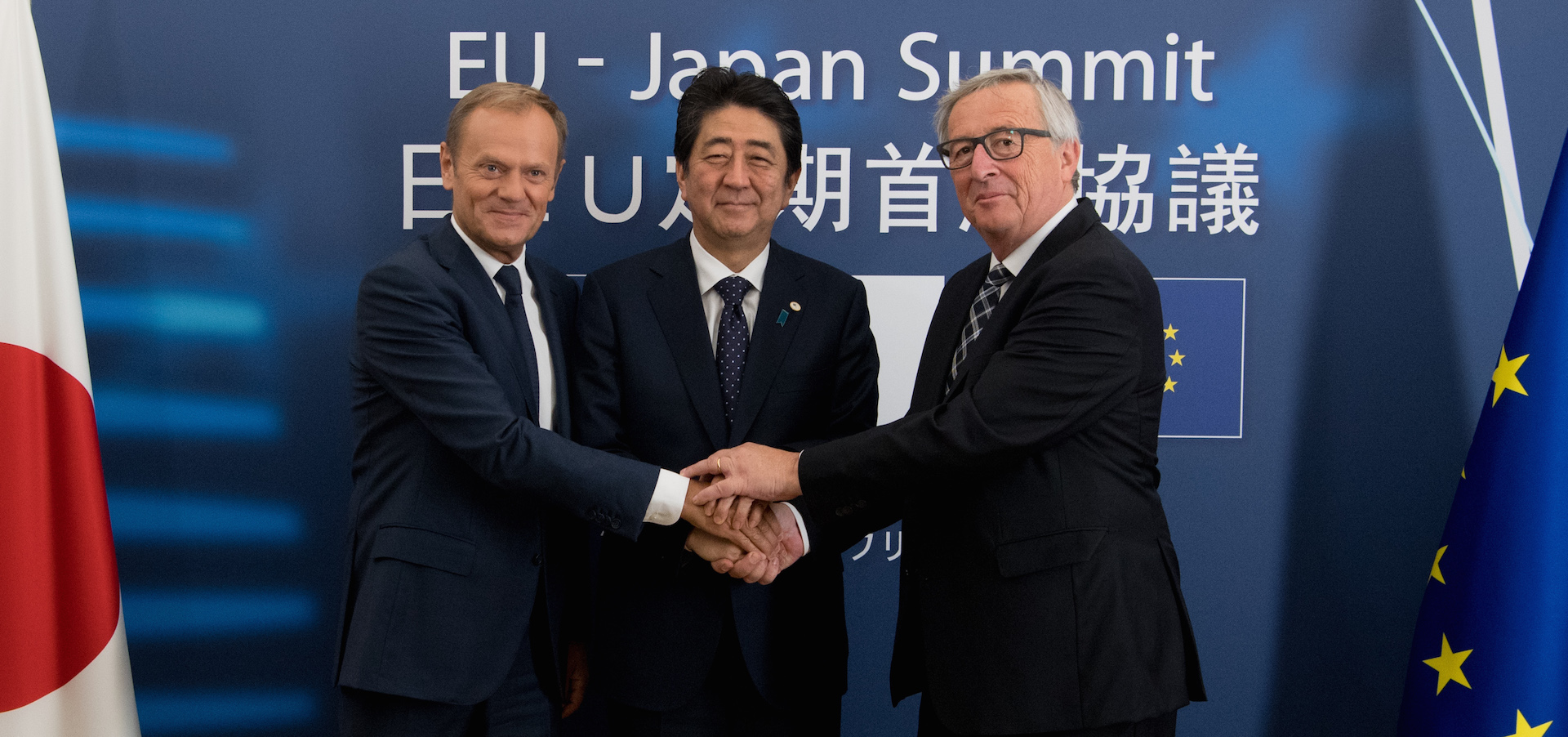 The Trump Administration is hardening its stance on trade and the tariffs, so the EU turned to far away Japan, and is about to sign a massive trade deal shunning the States.
In an effort to restore global trade, its normalisation and ease the conflict cause by Trump's decision to impose an "America-centric" dynamic against China, but also targeting the Union, Mexico and Canada, the European bloc's top officials will get to Japan on Tuesday (17 July) to sign the (world's greatest) single market's (made of 28 countries) biggest trade deal ever.
Moreover, their stance will be a 'live' performance of the united front they have formed with the East against Washington, since the latter decide to turn the international trade order upside down.
"EU Council President Donald Tusk and Commission head Jean-Claude Juncker land in Japan after talks in Beijing," AFP reads, "where they urged global trade cooperation and warned against trade wars."
While in Beijing at the beginning of this week, Tusk stated: "It is the common duty of Europe and China, but also America and Russia, not to destroy (the global trade order) but to improve it, not to start trade wars which turned into hot conflicts so often in our history", adding, however, that "There is still time to prevent conflict and chaos."
Referring to the deal which was agreed last December, the Commission spokesman Margaritis Schinas characterised it as "the biggest ever negotiated by the European Union", saying that "This agreement will create an open trade zone covering nearly a third of the world's GDP."
Another European official directly relevant to the sector is EU Trade Commissioner Cecilia Malmstrom who said the soon-to-be-signed agreement between Brussels and Tokyo will send a "strong signal to the world" against U.S. protectionism, the line that the American Administration is following.
Thanks to this deal, the EU will have access to one of the richest markets globally, the Japanese auto industry, while Tokyo in return will be "scrapping barriers to EU farming products, especially dairy", wrote the French Agency. Their connected trade force will as well send the message to the U.S. that both the EU and Japan aim at withstanding financial pressures stemming from the American tariffs on steel and aluminum that were currently imposed.
The bloc's ire was fuelled on Sunday by the words of Trump who labelled "the EU, along with Russia and China, 'a foe' of the United States, repeating his assertion that the EU has 'really taken advantage of us on trade'." …. / IBNA
Main Photo (File): European Council President Donald Tusk (L), Japanese Prime Minister Shinzo Abe (Centre) and President of the European Commission Jean-Claude Juncker (R) at the Japan-EU Summit on July 6, 2017 / EC Audiovisual Service