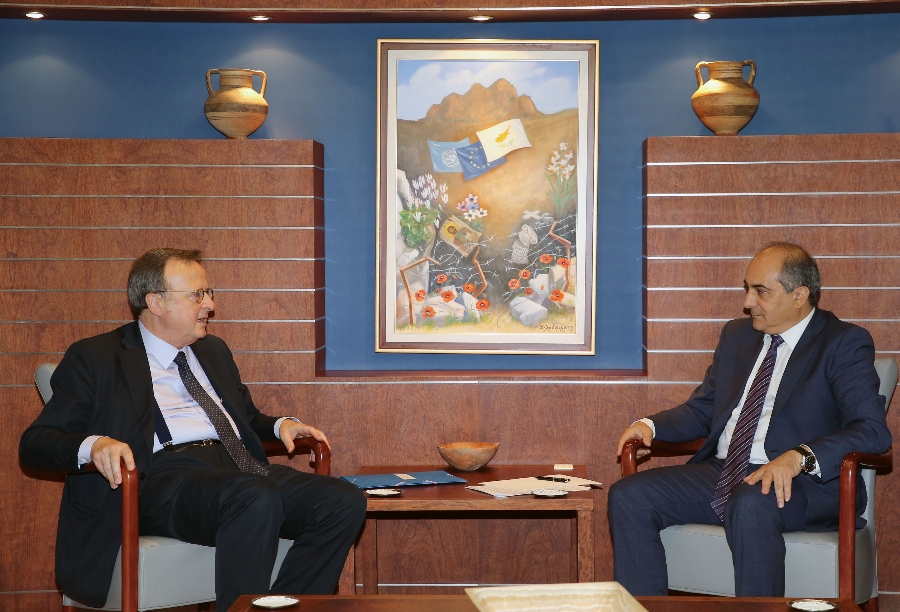 The President of the House of Representatives, Demetris Syllouris, received today the President of the European Court of Human Rights (ECHR), Guido Raimondi, who was accompanied by the Cypriot Judge to the ECHR, Yiorgos Sergides.
During the meeting, the ECHR President referred to the challenges that the Court is currently facing due to the large volume of appeals being submitted before it, as well as to the continuous efforts made by the Court and the national authorities in order to reinforce their cooperation and achieve the compatibility of national legislations with the European Convention on Human Rights. A reinforced cooperation with the national parliaments is of great significance, Mr Raimondi noted, since the parliaments are setting, as legislators, the quality and compatibility of laws with fundamental human and civil rights, as these are safeguarded by the Convention.
For his part, the President of the House made reference, inter alia, to the significance attributed by the House of Representatives to the ECHR's rulings and to justice being served.
The interlocutors also exchanged views on ways to speed up compliance and the implementation of the Court's rulings by the contracting parties of the Council of Europe, particularly in cases concerning Cyprus and various aspects of the Cyprus issue, including the aspect of the legality and effectiveness of legal domestic remedies./IBNA
Photo: pio.gov.cy