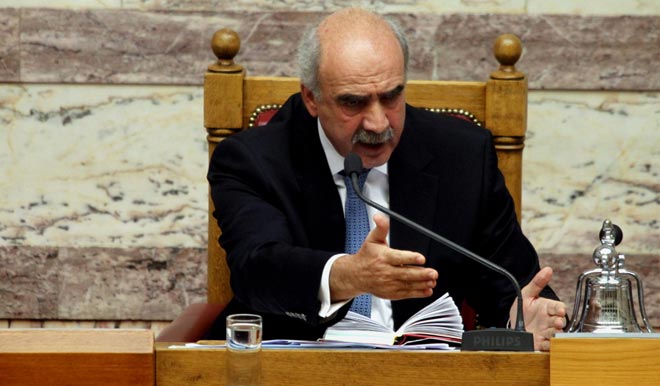 By Spiros Sideris – Athens
The House President insists on the view he expressed yesterday regarding a referendum for "small PPC" and the possibility of collecting signatures for different proposals.
Speaking to reporters today, House President Vangelis Meimarakis stated that he is not taking back anything from what he said on Monday on the possible convening of the Plenary to examine the proposals for a referendum.
In regard to the intra-government reactions Meimarakis estimated that he was not dismissed by anyone.
"I have my view on the matter, which I am saying again and again", the House President said and added that if the proposals of the parties continue to pile up then the Plenary may discuss the proposal for a referendum in Parliament in late July or early August.
"I do not want things to go on until October", he added and wondered: "why let this issue 'crawl'?".
"As Vangelis I am telling you that I do not want to have any leftovers around PPC; everything must close", he concluded.
Earlier on Tuesday, speaking on "SKAI" television, the government spokeswoman Sophia Voultepsi said that for the government there is "no issue of a convergence" of the Plenary to consider the proposals of the opposition for a referendum on the privatization of "small PPC".
Although these processes and the concentration of 120 signatures, despite the optimism, is not considered to be an easy task but nor it is considered impossible, a new element which causes further satisfaction in the main opposition is that politically, SYRIZA has managed to mobilize the political forces, and -as mentioned by some of its MPs- to "take society on its side", which is considered an investment for its next political steps.
The same MPs estimate that the government was "completely taken aback by the success of the political design and the response the initiative of the party had from the society" and insist that ND and PASOK will find themselves in a borderline political situation in the coming period, as they are "losing their last foothold in society", while at the same time they do not exclude the possibility that there will be a rift in the cohesion of the government.
In a similar analysis, party officials do not exclude the possibility of political developments occurring before the start of the procedures for the election of the President of the Republic. This, in general, will be the framework of the placement Alexis Tsipras is expected to make in parliament on Wednesday during the debate on the draft law on "small PPC".